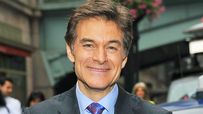 Dr. Oz did his undergrad work at Harvard and went to med school at the University of Pennsylvania.
Welcome to SportsNation! On Thursday, we've got the host of "The Dr. Oz Show" Dr. Mehmet Oz stopping by to chat.
Dr. Oz has hosted his show since 2009, produced by Oprah Winfrey's Harpo Productions. He first appeared on The Oprah Winfrey Show starting in 2004, before the launch of his own show. Dr. Oz is a big sports fan, having played football at Harvard and has a basketball court at his home in New Jersey.
Dr. Oz just published his ninth book, entitled "YOU: The Owner's Manual for Teens," the eighth book in his "YOU" series. The book hit stores on Tuesday.
Send your questions now and join Dr. Oz Thursday at 11:45 a.m. ET!
More Special Guests: Previous chats | SportsNation