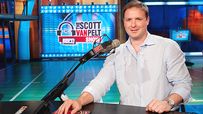 Welcome to SportsNation! On Wednesday, ESPN Radio's Ryen Russillo will be stopping by to chat.
Russillo is co-host of The Scott Van Pelt Show on ESPN Radio, which runs 1-4 p.m. ET. Listen live

He also hosts the NBA Today podcast on ESPN.com. He has covered the NBA draft since 2003 and prior to joining ESPN, he was a TV studio analyst for Boston Celtics games.
Send your questions now and join Russillo on Wednesday at 4:15 p.m. ET!
More Ryen Russillo: ESPNRadio.com | Chats | Search | SportsNation index
ESPNRadio.com
(4:16 PM)
Ryen is here. The chat will begin momentarily. Fire away.
Chris (Grand Forks, ND)
What types of tweets do you get that piss you off the most?
Ryen Russillo
(4:16 PM)
When people completely misquote me on an argument.
Brian (Orem, UT)
how did it feel to get owned by J Rose yesterday?
Ryen Russillo
(4:17 PM)
I did? On what? How's Orem?
Eric (South Bend)
What is your Top 5 players in the NBA as of right now? and dont you think it is ridiculous how the image of Lebron has changed just because of 1 series. Before the finals he was the best and now some say not top 5.
Ryen Russillo
(4:17 PM)
In no particular order because there could be a pickup game tonight that changes: LeBron, Wade, Dwight, Rose, Kobe.
MistaDobalina (SunnyMeadowz)
Heard you & Jalen's top MCs list yesterday. Don't you think that "I Wish My Brother George Was Here" is an underrated
Ryen Russillo
(4:18 PM)
Uh, yah. Both Sides of the Brain was so good it took me three years to realize I liked it. The new stuff is good. It's taken a while, so that means in 2014 check in on my chat and see if I'm down with Sir DZL.
Gonz (Turlock California)
Do you think Dirk has surpassed KG on the all time Power Forwards list? I know it must be real close but I think Dirk won his title with way less help.
Ryen Russillo
(4:21 PM)
I've been thinking about this a lot. KG defensively, it's not close. KG is one of the most unique defenders this game has ever seen, but he should have been a better offensive player and with Dirk, there's never doubt that he's comfortable taking big-time shots. And with KG, he never was a guy that really liked being that #1 scoring option. And KG has a tendency to pick on certain players and not stand up to others. I'll still go KG. It's close, though.
Anthony (New York)
How do you not have Dirk as a top 5 player in the league? He just won a championship beating 3 of the 5 guys on your list with less surrounding talent than they had.
Ryen Russillo
(4:22 PM)
It was really easy to do. I just typed it in and it came out.
Joe (Austin)
Why do you hate hockey? Do you just find it boring?
Ryen Russillo
(4:23 PM)
What are you talking about? I've watched every game of the final.
Jack (DC)
Do you think there is any player in this draft that will have impact on an NBA championship roster other than as a role player?
Ryen Russillo
(4:23 PM)
No. Name the best rookie in this year's playoffs. I'll be here for another 30 minutes.
Joe (Bayside)
What's the nightlife scene like in Bristol?
Ryen Russillo
(4:24 PM)
I haven't gone out in Bristol in forever. I used to play in a softball league here when I lived in a hotel. That was awesome.
Robert (Louisville)
Who (other than SVP) would you say is your bff at ESPN?
Ryen Russillo
(4:24 PM)
Dr. Jerry Punch.
Max (Dallas)
It seems like Lebron won't win no matter what he does. If he wins 2 rings, we'll say he should have had 7. If he wins 7, we'll say he needed the help of other Stars. The guy can't win can he?Our society decided to hate Lebron, kind of similar to the Jay Cutler situation. Talented but not likeable, so we kill them.
Ryen Russillo
(4:25 PM)
Max, well said, but Cutler was never in LeBron's class.
Mark (Maine) [via mobile]
Do you think Ricky Rubio is afraid to play in the NBA does he really want to play for Barcelona all his career?
Ryen Russillo
(4:26 PM)
He wanted to lock in the rookie contract before July 1. I think what we're hearing today is that he's putting together a backup plan if the lockout goes into next season. If the season starts on time, I expect him to be playing in the NBA.
Nate (Chicago, IL)
which player goes much higher than expected in the NBA Draft?
Ryen Russillo
(4:27 PM)
Well, Klay Thompson could go 10 or 11, which is remarkable considering he was a second-round prospect this season. Vucevic is going to go in the top-20 and people killed him when he signed an agent in May. I think Charles Jenkins will go in the first round and he should. He's a good player.
Brendan (Pittsfield, MA)
Ryen - is there anybody at the bottom of the draft that could help the bulls scoring needs? I've seen Charles Jenkins and Justin Harper in alot of mock drafts.
Ryen Russillo
(4:27 PM)
If Charles Jenkins is there for the Bulls, that's a good pick. I don't like Harper. To me, he's soft.
Barry (Florida )
Who are your top 5 draft picks in order for this draft?
Ryen Russillo
(4:29 PM)
This is the latest based on being on the phone for a few hours last night: 1) Kyrie, 2) Derrick Williams (not one person has said anything other than these two at the top), 3) Knight (not 100%, doesn't go past #5), 4) Valanciunas (heard this at the end of last week and put it out on Twitter @ryenarussillo - this is a change from the expectation that it was Kanter), 5) I think you have to go Kanter if you're Toronto and you're psyched that you got him at #5, but I have not heard anyone say they know definitively what Toronto is doing other than taking Knight if he was to fall there.
Alek (Chico CA)
Hey Ryan just wanted to know what your draft thoughts are regarding Jimmer? He seems to be climbing up draft boards so could he go as high as 7 to the Kings?
Ryen Russillo
(4:31 PM)
Heard last night if Kemba and Jimmer are still on the board at seven, it's Kemba. But totally could see Jimmer going there. Probably a better fit. The other factor is I keep hearing Utah's #12 pick is up for grabs, so it kind of kills the idea that they would love to land Jimmer with their second pick. I'm not sure they even take him if they keep the pick because they might want to take another big.
Dan (CA)
What's your take on Jan Vesely? Can he be an all star?
Ryen Russillo
(4:32 PM)
I like him a lot. A little worried that he can't shoot, so he's probably not a small forward right now, but he's so aggressive offensively, loves to get out and run, just a very confident player who has been putting up numbers overseas. Few teams have been checking him out the last week, Utah with the highest pick of any of them. High side, probably #5. Doubt he gets past #10.
AP (Cincy)
Who would you draft with those 2 picks in nba DRAFT (Cleveland Cavs)?
Ryen Russillo
(4:33 PM)
I would take Irving and Kanter, but it looks like Valanciunas is more connected to #4.
APATEL_CHI (CHI)
How often do you reply to argument tweets
Ryen Russillo
(4:33 PM)
Not as often as I used to. I got over it rather quickly.
Sam (Madison, WI)
You've alluded to hearing some Demarcus Cousins stories from people on the "inside" on your podcast, can you please tell one? Dude's got so much talent but all I ever hear about is his attitude but I never hear anything specific. Thanks dude, your awesome
Ryen Russillo
(4:34 PM)
Heard he punched a teammate for not passing to him at the end of a game. Is that enough for you? Not reporting it, not saying it's 100% true, but I don't know how anybody can watch him play and think that there aren't some maturity issues.
JP (CT)
Would love to see Chicago get Jenkins or Josh Selby at the end of the first round. They need guys that can spell D-Rose and still create offense and get to the basket. Both of them do that.
Ryen Russillo
(4:35 PM)
Selby is interesting because some teams really like him and are willing to admit that this past year at Kansas was just a disaster (suspension, injury, out of position). The Knicks are bringing him back in, so pay attention to that.
Robert (Mississippi)
What moves do you think Danny Ainge will make this summer for the Celtics to make a run at Banner 18?
Ryen Russillo
(4:36 PM)
They don't really have a lot of flexibility to do anything. I thought that Tyson Chandler rumor yesterday was pretty funny. He'd be perfect if he wanted to take an $11 million paycut. I'd like to see him play Avery Bradley more.
Paul (Boston)
If your Sam Presti, how bummed are you that you didn't sign Tyson Chandler in 2009.
Ryen Russillo
(4:36 PM)
Very bummed because then I tricked myself into signing Kendrick Perkins to a four-year contract extension.
Anthony (NYC)
Ryen - not your projection, your opinion, who should the Knicks be looking at? I like Darius Miller and Chris Singleton personally.
Ryen Russillo
(4:37 PM)
Darius Miller is a horror movie on defense. I was bummed out for an hour after I watched his defensive possessions, so he'll fit right in. If Singleton was there (which he won't be), it'd be a no-brainer. If Jimmer really slides, he could be in play.
Don Stewart (NJ)
I heard at some point that the Heat may try and go after Nene. Would that be possible and would he fit well in their rotation?
Ryen Russillo
(4:38 PM)
Another make believe rumor. He would opt out of more money to take less to play with Miami, like half as much. Not going to happen. Probably going to stay in Denver.
Dan (WI)
What do you like about Kanter over Valanciunas? I'd be concerned that Kanter has been out of basketball entirely for a year and has virtually no track record. Valanciunas and Biyombo seem like comparatively low risks to me, given that their experience in Europe.
Ryen Russillo
(4:41 PM)
Kanter is the most complete of the three: tough, smart, can step away from the basket, willing teammate and moves pretty well for a guy his size. Valanciunas is very one-dimensional offensively. He has a little post game where he backs the defender down and throws up this hook shot. Same look every time. Takes kind of a long time to develop. And on a screen and roll, he rolls every time right down the middle of the lane. It's actually pretty amazing. Defensively, he's got no shot right now, but he's huge and tough so people like him. Biyombo is a total gamble. If he comes in the league with a goal of being a special defensive player, it can happen, but he's never going to be an offensive threat.
Shaun (UT)
Do you know how Jimmer and Kemba's workout against each other in Utah today went?
Ryen Russillo
(4:41 PM)
I have not. I hosted a show today. Had an entire country to entertain. Have not heard from anybody yet. Will find out tonight.
Pat (Pittsburgh)
How much of a long shot/me being a blind fan to see Urban take a few years off, Paterno leave, then Urban step in? Meyer is the Best college footbal coach today.
Ryen Russillo
(4:42 PM)
Dude, we'll get to this in late August.
Ryan (Plainfield, NJ)
I know your probably not gonna agree with me, but I think Lebrons comments after the Game 6 loss are accurate. Lebron put up with more criticism the entire season than any other player in HISTORY and didn't say anything. I doubt any of his haters could put up with what he did for a day let alone a season. Therefore, I believe he is a bigger person.
Ryen Russillo
(4:43 PM)
I actually agreed with LeBron on Monday's show. I don't blame him for thinking he's better than some people.
Mike (Vegas)
Do you think its possible for Dallas to land Dwight? Dirk and Dwight together would be unstoppable.
Ryen Russillo
(4:44 PM)
Only on the video game with stupid trades turned on.
Marcos (Puerto Rico)
Is Jimmer the next Mark Price or the next Eddie House? And don't say in the middle without giving an example please
Ryen Russillo
(4:44 PM)
I think he's a mix with a little Andray Blatche.
Mark (Maine) [via mobile]
Will a team take Terelle Pryor in the suppemental draft?
Ryen Russillo
(4:45 PM)
I could see the Bobcats using one of their two picks.
ESPNRadio.com
(4:45 PM)
Five fast minutes left.
Matt (Fayetteville, AR)
If you weren't in sports media, what would you be doing for a living? After transgender logging on the gulf coast, of course.
Ryen Russillo
(4:46 PM)
I think I'd like a less competitive field. MMA fighter.
BeBogus (NJ)
If Stern and the NBAPA came to you to make a new CBA, how would you go about doing it?
Ryen Russillo
(4:47 PM)
The players are going to get less money. It's basically what happens every time. My number one goal would be to make this league easier to improve your team. Loosen up on these trade restrictions. Let's start trading veteran players for draft picks and not worry about the salaries. If there is a hard cap, it's going to make this league even more difficult to fix your roster when you make one mistake.
Brett (ATL)
Thanks for the Pharcyde tip. I hope you are already familiar with Mecca and the Soul Brother by Pete Rock and CL Smooth. If not, become so.
Ryen Russillo
(4:47 PM)
Brett, come on. I have Pete Rock tattooed on my left forearm, CL Smooth on the right.
Chad (MN)
The Wolves made a huge mistake when they drafted before they had a coach (Flynn). Now it appears they're about to do it again... Have they learned nothing?
Ryen Russillo
(4:48 PM)
I really don't think it's that big of a deal, but Rubio doesn't fit in the triangle.
Joe (Chicago)
Boston, NYC, LA, Miami: Rank em for single guys going on a trip.
Ryen Russillo
(4:49 PM)
New York City is #1 because even if you can't get in the best places, you at least have dive bars that you can at least kind of latch onto and make something happen. #2 is L.A. If you're great at making up stuff, you'll figure out a way. #1,214 is Boston. I don't feel like writing a book today, it's pretty understandable. Go for a weekend and then get back to me.
Zach (Greenville via Charlotte)
Lebron for Blatche. Who says no?
Ryen Russillo
(4:51 PM)
Washington, obviously.
ESPNRadio.com
(4:52 PM)
That's all, folks. We'll see you next week. Thanks for stopping by.