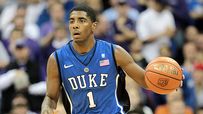 ESPN ranked Irving as the No. 3 overall prep prospect in the Class of 2010.
Welcome to SportsNation! On Thursday, NBA draft prospect, and former Duke Blue Devil, Kyrie Irving stops by to chat about his draft preparations.
Irving is considered to be the top prospect in the NBA draft (June 23, ESPN, 7 p.m. ET).
Irving played in just 11 games during the 2010-11 college basketball season, his one and only season at Duke. Yet, he still averaged 17.5 points and 4.3 assists per game.
Send your questions now and join Irving Thursday at 1:45 p.m. ET!
More Special Guests: Previous chats | SportsNation
Buzzmaster
(1:29 PM)
Duke's Kyrie Irving will be here at 1:45 p.m. ET to take your questions!
Buzzmaster
(1:41 PM)
Kyrie is here!
Drew (NY)
How is going to feel leaving that Duke fan environment? those fans are pretty intense
Kyrie Irving
(1:42 PM)
It's going to be really hard. Just based on the fact that I love Duke so much and what they gave me there. I had a great relationship with the staff and my teammates. It's definitely something I'll have to move on with.
Nick (NJ)
3 Plumblee's on 1 team how crazy is that going to be
Kyrie Irving
(1:43 PM)
It will definitely be crazy, just based on their combined verticals. I think it equals over 110. I think that right there is crazy.
James Arnold (Los Angeles)
Your dad and you had an agreement to get your college degree. Will you continue your education at Duke or will you complete your requirements at another school.
Kyrie Irving
(1:43 PM)
I will complete my requirements at Duke. That promise I made to my father has got to be done in five years. That's a short period of time, but I have to figure out a way to get that degree. It's a promise I have to keep.
Will Atlanta, Georgia [via mobile]
What was the best thing you learned from Coach K?
Kyrie Irving
(1:44 PM)
The best thing I learned was to always keep great people around you.
Jeremy (Chicago, IL)
Growing up, what NBA player did you idolize?
Kyrie Irving
(1:44 PM)
Growing up, the NBA player I idolized was Chris Paul and Jason Kidd.
Kevin (D.C.)
Which PGs in the league have given you the most advice and guidance through this transition to the NBA?
Kryie Irving
(1:45 PM)
Yeah, I've been in conversation with Chris Paul since the beginning of my freshman year. He's told me to enjoy this process and prepare the best I can at the next level.
Kaden (Utah)
How do you feel about being the potential #1 pick?
Kryie Irving
(1:45 PM)
Definitely a great honor, knowing that I only played 11 games and I'm still rated as the No. 1 prospect. It's an honor I want to uphold and stay at that No. 1 spot.
Olivia (Chicago)
How hard was it being the new guy? How do people treat you because of that?
Kyrie Irving
(1:46 PM)
It was definitely a transition for me, because I was one of the youngest on the team. But I had to lead the team to a potential NCAA championship. It was a hard transition, but once I earned their trust, it was golden.
Justin (Sacramento)
What was the deciding factor for you to leave after such a short time at Duke?
Kyrie Irving
(1:47 PM)
One deciding factor was playing in the NCAA tournament, playing three games in the tournament. It gave me clarity in my decision.
Nick (NJ)
How Dangerous could the possible backcourt of you and Austin Rivers have been
Kyrie Irving
(1:47 PM)
It could have been really special. I would have taken him under my wing and made his transition that much easier. It would have helped him to the college rigors and everything that comes with being a highly touted college recruit and player.
Andy J. Dougan (Bethesda)
Kyrie, I know there has been some talk of you possibly representing Australia on the National team level. Is this a possibility? We need you in the red, white, and blue!!
Kyrie Irving
(1:48 PM)
I'm definitely not going to close the door until I'm ready. I want to keep both opportunities open. Until the time comes for the 2012 Olympics, I'm undecided.
Brendan (OH)
If you are drafted by the Cavs, are you looking forward to working with Baron Davis?
Kyrie Irving
(1:49 PM)
Yeah, definitely. I'm just trying to get acclimated to any organization as best I can. If they do pick me, I'll try to gain my teammates trust as soon as possible.
Alex (Gainesville)
What skill do you feel you need to improve the most to be successful in the league?
Kyrie Irving
(1:49 PM)
I think I definitley need to improve my leadership qualities and being more comfortable in being a vocal leader.
Mike (Dayton)
What is one thing you will miss playing at duke?
Kyrie Irving
(1:50 PM)
One thing I will miss about playing at Duke is being with my teammates every single day.
Don (Bahamas)
Chris Paul and Jason Kidd represent two different eras. Which of the two do you think represents your style more.....chris paul (edging)? lol
Kyrie Irving
(1:51 PM)
I would say definitely Chris Paul.
Carlos (Dayton)
Favorite basketball movie?
Kyrie Irving
(1:51 PM)
He Got Game.
JD (CHT)
Do you consider yourself a point, or do you think you play better off the ball?
Kyrie Irving
(1:51 PM)
I'm better at the point. Definitely better at the point. That's my primary position.
Greg Scott (Orlando, Florida)
Was it the right choice to enter the draft this year?
Kyrie Irving
(1:52 PM)
I definitely don't have any doubts in entering the draft. I'm 100% prepared for the NBA. I'm not looking back right now.
Dragan (Poolside)
Kyrie, which PG's are you looking forward to facing the most? Personally I think you and DRose could have some great battles?
Kyrie Irving
(1:53 PM)
I'm looking forward to going up against every point guard. Every PG I go up against from here on out will be a challenge. I'm looking forward to testing out my skills.
Harrison (Detroit, MI)
What are your long-term goals as a basketball player? How do you want people to remember you when your time comes to retire?
Kyrie Irving
(1:54 PM)
I would like for people to remember me as a guy who changed the mold of point guards, showing that you don't have to be the most athletic guy, you just have to show your desire to play, have a good basketball IQ and take care of the ball.
Mike (Austin)
Who is the best player you've ever played against?
Kyrie Irving
(1:54 PM)
The best player? Probably my father. He's the best player I've played against.
JP (Orlando)
What is one thing about Coach K that surprised you?
Kyrie Irving
(1:55 PM)
There wasn't anything that surprised me about Coach K. Everything I heard and read was true.
Hope (pennsylvania)
what do you think is going to be the hardest part about entering the NBA?
Kyrie Irving
(1:56 PM)
Time management and traveling. That's all I hear when NBA players tell me about their stories.
Michael (Buffalo)
What is the most embarrassing thing that ever happened to you on the court?
Kyrie Irving
(1:57 PM)
The most embarrassing thing was someone was at the other free throw line and dribbling up the court. I was 15 feet away and I was back peddling and I fell. He made a move and it made it look like I was falling from the move, 15 feet away.
Tyler Kapody (Bloomington, IL)
What do you have to say in response to any "haters" out there?
Kyrie Irving
(1:58 PM)
Two words: Can't Wait.
Adam (chicago)
Who was the funniest teamate at Duke?
Kyrie Irving
(1:58 PM)
Nolan Smith.
Kyrie Irving
(1:58 PM)
Hands down.
Brian (North Carolina)
Is it true that you would have stayed if you didn't make it back for the tournament? Go Duke!
Kyrie Irving
(1:58 PM)
Yes sir. That's completely true.
Bryan (Charlotte)
Hows your toe doing these days?
Kyrie Irving
(1:58 PM)
I'm 100% healthy. My toe is feeling lovely.
Kyrie Irving
(1:59 PM)
Thanks for your support. I'm definitely going to put a show on for you every time I step on to the NBA floor. Make sure you watch.