Chat with Paul Pasqualoni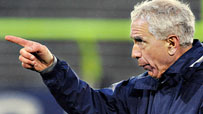 Pasqualoni coached D-III Western Connecticut from 1982-86.
Welcome to SportsNation! On Monday, we'll take a look at the 2011 college football season when new UConn coach Paul Pasqualoni stops by to chat.
On January 14, UConn named Pasqualoni the 28th coach of the school's football team. The Connecticut native returns to his home state and the college football scene following the last six spent as a coach in the NFL.
Pasqualoni coached Syracuse for 14 seasons, 1991-2004, compiling 107-59-1 record, including four Big East titles and a 6-3 record in bowl games. He takes over at UConn for Randy Edsall who departed for the open job at Maryland.
Send your questions now and join Pasqualoni Monday at 1 p.m. ET!
More Special Guests: Previous chats | SportsNation
Buzzmaster
(12:49 PM)
Coach Pasqualoni will be here at the top of the hour to take your questions!
JC (Hartford)
Coach Pasqualoni, welcome back to Connecticut. Do you see any simularities between the Uconn job now and when you took over the Syracuse job? Also, how long do you think you need to let the QB competition go on before you and your staff can make a decision? Best of luck this season!
Paul Pasqualoni
(1:01 PM)
The similarities are the high expectations of the program. To continue the upward development of UConn football.
David Soucey (Waterbury)
Coach you were a teacher of mine back at Southern Connecticut in the late 70s early 80s. So I know how hard you work as a football coach and teacher. What will be the toughest thing for you to overcome to have success at UConn this year?
Paul Pasqualoni
(1:03 PM)
Well, success this year is going to be based on how quickly we can develp a team around an inexperienced QB. The experiece at QB has graduated. We're going to have to develop the OL, the DL, the supporting cast around the QB, to take some pressure off the QB. We feel we'll have a chance to do that. We hav esome experience on the OL and TE which will help us up front. We have some experience on the DL and in the secondary. We have a very good punter and kicker, so we can play the field position game. We're going to try and help the young QB.
Tom M (Middletown, CT)
It has been many, many years since UConn fans saw their team run a fake punt or field goal. Could we see some of those type of plays this year?
Paul Pasqualoni
(1:04 PM)
The fake punt and fake field goal will be in every week. If the situation arises and we feel as though we have a fairly high percentage to make it, we would certainly use it.
Adam R (Albany)
Mr. Pasqualoni, how much extra pressure do you feel you have inheriting a team coming off of a Big East Championship?
Paul Pasqualoni
(1:04 PM)
I think the expectations of the program are high. In IA football, it's a high performance sport and a high performance business. There will always be those challenges there.
Georgi (USA)
Do you follow women's basketball at all? What are your thoughts on their success?
Paul Pasqualoni
(1:05 PM)
Yeah, absolutely. I am a big fan of UConn's men's and women's basketball. I really admire what they've done. Top programs in the country and attract the top players. We're hopeful we can continue to move the football program in that direction.
BlackFly (Maine)
Coach P, the 2012 recruiting class looks good! Are there scholarships still available for more recruits? Are they only for recruits or are walk-ons eligible? Good luck this season!
Paul Pasqualoni
(1:06 PM)
We're done for the 2011 season. The 2012 recruiting class, there are still scholarships available. We're still heavily involved in the evaluation and recruiting process. We have a few committments, but we have a long way to go.
Charles (MA)
As a rabid Cowboys fan here in Patriots country, I thoroughly enjoyed the work you did late last season with the Cowboys defense...what did you most enjoy about working with those guys?
Paul Pasqualoni
(1:07 PM)
What I enjoyed the most was the commitment that those players on the Dallas Cowboys made to the game of football. They are truly a group of professional people and guys who approach the game like real pros approach it. It was fun working with them.
Kevin (Danbury, CT)
Over the past several years, the offensive air attack has been needing a spark. Do you plan on changing the scheme in your first year and bring some more energy to the passing game, or do you intend to go for a more rushing oriented offense?
Paul Pasqualoni
(1:08 PM)
We've got to be able to utilitze the skills of the QB, once we establish who that is. Our philosophy is if we can run the ball well, that will help us throw the ball well. Often times if you're a good running team, it helps you with coverage on the outside. That's what we'll try to do.
Adam R (Albany)
Do you believe the high level at which basketball plays helps with football's fanbase? Or do you feel if the basketball teams were not as good, more fans would look to the football team as their main team?
Paul Pasqualoni
(1:09 PM)
I think the high level that both of the basketball teams play at helps with the entire perception of the university. I think it helps all of the way around, yes.
Frank C. (Bethel CT)
What is your plan for recruiting the state of Connecticut?
Paul Pasqualoni
(1:09 PM)
Yes. We are going to continue a very close relationship with every high school program in the state. Something that we tried to do at Southern. We'll work very hard to keep the best players in the state of Connecticut.
Chris (Wallingford, CT)
Are there any areas of the country that you're looking to get into that UConn may not have been involved in recruiting wise? I'm noticing more offers in CO & TX than in years past.
Paul Pasqualoni
(1:11 PM)
Texas with our exposure there and having lived that, we'll recruit some in Texas. And we have made some contacts with players in Colorado. We will try in the Northeast, within a 6-hour drive. And of course we'll try to continue the development of recruiting in Florida as well.
Mike (Allston,MA)
Coach, how important was it to maintain some staff stability as you retained several of the assistant coaches?
Paul Pasqualoni
(1:12 PM)
It was very very important to have continuity with the staff, in regards to finishing the 2011 recruiting class and the evaluation of current players we have in the program. The continuity aspect has been very very helpful.
Tim Albany [via mobile]
Coach Pasqualoni what teams are you most looking forward to playing? And where do you think the BiG East championship goes through this year?
Paul Pasqualoni
(1:13 PM)
Well, I've got a long familiar history with the traditional eastern teams, Pittsburgh, West Virginia, Syracuse, Rutgers. The traditional eastern rivals.
Tony Terzi (Wallingford, CT)
Coach P- How do you convince the better Connecticut high school student athletes to stay at home and help build a football tradition at UConn. So far, other than QB Dan Orlovsky, this has not happened.
Paul Pasqualoni
(1:14 PM)
I think we've got to demonstrate that we're going to play at a very very high level. That we're going to attract strong players. The one thing that I know about competitive football players is that they want more competitive players in the program. Our job will be to get that high profile CT player on campus and get our players to convince those kids that UConn is a great place to be.
Chris (Wallingford, CT)
Would you be opposed to using multiple QB's to take advantage of each player's unique skill set, or would you prefer one QB to take the majority of snaps?
Paul Pasqualoni
(1:15 PM)
We would prefer to settle on one, but we will utilize the special talents of any player we have. So if we settle on one and there is something special that another can do, we will certainly entertain that package.
Paul Pasqualoni
(1:16 PM)
Looking forward to the upcoming season. Very very anxious to be a part of a great Saturday in football. Look forward to the great atmosphere that's created at the stadium both inside and outside for the upcoming season.