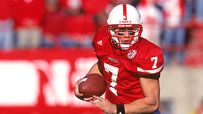 Crouch set the school record for quarterback career rushing yards wtih 3,434.
Welcome to SportsNation! On Monday, we'll have Omaha Nighthawks quarterback, and 2001 Heisman Trophy winner, Eric Crouch stopping by to chat.
Crouch recently tried out for and earned a spot on the Omaha Nighthawks of the United Football League. Fans can follow the team: @OmahaNighthawks. Crouch originally was a third round pick in the 2002 NFL draft. After four seasons trying to get a break in the NFL, Crouch went on to play in NFL Europe and the CFL, before landing in the UFL.
Crouch was the third Nebraska player to win the Heisman, leading his team to an 11-2 record in 2001. He led the Huskers to the BCS title game by passing for 1,510 yards and rushing for 1,115 yards and 18 TDs. He left Nebraska with 32 school records, a 35-7 record as a starter.
Send your questions now and join Crouch Monday at 2 p.m. ET!
More Special Guests: Previous chats | SportsNation
Buzzmaster
(2:01 PM)
We've got Eric!
Bob Carl (Omaha)
Eric, I was just wondering since I know the nighthawks like a couple other guys at the quarterback position, do you plan to play anywhere else on the field or are you set soley on plaing QB?
Eric Crouch
(2:04 PM)
The competition is going to be great at QB. If you look at DJ Shockley from Georgia, he has some experience. He was on the Nighthawks last year. He's one step ahead of the game. Jeremiah Messoli is a young, talented QB who has a lot of potential. If you look at the competition, the guys are very, very good QB. They'll hopefully make me a better QB. I have to have a vision of being the guy at QB. I don't go in with a thought of being second or third team. From that point of view, I do see myself as being the QB.
Bill (Toronto)
How would you describe your experience with the Toronto Argonauts of the CFL? Did it help develop your football skills or set you back?
Eric Crouch
(2:05 PM)
I think it did nothing but push me forward, taught me a lot of things about the passing game. I'm not sure everyone understands that the CFL is a predominantly a passing game. It allowed me to see the field. Reading the coverages. Finding the zone to pass to. All those days of practice and the few games I got to play in, it really helped me with the passing game. It really made me understand it. It will help me here in the UFL.
Bobby (Amsterdam)
Eric,What do you think about your former team moving to the Big 10? Also, who would you say was Nebraska's biggest rival while you were playing there?
Eric Crouch
(2:07 PM)
Nebraska will do very well in the Big 10. It was a great move. I think the biggest reason they moved was just the stability of the conference. It seemed like the best place to be. They're down to 10 teams in the Big 12. They need to work on their offense. That's where they'll struggle early on. They're going to get tested. The power of the Big 10 and the tradition and playing in different places. It will be a challenge to do well. They'll have to play as a team and hopefully those leaders will emerge. I do think they'll do well this year.
Pete (Omaha)
Eric how are things going with my Omaha Nighthawks? I'd love to see you tear it up out there!
Eric Crouch
(2:10 PM)
It's been a great experience. It's happened very fast. The UFL has given me a chance to play again at a very high level. I think this will be a system where they like to do some different things. You're not going to see an offense that you haven't seen before. I like them thinking outside of the box. Keeping defenses off guard. We'll have a fast paced offense, high tempo. Those are the things that play into my hand. I do believe that it will be a great opportunity to really get in front of a home crowd and give back to the state and the city of Omaha where I grew up. I'm looking forward to the opportunity from teammates to learn and get better. It's been a challenge to get into football shape over the last 6-8 weeks, after not really having been on the field the last 3-4 years. But I've done all of the things I could do. I've been in Lincoln training with guys. Those things will help. I'm excited.
America the beautiful (USA)
Where do you keep your Heisman, and what does it mean to you to have won it?
Eric Crouch
(2:13 PM)
The Heisman is kept in a secure place. I keep it in my house. It really is an unbelievable award in a lot of ways. It changes the way that people view you, but I've never let it change the person that I am. It really puts you on a pedestal as far as the best athletes to play at the college level. The impact of the Heisman, I still feel that every year. As I come up on the 10th anniversary of my winning, I feel that more and more. It didn't happen the first year or two after, but now I do. I've gotten to enjoy meeting the past winners and their families. My wife and I go back every year to New York and look forward to it. It was a lot of fun to see Doug Flutie play the drums during our private dinner/dance. I had a chance to sit next to Steve Spurrier and get a chance to talk with him. Those things are all fun to do. You start to build a bond. Everyone in that room knows what each of those guys have gone through. I'm proud to have my name mentioned with the other winners.
Capleton: Miami, Fl [via mobile]
You had a great college career, can you explain why some successful college quarterbacks can't be as successful on the next level (NFL)?
Eric Crouch
(2:17 PM)
I'm not sure what the overall reason might be, but I can speak for myself. I can say that I wish, if I could go back, I would have done things differently. I would have stayed as a QB and not let other coaches, players, agents, even myself, talk into playing a position that I've never played before. It was probably five years ago that I said to myself that I know that I'm a better QB than at any of these other positions, so I need to play that position to be a better player. So, that's why I went to the CFL, I went to the AAFL, which never got off the ground. Injuries plagued me. I'm fortunate to have another opportunity. Sometimes opportunities just present themselves. You could probably find a lot of players who haven't made the transition and there are probably a lot of reasons.
Eric Crouch
(2:17 PM)
The system your in. The college system, you're in it for four years, but then everything changes. There are a lot of distractions. No one is forcing you to workout and do the things to take care of your body. You have a lot of resources in college and you have people keeping a finger on your to make sure you're doing the right things. In the NFL, you're expected to do all of those things on your own, but not everyone operates that way.
Ryan (Omaha)
What do you think the UFL needs for it to really get going and expanding? Is the NFL lockout helping you guys get more exposure?
Eric Crouch
(2:20 PM)
I think if they keep finding talented players and coaches, I do think they'll succeed. The finances of the league is always a question mark in my mind. Publically, I know they've taken a lot of heat for the finances the first three years. So the business model needs to work. So, the finances. And the players. You need good players and coaches. Expansion will help. The rumor is that two more teams will be added. The Omaha team has done well, probably set the standard for the league, as far as attendance and memorabilia. That will get better each year. The UFL needs expansion and exposure. A TV contract might help the league and go out and find marquee players and pay them good money. Pay good coaches. But there's more than just finances. The marketing, TV. There are quite a few teams that will make this league successful. They seem to be on the right track.
Eric Crouch
(2:21 PM)
I just want to say thank you to everybody that's asked great questions today. Thanks for following me throughout my career, the ups and downs. I'm excited about putting on a Nighthawks jersey and playing QB for you this year. Come out and see us this year.