Chat with Jeff Prystowsky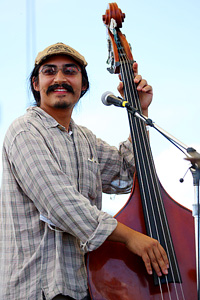 Welcome to SportsNation! On Friday, July 8, Low Anthem band member, Jeff Prystowsky, will stop by to take your questions about music and baseball.
Prystowsky, along with Ben Knox Miller, Mat Davidson and Jocie Adams, make up the band that has recently been packing venues up and down the East Coast in support of their latest effort, ''Smart Flesh,'' an album Rolling Stone calls ''magnificent sadness.''
Prystowsky and Knox Miller were teammates on a wood-bat baseball team called the Providence Grays before forming Low Anthem and Prystowsky once taught baseball history at a high school in Providence.
Send your questions now for the former Yankee fan and join the chat on Friday, July 8 at 11 a.m. ET!
More Special Guests: Previous chats | SportsNation
Buzzmaster
(10:58 AM)
Jeff's here!
Graham Kelly (Portland, Maine)
Which of the following guys should be in the Hall of Fame: Rose, Clemens, McGwire, Bonds.
Jeff Prystowsky
(10:59 AM)
My answer would be Pete Rose. All time hits leader. He's in the consciousness as Derek Jeter goes for 3,000.
Andrew McMalley (Pittsburgh)
Do you guys like playing festivals or is that kind of atmosphere not always condusive to your type of music?
Jeff Prystowsky
(11:00 AM)
It depends on the festival. Newport Folk Festival is heaven. End of Road Festival is a close second. But in general, festivals have a hard time with the sound. Multiple bands playing at the same time and they drown each other out. The loudest band survives.
Timo (San Diego)
What do you think of instant replay in baseball?
Jeff Prystowsky
(11:02 AM)
I'm not for it. I'm staring at a picture of a sandlot baseball game. I guess I'm a purist. If the ball hit a bottle, I think it's OK to pretend that it didn't.
Jeremy (Newport)
Would you trade your music career for one season in the big leagues?
Jeff Prystowsky
(11:03 AM)
I would trade for three seasons in the big leagues. A rookie year, a sophomore year and then the triumphant decline.
Linda (Tallahassee)
What do you do to try and unwind amidst your grueling tour sked?
Jeff Prystowsky
(11:04 AM)
I cracked open a Narragansett Beer, put on ESPN3.com and stream the Baltimore Orioles.
Bobby Z (Boston, mass)
What's the best advice you've been given about pursuing a career in music?
Jeff Prystowsky
(11:05 AM)
Like my baseball coach said in high school, "never give up." Even when the players on the other team are ringers.
Steve (North Carolina)
If you could go back in time and play pro ball in any decade which would you choose?
Jeff Prystowsky
(11:06 AM)
I would play in the 1920s against the great Yankee team of Ruth and Gehrig.
Sheldon Miller (Knoxville)
What do you make of the success of bands like The Avett Bros and Mumford and Sons? Do you see new avenues for succcess for bands who don't fit into the traditional pop/rock mold?
Jeff Prystowsky
(11:07 AM)
As Bob Dylan said, the times are always changing. Who knows what the future might bring.
Anthony John (Long Island)
Who is the best pitcher in baseball right now, Verlander or Halladay?
Jeff Prystowsky
(11:07 AM)
I have a Roy Halladay shrine in my room, so I'm a little biased.
Ryan Andes (TX)
Jeff, thanks for making such great music. You guys are a real breath of fresh air in a pretty cluttered music landscape. What keeps you going and motivated? is it scoring a certain venue? A glowing review? Playing new places?
Jeff Prystowsky
(11:08 AM)
Short answer: DNA. Long answer: A love of music that is not an advertisement.
Jeff Prystowsky
(11:09 AM)
Music that is not observed.
Mike (Lincoln, RI)
Jeff, your songs and albums often touch upon the lives and influence of some of history and pop culture's most important figures. If you guys were going to base your next album on one baseball player, past or present, who would it be and why?
Jeff Prystowsky
(11:09 AM)
Joe DiMaggio, whose 56-game hit streak inspires me to this day.
Bear (Providence)
to DH or not DH, that is the question.
Jeff Prystowsky
(11:10 AM)
Without the DH, how could we have Big Papi?
Gaz (PVD)
Yankees or Red Sox?
Jeff Prystowsky
(11:10 AM)
The PawSox.
Marianne (New York)
What is your favorite part about touring with your band?
Jeff Prystowsky
(11:11 AM)
Feeling free every day.
Jeff Prystowsky
(11:12 AM)
Is this chat bad luck? Adam Jones who did the chat on February 14 didn't make the all-star game.
Morrie Baxter (Washington)
You guys are known for playing a lot of differnet instruments and switching up during the show.. curious what instrument you can't play that youwoud like to learn?
Jeff Prystowsky
(11:12 AM)
I'm trying to learn the singing saw. It's dangerous.
Chris (Beacon Falls, CT)
Are you guys going to need a cellist on any recordings coming up?
Jeff Prystowsky
(11:13 AM)
Thanks for the offer. We are accepting admissions through the Julliard School of Music.
Jeff Prystowsky
(11:14 AM)
Jim Wilkie is the man.
Dan (Tiverton RI)
Of any ball park in history which is your favorite and why?
Jeff Prystowsky
(11:14 AM)
Polo Grounds. Home of the Brooklyn Dodgers.
Hooper (Block Island)
The Low Anthem are the left-handed all-star shortstops of the music world a?? you do everything in your own way and let us hear with fresh ears. Is there a ball player whose approach to the game is a model for your music?
Jeff Prystowsky
(11:15 AM)
Greg Maddux, whose circle changeup changed my life.
Cynthia (Virginia)
Have a little known baseball historical fact to share with us?
Jeff Prystowsky
(11:16 AM)
I'm still getting over Manny Ramirez' retirement.
Jeff Prystowsky
(11:16 AM)
For all of his shennanigans, I miss the guy.
John Benton (London)
So glad you mentioned End of the Road - your garden stage set last year was my highlight of the whole weekend. What time is your secret gig there this year....?? :-D
Jeff Prystowsky
(11:17 AM)
Unfortunately, we will only be audience members this year, due to a radius problem with another gig.
Steve (Boston)
Hi Jeff. As a Yankee fan you're clearly familiar to the meat grinder that is the AL-East. With all the clamor about restructuring I think people are forgetting about how exciting regional rivalries are. Is it worth keeping 19 games against the Red Sox at the detriment of competitive equality?
Jeff Prystowsky
(11:18 AM)
It's not up to us. It's in the hands of massive corporations. Let's start a website.
Tim (New York, NY)
You guys are awesome. If you could tour with anyone, who would it be?
Jeff Prystowsky
(11:18 AM)
The Band with Bob Dylan, 1974.
Oz from HearYa.com (Chicago)
Cubs or White Sox?
Jeff Prystowsky
(11:19 AM)
If I say the White Sox, I might lose my record deal.
Patrick (Nasvhille)
As a Nashville transplant from Cleveland, do you think the Tribe has what it takes to win the Central?
Jeff Prystowsky
(11:19 AM)
Doubtful. Look up the great whiffle ball league in Nashville run by Tony Laiolo.
Jake (CA)
Why play a fretless bass vs. one with frets? Frets seem useful.
Jeff Prystowsky
(11:20 AM)
Go buy the record Jacko Pastorius. That might help you.
John A. (New York)
What are you reading right now?
Jeff Prystowsky
(11:21 AM)
Carl Sagan, I hope to see in my lifetime, the game of baseball played on the moon.
Jeff Prystowsky
(11:24 AM)
Let us pray for Albert Pujols' wrist. Look forward to a surprise appearance by Peter Gammons on a future secret record. Also, shout out to Roslyn, NJ, my baseball birthplace. Signing off from Providence.