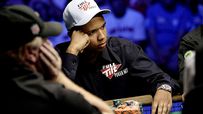 Is Phil Ivey bluffing? Joe Navarro can probably tell you.
Welcome to SportsNation! On Monday, we'll have 25-year veteran of the FBI, and expert in non-verbal communication, Joe Navarro stopping by to chat about the 2011 World Series of Poker.
While he will be working with ESPN during the WSOP, he expands his expertise to other areas in and out of the sports world. More of his world in the non-verbal can be found on his website jnforensics.com.
Send your questions now and join Navarro Monday at 3:30 p.m. ET!
More Poker: Blog | Chats | Poker index
Buzzmaster
(3:23 PM)
Joe is here!
Kyle (VA)
Are you surprised at how many different things/people you are able to help with your knowledge?
Joe Navarro
(3:24 PM)
I've been very surprised at how many people have been interested from doctors to teachers to parents to attorneys.
Joe Navarro
(3:25 PM)
Very gratifying. Good question. Basically I've always wanted to share knowledge and appearing on shows and Tweeting has really helped with all of that.
Peter (Chicago)
is reading someone more of a science or an art?
Joe Navarro
(3:26 PM)
It's both. There is a lot of science that we now know behind body language. But it's still the art of reading somebody that is key. I'll give you an example. We know that lip pursing means that I'm thinking of something else. But interpreting that in context, that's the art.
Freddy (Miami)
Are your kids afraid to lie to you? I bet no one in your house ever gets away with not walking the dog.
Joe Navarro
(3:28 PM)
LOL. I find with my family that I have to turn it off, because it begins to effect the relationship. When my daughter was growing up, she would come talk to me behind sunglasses and a beach towel for a father-daughter chat. I got the message, stop playing FBI.
Greg (St. Louis)
Is the ability for the best pro poker players to bluff better than others what separates the good players from the really good ones?
Joe Navarro
(3:29 PM)
Two key features to great poker players is the ability to observe, the ability to do perception management. To make people believe and not reveal. That's what makes for a really good poker player.
Jeff (RI)
Did you set out to become a non-verbal expert? Or did it just happen during your FBI career?
Joe Navarro
(3:30 PM)
I had an interest in it before I went into the FBI. Once I was in, I could immediately tell that it was always about body language, whether you're in surveillance or interviewing, it's all about body language. In 1978, there were really no experts in the FBI on body language. So, I sort of fell into it.
Carl (Denver)
How long do you have to study someone before learning if he/she is telling the truth?
Joe Navarro
(3:31 PM)
It depends. It depends on the person, on the circumstance. And sometimes it's very very difficult. Probably more important than is a person lying, rather is what questions is a person bothered by.
Joe Navarro
(3:31 PM)
If you ask somebody do you own a Camarro and they get all nervous, why is that? The discomfort that they show that's more important.
Luke (Dallas)
Have you ever watched the TV show Criminal Minds? Is that basically you?
Joe Navarro
(3:32 PM)
Yes! And they owe me a lot of money....just kidding. I think Criminal Minds is a composite of a lot of good agents that we had in the behavioral program.
Steve (LA)
Did you only work on non-verbal communication type cases while you were with the FBI?
Joe Navarro
(3:33 PM)
Primarily, I worked counterintelligence, which was spy catching and terrorism matters. Non-verbal was just a subspecialty.
Brian (Augusta, GA)
Do you think players bluff more or less these days now that they know people can learn "tells" from experts such as yourself? If I had to guess, I'd say less, but what do I know.
Joe Navarro
(3:34 PM)
I think there is more bluffing going on, because of there are more books, more experts talking about this subject than ever before. Plus there are more players. Bluffing is acting. The question is, how many world class actors are out there? That's what's going to make the difference in poker, who can really act well.
MK (Eden Prairie)
Most reliable tell you've seen ??
Joe Navarro
(3:35 PM)
Probably the most reliable one is lip pursing and lip compression are very accurate in showing displeasure.
Joe Navarro
(3:36 PM)
These tells are accurate, but they have to be placed in context. Why is this person doing this at this moment?
Brian (Augusta, GA)
Do top level pro's seek your guidance? If so, can you name a few?
Joe Navarro
(3:37 PM)
I have trained a dozen or so of the top poker players, but many of them have learned on their own by reading independently.
Joe Navarro
(3:38 PM)
I've always been amazed at how the winningest poker players are like information sponges. They never stop studying what's out there and what's new. I'm wowed by that.
Alan (San Francisco)
Did you always want to be in the FBI?
Joe Navarro
(3:39 PM)
No, actually, I wanted to go to medical school, but was weak in my math and chemistry. Eventually I was recruited by the FBI, just in time.
Kyle (CT)
In how many different ways are you able to use your expertise?
Joe Navarro
(3:40 PM)
We use it in everything. Family, dating, marriage, at work, it's the primary way we communicate. Anywhere from 60-80 percent of all interpersonal communication is non-verbal. We can't escape it. We even include it in Tweet messages with: :)
Evan (Pitt)
Is it possible for someone to bluff and you not know it?
Joe Navarro
(3:41 PM)
Of course. Great question. It goes back to a really good actor should be able to bluff.
Jaxx (Philly)
Joe - Do you play poker much? Are you able to read your opponents well? What level is your competition and what stakes?
Joe Navarro
(3:42 PM)
Not really, because poker, like golf, requires a lot of time investment to excell. I just don't have a lot of free time.
john (LA)
How do you know a tell is not a reverse tell?
Joe Navarro
(3:43 PM)
Yes, when it's poorly execute, it's over the top or is repeated too often to convince me, rather than convey.
Joe Navarro
(3:43 PM)
Bad bluffers delay their tells. They have to think about what they're going to do rather than just do it naturally the way a brain would do it.
Jeff (Texas)
Joe - what has been one thing you'll always remember from your time in the FBI?
Joe Navarro
(3:44 PM)
I remember someone leaving a bowl of a watch in the FBI Academy gym bench and it was there two days later.
Joe Navarro
(3:45 PM)
The honesty of the people was very impressive.
Joe Navarro
(3:46 PM)
In our dorm at the FBI, we had no locks on the doors. To this day, that still blows my mind.
Joe Navarro
(3:46 PM)
Aside from that, I worked some great espionage cases. They were fun to work.
Joe Navarro
(3:47 PM)
Terrific questions. Wonderful, in fact. Really enjoyed your questions. A lot of fun to answer them. Check out www.JNForensics.com. If you're interested in more of this, I have a new book out called "200 Poker Tells."