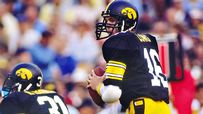 Long was drafted 12th overall by Detroit in the 1986 NFL draft.
Welcome to SportsNation! On Tuesday, Kansas offensive coordinator, and 1985 Heisman runner-up, Chuck Long stops by to chat some college football.
The 2011 season will be Long's second as the Jayhawks' offensive coordinator and quarterbacks coach. Long came to Kansas following a three-year stint as head coach at San Diego State and several years as an assistant at Iowa and Oklahoma.
Long played collegiately at Iowa, where he won over 30 games as a quarterback. At the time of his graduation, he held every Iowa passing record, but one (attempts in a single game). He also was the first Big Ten player, and second nationally, to pass for more than 10,000 yards.
Send your questions now and join Long Tuesday at noon ET!
More Special Guests: Previous chats | SportsNation
Buzzmaster
(12:03 PM)
We've got coach!
Darren (TX)
Do you still have time to follow Iowa football, or are you too busy with your coaching?
Chuck Long
(12:04 PM)
I follow it. I follow the scores for sure. As far as the details, it's hard to do, because I'm coaching my own games. I try to follow the box scores. And if there are any highlights, I'll check those out late Saturday night.
John (Kansas City)
With a lot of young talented running backs, what will be the approach to handling carries? Running Back by committee?
Chuck Long
(12:05 PM)
Well, we still need to figure that out. That's what our training camp is for. We're all going in wide eyed. Miller was here in the spring and came along in a great way. Training camp will play out. We're not talking redshirting at this time. With the physicality of the Big 12, we'll need the guys. We'll let it play out. We do plan on running the football.
Dave (NJ)
Coach, is there any game in particular that stands out from your Iowa days?
Chuck Long
(12:06 PM)
The big game is the Iowa-Michigan game in 1985. We were No. 1 and they were No. 2. We beat them on a last second field goal. It was like a Hollywood ending. It was the best moment. There were a lot of them, but that was the best one.
Daniel (KC)
How are the quarterbacks progressing this year?
Chuck Long
(12:07 PM)
The QBs have been progressing very well. I think they've made some steps forward from last year. They had some rough experiences at times, but experience is experience. They have it under their belt. I thought in the spring that Jordan and Quin improved. We are starting to develop a better foundation there. We feel good about where they're at.
Kevin (CT)
What do you feel is the biggest difference between when you played college ball and now?
Chuck Long
(12:08 PM)
The first thing that comes to mind are two things. Off the field media attention, with the Internet. All of that is so much different when we played. On the field, all of the blitzes they see now. We never did that when we played. Especially the zone blitzes.
Nathan (Missouri)
I played against Jordan Webb in high school. What do you think about him and where will he be on the depth chart going into the season?
Chuck Long
(12:09 PM)
We like what Jordan has done this spring. He really improved tremendously. He moved the ball with both the first and second unit. He brings some toughness. We like that. He's tough. A competitor. He's starting to learn how to manage the game. He also brings a very strong arm. He's good mechanically.
Nathan (Missouri)
What was the toughest stadium to play in when you were playing?
Chuck Long
(12:10 PM)
The toughest stadium was probably Ohio State, espcially in the Horse Shoe. You couldn't hear a thing out there.
Dave (RI)
What do you think prevents highly successful college players from making it in the NFL?
Chuck Long
(12:12 PM)
It's hard to put your finger on it. There are a lot of things that go on at each level. With the NFL, some guys go through a lot of coaching changes. That might be the case. A lot of fluctuation. And timing. I think timing is an element that can make or break your career at times. Some guys have one coach. If that happens, you can be highly successful. Others have many coaches. It depends on the stability of the organization. It starts at the top and trickles down. That's true of any business and the NFL.
Shawn (Detroit)
A trip down memory lane Chuck...I was at the Dome on your Monday Night debut against the Bears in 1986...It was electric...although the Lions lost 16-13...can you describe that how you felt that night and when you threw that TD pass to Leonard Thompson...
Chuck Long
(12:13 PM)
That was great. It was a great moment. The Silverdome was sold out. It was a Monday night. We were playing that Bears defense. I remember a couple of DLs, Dan Hampton and Steve McMichael sacking me early and picking me up saying "it will be a long night, but we do this to everybody." That TD pass was an exciting moment. We thought after that game that we had a good future. But for whatever reason, it just fell apart. That was one of the better moments. It was a shining moment.
Jeff (ks) [via mobile]
Do you feel the offensive line that will not only allow a good running game but enough pass protection to have an effective passing offense
Chuck Long
(12:15 PM)
Yes we do. That's one of the things I wanted to mention before, our OL is better. We were going in cold last year. We had some experience on the OL, but not much. We really have that lined up. We know what they can do. We think we'll make some progress there. A lot of that too goes back to the QB position and our WRs getting open. We feel with a good run game, we'll be able to have better pass protection.
Cheesehead Sports Nut (Chicago, IL)
Expansion is great in terms of revenue but really hurts certain regional rivalries. Simple example, how much of a bummer is it that Wisconsin and Iowa are no longer going to play every year?
Chuck Long
(12:17 PM)
I don't have an answer for that. TV has all of the answers. They're not going to put money into games unless certain things happen. The Iowa-Wisconsin rivalry has lasted a long time. They know the crystal ball and what's going to happen with the TV revenue. I don't like to see some of these rivalries breaking up, but it's an ever changing world and you have to keep up as a coach. For all of these conferences to work, some of the rivalries will get lost. That's what's happening with all of the changes, something has to give.
Greg (KS)
What are you looking forward to most about 10 teams in the Big 12?
Chuck Long
(12:18 PM)
We pick up teams like Oklahoma and Texas this year. Our schedule got tougher. That's the one thing. The other side of it, we play a round robin schedule. Everyone plays each other. That's good, it makes for a more pure champion of the league. This goes back to the Big 10 days when I was there, when there were only 10 teams there. I've gone full circle.
tom (idaho)
your thoughts on nebraska joining the big 10?
Chuck Long
(12:19 PM)
Nebraska was such a great mainstay in the Big 12, you hate to see a school with that much tradition and what they bring to the table, leave. They will be a good fit in the Big 10. They have the stadium and the support to fit in that conference. You don't want those teams to leave. But like I said, it's an ever changing college football world.
Chuck Long
(12:20 PM)
Please support Kansas football. We feel like we're on the rise. We're excited about the future.