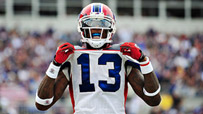 Johnson was a seventh round pick by the Bills in the 2008 draft.
Welcome to SportsNation! On Wednesday, we'll have Buffalo Bills wide receiver Stevie Johnson stopping by to chat about the NFL labor situation.
Johnson experienced a breakout season in 2010, after battling injuries in 2009 that limited him to just five games. Last year, he caught 82 passes for 1,073 yards and 10 TDs, all career bests in his three seasons in the league.
As a senior at Kentucky, Johnson also had a breakout year, piling up over 1,000 receiving yards and 13 TD catches. Fans can follow him on Twitter: @StevieJohnson13.
Send your questions now and join Johnson Wednesday at 1 p.m. ET!
More Special Guests: Previous chats | SportsNation
Buzzmaster
(12:55 PM)
Buffalo Bills wide receiver Stevie Johnson will be here at the top of the hour to take your questions!
Buzzmaster
(1:01 PM)
Stevie is here!
Brad (Gadsden,Alabama)
Stevie, Do you have any pre-game rituals?
Stevie Johnson
(1:03 PM)
Yes, just listening to music and watch other wide receiver highlights.
Joel (Philadelphia)
Do you think the new uniforms will help increase your swag even more on the field and also give the bills team a spark? Cause you know there is a saying; You look good, feel good, play good..
Stevie Johnson
(1:04 PM)
I definitely believe in that. The swag is always going to be there, but it will boost the morale of the guys in the lockerroom.
Chris Fiegler (Latham,NY)
How do you feel about the NFL Lockout?
Stevie Johnson
(1:04 PM)
Actually, I haven't even been looking too much into it. All I know is that everybody that is anybody in the NFL has to continue to keep working....hopefully.
Matt P (Berkshire NY)
Who is the best corner you've faced?
Stevie Johnson
(1:05 PM)
Hmmm, the best CB? I haven't played Revis. I give credit to the KC Chiefs CBs. I think they did pretty good in their coverages of me. I give them credit. They didn't let me get behind them.
Greg (Miami)
You're pretty active on Twitter. Do you like running your own Twitter account?
Stevie Johnson
(1:06 PM)
Yeah, I love the fact that I can speak my mind to a certain extent. I can't be all of the way open, but I like Tweeting what people can relate to.
Matthew (Los Angeles, CA)
Are you training somewhere with your team?
Stevie Johnson
(1:07 PM)
Yeah, we've been together maybe four times this offseason. We've been hooking up. Not as a whole team, but the DBs have hooked up. The WRs, RBs and QBs have hooked up. We've hooked up.
Scott (SD)
Any reason for the # 13? I wore it in high school and college and everybody kept saying it was an unlucky number. I'd reply: "well, it seems to be working pretty good for me?!"
Stevie Johnson
(1:08 PM)
That's the same mentality I have. Everybody says it's an unlucky number and showing that it isn't. The number doesn't make you, you make the number. Something different, rather than something in the 80s. And the 1 and 3 make a "B" and that's what I call my wife. Pretty smooth.
Rich (New Jersey)
What's your opinion on the Bills playing games in Toronto instead of Buffalo? And what opposing stadium do you like playing in?
Stevie Johnson
(1:09 PM)
I enjoy it. I know the fans don't really like it too much. I enjoy away games. Having a home game that's away, it's a win-win for me. I just wouldn't talk about that in front of the Bills fans. It's pretty cool to me.
Alec Dietsch (Buffalo)
Are you planning on topping your flair you had on the field last year? If so, what spectacles do you have in store?
Stevie Johnson
(1:09 PM)
I definitley have some tricks and entertainment up my sleeve for this season, if we have one. I can't give it away. Just be watching the Buffalo Bills.
Lamar (Oakland)
Stevie, great year last season and good luck this year with the Bills. The Bay Area misses you and we support you and your career. So, who's the toughest CB you've faced so far and do you miss the Bay Area?
Stevie Johnson
(1:10 PM)
Yeah, most definitely. The Bay Area is where I got all of my game from, both on the field and off the field. The Bay Area made me the player I am now. Every time I go out there, I'm representing the Bay Area, Kentucky where I went to school and now Buffalo.
Matthew (Los Angeles, CA)
Finish this sentence: If I wasn't an NFL player I would be a _____.
Stevie Johnson
(1:11 PM)
I'd probably be making music with my cousin or just making music period. That's it. Making music.
Katie (Smithfield, RI)
Hey Stevie! I saw Coach Hixon said you're going to have a huge year this season- what kind of things have you been working on the most in the off-season?
Stevie Johnson
(1:12 PM)
I can't say that I'm going to have a huge season, I'm just going to put in the work. I'm just working on my routes. I'm working on getting my lungs up. I'm getting in tip top shape. I've been getting advice from Jim Kelly. When he talks to you, you have to go on it. So, I'm trying to get into tip top shape.
Scott (Northglenn, CO)
Is Kyle Williams the best DT nobody knows?
Stevie Johnson
(1:13 PM)
Could be. Man, I would say so. I'll go to bat for Kyle. He's a monster in there. He's smart. He reads plays out. I know it's different being a NT than a DB or something else, but he's smart. He runs down plays. He is.
Jake (Orchard Park, NY)
I know some Bills fans were unhappy with the Bills not picking a QB in the draft, but i feeel Fitz is perfect for now the way the offense works, Why do you think you two have such good chemistry together?
Stevie Johnson
(1:14 PM)
I think Fitz has great chemistry with everyone, because he shows faith in them. Through the games. He's taking chances. When he's taking chances with you, you don't want to let him down. That's how I feel with Fitz and myself and that's the way it is with all of the WRs on the roster. That's why we can come together and make plays.
Scott (Northglenn, CO)
Was The Dark Knight one of your favorite movies, or just a good line?
Stevie Johnson
(1:15 PM)
The Dark Knight is a great movie. Great movie. But the reason for me coming up with it was to come up with something to go against what Ocho came up with him and T.O. being Batman and Robin. It was just to add some spice to the game.
Brandon (Louisiana)
What do you think the Bills record will be this year? Do you think this year will be a playoff year?
Stevie Johnson
(1:16 PM)
I don't have any predictions on a record. But I feel like we can make a push toward the playoffs, but I know we'll make a solid push toward it this year.
Katie (Smithfield, RI)
Have you gotten to work out at all with the new players at all? How do you think our defense is looking this year with the addition of the rookies?
Stevie Johnson
(1:17 PM)
No, I haven't been able to work out with any of those guys, but I speak to them via Twitter a lot. After this draft, our defense seems to have taken a few steps in the right direction. I like with our picks, they show a lot of enthusiasm. Hopefully they bring that to the game in the NFL. Give us another spark. The enthusiasm I see on their highlight tapes. It's great. I just want to get in their head to carry that over. Don't shy away from it.
Shawn Lynch (Niagara Falls )
Whats your favriote spot to get wings in Buffalo?
Stevie Johnson
(1:18 PM)
My favorite spot is probably just doing across the street to Duffs in Orchard Park. I've heard about Anchor Bar too.
Alex (Buffalo)
We all loved your "Why So Serious" shirt against Cincy and you're other celebrations. ESPN just ranked you as the best celebrator in the AFC East. Do you want a repuattion like Ochocinco and Owens for your celebrations?
Stevie Johnson
(1:19 PM)
I guess I can say yes and no. For me to do those things, I was watching their highlights and their TDs. So that's the yes part. When I say no, it just goes to me being me. I always wanted to get to the NFL and I've always wanted to have fun. So to show that you can have fun in the NFL. That's why the shirt was such a good fit.
Dave (Buffalo)
If you like to have fun, what do ou think of the celebration rules?
Stevie Johnson
(1:20 PM)
I don't like them at all. I don't like the rules. As long as you're not being disrespectful to any players directly or the team, why get fined that money for throwing the ball in the stands? You put so much work into getting there, and it's a team game, you can't celebrate with your teammates?
Mat P (Buffalo)
What do you plan on doing after your football career?
Stevie Johnson
(1:22 PM)
After my career, my wife's dad has a trucking company, I want to link that up. My cousin has a music career. I want to touch into that. My auntie is in real estate. I want to dip into a lot of things. Make way for the younger generation in the family so they can be set.
Judy (Buffalo NY)
Stevie, they posted pics on the Bills Forum comparing YOUR & T.O.'s bodies... nice tats but do you plan on bulking up this year? I heard you were lifting weights. Thanks.
Stevie Johnson
(1:23 PM)
No, I'm not planning on bulking up. I just want to get ripped so I can have the look. I don't think I'll ever get as big as T.O. but I still have to look cut when I'm out there signing autographs. T.O. is a freak. I can't get that big.
Brad (Washington DC)
Stevie, became a huge fan of your work last season...how did Bills uncertain QB situation last year effect your game preparation?
Stevie Johnson
(1:24 PM)
No. My game preparation came from coach Gailey giving me the opportunity. Whoever the QB was, I was ready to make the plays. It didn't effect me.
Colt (Notre Dame, IN)
I was only 12 the last time we made the playoffs. What message of hope can you bring to us Bills fan around the country who are thirsty for a return to glory?
Stevie Johnson
(1:25 PM)
The team is tight. I feel like we're tight as far as everyone being open with each other. That's why we need this lockout to be done so we can get back to camp. Everyone is level. Everyone is on the same level, no matter what they get paid. I was talking to Logan on the San Jose Sharks and he said everyone is on the same page, everyone will fight for each other. That's what I feel we're like. We had some epic games where we fought and won.
Shawn Lynch (Niagara Falls )
Who is the biggest joker in the locker room?
Stevie Johnson
(1:27 PM)
Fitz. He's smooth. He's the funniest natural comedian in the lockerroom. He can go to everyone in the lockerroom and make him laugh.
Stevie Johnson
(1:27 PM)
Live. Love. Laugh.
Buzzmaster
(1:27 PM)
Thanks Stevie!