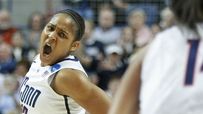 Moore won back-to-back NCAA titles in 2009 and 2010.
Welcome to SportsNation! On Wednesday, Minnesota Lynx forward, and former star at UConn, Maya Moore stops by to chat about her ESPYS nomination. Moore is up for Best College Female Athlete and Female Athlete of the Year. She is looking to win the college award two years in a row. Voting is underway.
Moore, the No. 1 pick in the WNBA draft this spring, finished her UConn career as a four-time, first team all-American. She is just the second player in NCAA history to nab first team honors four years in a row. She also won her second Wooden Award, the third player to win twice.
Through the first eight games of her WNBA career, Moore is averaging 13.5 points and 4.4 rebounds per game. Minnesota is off to a 5-3 start and third place in the Western Conference.
Send your questions now and join Moore Wednesday at 1 p.m. ET!
More Special Guests: Previous chats | SportsNation
Buzzmaster
(12:58 PM)
Hi everybody. ESPY nominee and Lynx forward Maya Moore will be with us momentarily. Write in now with any questions you have for her.
Buzzmaster
(1:04 PM)
OK, Maya's here to answer your questions. Let's get started.
Jono (Atlanta, GA)
Maya, thank you very much for adding your flair and ability to this rising league. Are there WNBA (or non-WNBA) players whose playing strengths you attempt to emulate and add to your overall game?
Maya Moore
(1:06 PM)
Good question. There's a ton of players, definitely some great ones. I think Diana Taurasi is one of the best. Her competitiveness is always something to want to watch and be like.
Asia Jones (Valdosta GA)
If you had to pick one sport to play that wasn't basketball, which one would you pick?
Maya Moore
(1:06 PM)
It would be volleyball.
Brad (Gadsden,Alabama)
Maya, Do you have any pre-game rituals?
Maya Moore
(1:07 PM)
More just mentally getting ready, visualizing what I need to do on the court. I eat a good meal, some chicken, pasta, some veggies. And then go out and win.
Janez (Minneapolis)
How do you like living in Minnesota, and where is your favorite place to eat there?
Maya Moore
(1:08 PM)
Living in Minnesota has been great. It's not a fancy restaurant but I really like how many Chipotles that have been around. We didn't have them in Connecticut.
Kaitee (VT)
Hey Maya, big fan. So the all-important woman-to-woman question is this: Have you picked out your ESPYS dress yet? Did anyone help you out or are you your own stylist? Keep dominating in the WNBA!
Maya Moore
(1:09 PM)
I have not picked out a dress yet, but I do have help from a stylist.
Connor (NH)
Which athlete or coach are you most looking forward to meeting at the ESPYS?
Maya Moore
(1:10 PM)
I don't know if he'll be there, but I would really like to meet Tony Dungy. I just have a lot of respect for him as a coach and a person.
Matthew (Los Angeles, CA)
What was your first game in the WNBA against the Sparks like?
Maya Moore
(1:11 PM)
My first game was exciting. Staples is a really fun place to play. I was pretty anxious to get out there, and it was a really intense game.
Birdfan (Louisiana)
Where do you see the future of womens basketball heading in 5 years?
Maya Moore
(1:11 PM)
In 5 years, full of talent, very competitive. Pretty much how it's going now. Just more and more talent coming into the league. It'll be really fun and exciting to watch, with more TV exposure.
kevin (macon ga)
What's the biggest difference between Coach Auriemma and Coach Reeve?
Maya Moore
(1:13 PM)
We don't eat at as many Italian restaurants now.
Jamsoup (YMCA)
What does your MOM cook 4 u when u go home?
Maya Moore
(1:13 PM)
Macaroni and cheese. That's an easy one. I just had some yesterday.
Jimothy (Bloomington MN)
How does it feel to be the first female to join team Jordan and were you were surprised when you were asked to join?
Maya Moore
(1:15 PM)
I think being the first female basketball player is a huge honor and exciting for the game of basketball. I was just very honored to have a chance to be in the Jordan family. I'm looking forward to seeing all of the things that can come from this relationship.
David (Duluth)
Which players from the opposing teams are you looking forward to playing the most this year?
Maya Moore
(1:16 PM)
It'll be fun to play Connecticut again. Half of my old teammates are on that team. And Phoenix and San Antonio will be fun to play too. They have a good squad over there.
Jamsoup (YMCA)
What other sports do u follow?
Maya Moore
(1:17 PM)
I like to watch tennis every now and then. I like to watch volleyball when it's on. Football, college football. I like every sport. I do like watching track and field. There's really not a sport I don't like to watch. I participated in track in high school and almost played volleyball in high school too.
Scott (SD)
Who is the toughest on the ball defender you've faced in your career?
Maya Moore
(1:18 PM)
There's a lot of great guards. Tamika Catchings is one of the best because she's so strong and fast.
Maya (Maryland)
Who are some of your favorite music artists?
Maya Moore
(1:19 PM)
Canton Jones. He's probably one of my favorites. Mary Mary. There's a guy named Kristian Stanfill. And Mali Music. Those are four solid groups.
Andy (Minny)
Who is the funniest/goofiest player on the team?
Maya Moore
(1:21 PM)
Seimone Augustus because of her impressions and her storytelling abilities. It's the funniest thing I've ever seen. She does impressions of everybody on the team and staff.
Birdfan (Louisiana)
What do you say to little girls who want to be like "Maya"?
Maya Moore
(1:22 PM)
I would say find something that you love to do and just work at it every day. Just make sure that you're learning and paying attention and just having fun with whatever it is, whether it's basketball or music or art.
Corey (SLC (UT))
What did you think of the year that Jimmer Fredette had?
Maya Moore
(1:23 PM)
Phenomenal year. I just loved how his family was involved, and just how he overcame a lot of things growing up. It's just a great story. He's got a lot of skills, and he's just a fun player to watch.
Stormy weather (USA)
How important is your Mom in your career?
Maya Moore
(1:24 PM)
She's very important. She helps me get all the little details in life taken care of. She's my eyes and ears, she has my back, and she's someone to ask advice and bounce ideas off of. I feel real comfortable going to her with issues and everything. She's like my best friend.
Matthew (Los Angeles, CA)
Have you found a spot where you will put the ESPY if you win?
Maya Moore
(1:25 PM)
No I haven't yet. It'll just be exciting to maybe get another one. I'm hoping people will vote for my team and the record-breaking category.
Chris Perry (Minny)
What has been the most difficult about transitioning from college to the WNBA?
Maya Moore
(1:26 PM)
Probably on the court, the defensive end. Having to guard some of the best guards in the world. Going into the WNBA and trying to score, but then having to guard some of the best. It's been hard, but I'm getting better at it.
Jellysoup (Boys n girls club)
Do you have a hidden talent or hobby?
Maya Moore
(1:27 PM)
I love to play the drums. It's something that I love to learn and get better at. It's been a hobby since I was 10 or 11.
Maya (Maryland)
What age did you decide that you wanted to play in the WNBA?
Maya Moore
(1:28 PM)
Probably I was like eight or nine. Just watching the WNBA on TV and seeing that it was a possibility. I had just started playing AAU, and I knew it was there, and I wanted to be there one day.
Maya Moore
(1:30 PM)
That's all we have time for today. I just want to say thank you to all my fans for watching and supporting me and my team. Keep cheering for my Minnesota Lynx.
Maya Moore
(1:30 PM)
And don't forget to tune in to the ESPYs on July 13th to see if the Huskies win the best record-breaking performance.