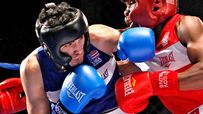 Ramirez has been ranked No. 1 by USA Boxing the past three years.
Welcome to SportsNation! On Friday, 2011 USA Men's lightweight boxing champion Jose Ramirez stops by to chat.
At just 18 years old, Ramirez has made boxing history. This past weekend in Colorado Springs, he won the 2011 Men's Lightweight championship, his fourth consecutive national championship and gold medal in as many years.
Dubbed as the "Future Champ," Ramirez has a total of nine national titles and 125 amateur wins under his belt, breaking amateur boxing records set by Oscar De La Hoya, Fernando Vargas, Floyd Mayweather Jr., and Shane Mosley. In August, he'll travel to Mobile, Ala. to complete in the 2012 Olympic trials.
Send your questions now and join Ramirez Friday at 3 p.m. ET!
More Special Guests: Previous chats | SportsNation