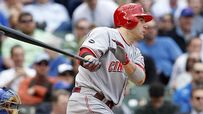 Votto finished second in the 2008 Rookie of the Year voting.
Welcome to SportsNation! On Friday, Cincinnati Reds first baseman Joey Votto will stop by to chat about about his ESPYS (July 13, 9 p.m. ET) nomination. Votto is up for Best MLB player. Voting is under way.
Votto won the NL MVP in 2010 for his breakout season, becoming the first Reds player to win the MVP since 1995. He set new career highs in nearly every offensive category, while hitting .324 with 37 HRs and 113 RBI. His .424 OBP and .600 slugging led the National League.
Send your questions now and join Votto Friday at 2 p.m. ET!
More Special Guests: Previous chats | SportsNation
Buzzmaster
(1:58 PM)
Joey is here!
Drew (NY)
When ur in town for home games where is your favorite place to go out and eat.
Joey Votto
(1:59 PM)
When I'm in Cincinnati, for the most part, I stay at my house. I'll have someone come in and cook for me.
Joey Votto
(1:59 PM)
So, usually, I stay at home. I don't really go out to eat very much.
Kevin (Chicago)
Joey, do you have any special plans for Canada Day?
Joey Votto
(2:00 PM)
No special plans. Probably call family, maybe friends back home and say hello. That's more than enough for Canada Day.
Matthew (Columbia, NJ)
Joey, what is it like being the MVP? Have you started to receive more intentional walks than years past?
Joey Votto
(2:01 PM)
I've noticed pitchers have pitched me differently. I've also notice outside of the game, fans recognize me more. I get more attention as far as fans attention. At hotels and stuff, there is more people than normal. It's not a tremendous difference, but there is a difference.
Brad (Gadsden,Alabama)
Joey, Have you ever ever wanted to make a joke on one of your teammatesand get the pa to play a justin beiber song as there batter up song?
Joey Votto
(2:02 PM)
Yeah, I've thought about that before, but every time you go up to the plate, most guys are in a different place mentally. For me to interupt their at bats wouldn't be fair. If it happened to me, I would be upset. There is a time and place for pranks and when you're going up to do your job, that's not it.
David (Cincinnati)
What do you think about being up for an ESPY as the best MLB player?
Joey Votto
(2:03 PM)
I'm really honored. I'm very proud of this accomplishment.I was surprised by being nominated. Whenever you think of the ESPYS you think of big name athletes and superstars. Being nominated, I was shocked. I'm surprised and honored.
Jon Stalnaker (Parkersburg, WV)
Over in Minnesota they are wanting to move Joe Mauer to 1st, what would you say if the Reds wanted to move you to say, 3rd?
Joey Votto
(2:04 PM)
I think it would take some time to adjust to the request and the position. But if a team sits you down and talks to you and lets you know it's for the best for you and the team, you have to hear it out and see what they say. Joe is there for his career. He's a catcher. I think he'll make the adjustment. In the long run, I think everyone sees him as a catcher and this is temporary.
Nate (Kentucky)
Joey-- your disagreement with Angel Hernandez over your strikeout in the 8th inning (you were right, strike 3 was 6 inches outside) Wednesday was revealing. I've never seen any player argue a call that long with an umpire without using a "magic word" or being tossed from the game. How do you stay that calm when so obviously upset?
Joey Votto
(2:06 PM)
I like to keep the on the field stuff on the field. But, no I didn't use any of the magic words. I realized I needed to stay in the game. It was a close game and we're battling to get back to the top of the position. I probably argued too long, but Angel was good enough to not toss me.
Jeremy (Chicago, IL)
Are there one or two particular teams that you get more fired up to play?
Joey Votto
(2:07 PM)
I'd be lying if I didn't say playing the Yankees isn't exciting. Playing the Blue Jays in Toronto is always fun going back home. But as far as getting the baseball juices flowing, playing the Cardinals is always exciting. It seems like we're developing a pretty good rivalry. Any time you get to play against the best player in the game, one of the best pitching staffs, that's a pretty good rivalry.
Mark (Cincinnati)
Who do you consider to be the Ace of the Reds pitching staff right now?
Joey Votto
(2:08 PM)
I think right now I would say Cueto is the ace of our staff. I think all of our pitchers would agree with that. I think the coaches would agree with that. I don't like speaking for others, but he has the personality of an ace. It's really fun playing behind him. I would say he's the ace and I'm not sure fans would disagree with that.
Erik Carter (new city)
How much pressure do have knowing that your the MVP of last year
Joey Votto
(2:10 PM)
I don't feel any extra pressure. I would say unspoken demands from people can be frustrating and add to the pressure. I would say last year was more pressure. We were a team that kept losing over and over and over and we felt last year was the right time to make a move in the division. I felt like I was a part of that. Last year all 25 of us felt the pressure to make that happen. I don't feel MVP pressure this year, we feel the pressure of a NL Central repeat.
Lucy (Gaithersburg)
Who is your all-time favorite baseball player?
Joey Votto
(2:11 PM)
To see live, Barry Bonds. My all-time hero was Ted Williams. I didn't get a chance to see him play or talk to him. I got to see Bonds and got to see probably the greatest hitter I'll ever be able to watch. He was better than any athlete that dominated his sport. He was better than Tiger at his best, Federer at his best, Jordan.
James (Ohio)
Are you amazed by some of the plays Brandon Phillips makes every night?
Joey Votto
(2:12 PM)
Brandon and I are really developing a pretty good bond on the right side of the field. We're getting along. As far as playing defense, we're starting to get in sync together. He's so gifted defensively. It took me years to realize how great he was over there and give him space. He does a lot of impressive things and gets to balls that you never thought he would. I don't think it's close that he's the best defensive 2B in baseball by far.
Doug (Dayton)
Congrats on your MVP! How does you approach to hitting change during a game when you've seen a right-hander for 3 at bats then have to face a southpaw?
Joey Votto
(2:13 PM)
I have a particular approach for every pitcher, both left and right handed. I stick to that. It's easy to switch. I probably face one left hander a game. It's something I do on a daily basis. It's not that big of a deal.
CC (Atlanta)
Who is the toughest lefty in the league? Venters?
Joey Votto
(2:14 PM)
We just faced David Price and I thought he had the best left handed fastball I've ever seen. We faced CC Sabathia and he's tough. Chapman is on our team and he throws the hardest as anyone alive. Venters is a tough guy to face. His performance this year has pretty much spoken to that.
Joey Votto
(2:15 PM)
Thank you for all of your support and your votes on the ESPYS. Thanks for your time.