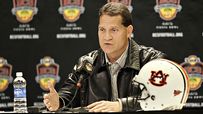 Chizik played collegiately at Florida.
Welcome to SportsNation! On Wednesday, Gene Chizik, head coach of the reigning BCS national champion Auburn Tigers, stops by to chat about the upcoming season and his new book, "All In: What It Takes to Be the Best." The book, which hit stores Tuesday, tells the story of Chizik, who in two years went from being the much-maligned 5?19 coach of Iowa State to the undefeated coach of the 2010 national champion Auburn Tigers.
In just his second season at Auburn, Chizik led the team to a national title, running his record with the Tigers to 22-5. His 14-0 season in 2010 earned him several coach of the year awards.
Chizik arrived at Auburn after being the head coach at Iowa State. His coaching experience includes stops as an assistant at Texas, Auburn, Central Florida, Stephen F. Austin and Middle Tennessee.
Send your questions now and join Chizik Wednesday at 2 p.m. ET!
More Special Guests: Previous chats | SportsNation
Buzzmaster
(1:49 PM)
Auburn's Gene Chizik will be here at the top of the hour to take your questions!
Buzzmaster
(1:59 PM)
Coach is walking into the room right now!
Brian (Evans, GA)
Coach Chizik,How is it different coaching in the SEC as opposed to coaching in other conferences?
Gene Chizik
(2:01 PM)
It's the best conference, most talented conference inthe country. Week in and week out, you're basically playing a rival every week. In that way it's extremely different than most.
David (Chicago)
Coach, I think this is a smart business decision on your part: your the coach of the college football team that has the most passionate fan base in American, you just won a national championship and you wrote a book about it. I think you're going to sell a lot of copies of your book! How did you come to decide to write a book?
Gene Chizik
(2:02 PM)
It was a very special group of young men. We wanted to tell a great story to people about football, family and faith, which are the three most important things in my life on a daily basis.
Adam (California)
How has Dyer looked this offseason? Has he added any weight or improved significantly in any areas? WDE
Gene Chizik
(2:03 PM)
Michael is having a very good offseason. Our expectations for him this year are extremely high. He has to work hard on being a better football player this year. That's our expectation of him.
Drew (NY)
Hey Gene, what are ur hobbies in the offseason, do any camping, fishing or anything?
Gene Chizik
(2:03 PM)
My hobby is my family and we love to travel together and we're water people. We're always around the water. My hobby is my family when I'm not coaching.
Wayne Odom (Atlanta )
What was your thought-process when you were announced as Auburn's new head coach, and a few vocal comments and press appeared that was less than enthusiastic about your arrival? How did you deal with it mentally and emotionally - how did you Coach" your wife and children how to deal with what they might hear and what they might feel upon moving back to Auburn?
Gene Chizik
(2:04 PM)
I don't really pay a lot of attention to the outside distractions. I was very blessed to be named the head coach at Auburn. I focused on the positive.
Camoren (MI.)
How big of an impact will losing starting QB Cam Newton?
Gene Chizik
(2:05 PM)
I think the best way to answer that is to say Cameron, along with 20 plus other seniors and Nick, we have a lot of other shoes to fill. It's replacing the whole team that will be the challenge, including replacing Cam.
Eric S (Saint Petersburg, FL)
I am an Auburn alum from '95. Good to talk to you Coach. What will be the biggest challenge to repeating this season?
Gene Chizik
(2:06 PM)
The biggest challenge first of all is to get a starting lineup. We're still working on filling a lot of different open positions on the team. We're not focusing on winning championships, that's the bigger overall goal. We're working on the things day in and day out to be better players and a better team.
Adam (California)
When/where are you doing any book signings? WDE
Gene Chizik
(2:07 PM)
We are currently in the process of doing that. We started yesterday. We are heading to Atlanta tomorrow. We are heading to Birmingham later. Go to TheAllInBook.com website and that will show you all of the signings we have scheduled.
Brendan McKelvy (LUKE Air Force Base, Arizona)
Do you think the lockout will effect the decision of players in the future, to decide if they want to enter the draft or not?
Gene Chizik
(2:08 PM)
I can't speak for all of the different players, but I know it certainly had an effect on free agents. It's really going to be a tough path for the young guys that decided to come out early and didn't get drafted. But I can't speak individually how everybody thought.
Tommy (Seattle)
What was your relationship like with Cam Newton?
Gene Chizik
(2:09 PM)
First of all, it was a blast coaching Cam. Not only was he a great player, he was a great personality. Cam and I had a great relationship.
Patrick (Mobile, AL)
Coach Chizik....How is the quarterback race shaping up? Is it between Trotter and Moseley? OR does Frazier have a chance? WDE!
Gene Chizik
(2:10 PM)
There's no question that the race will be open to everybody. We are not afraid to play a true freshman if he's up to the job. We have three great candidates. I'm looking forward to the fall and watching those three compete, because they are all great competitors.
Josh (Mobile, Al)
What is your favorite sport to watch, not including football?
Gene Chizik
(2:10 PM)
I love watching baseball. My son is a huge baseball fan, so we love watching Atlanta Braves baseball along with a lot of other teams we enjoy.
Gary (Austin, Tx)
Coach, I'm former Auburn student who was there in 1993. This past season meant a lot to me. Which young defensive players are you most excited about coming into this year?
Gene Chizik
(2:11 PM)
The defense, we're really going to try to attempt to put some more speed on the field by playing more nickel and dime in certain situations. It will have a lot of young players on it. The bottomline is we're trying to upgrade the speed element. The guys are competing really hard. I Thought they made some really big strides in the spring.
Brian (Philadelphia, PA)
Do you have a blueprint 3-5 years out to continue to keep Auburn University in the category of "elite" programs?
Gene Chizik
(2:13 PM)
We've always had a plan and a vision since we got to Auburn two years ago on how we want to watch Auburn football unfold for a long time. We do have that plan in a blue print and we'll continue to execute.
Channon (Hurlburt Field Fl)
How will the offense transform to a different QB? Cam was a freak and amazing in Malzahn offense but will Malzahn change up the way he calls plays and play selection for Trotter or Moseley? WAR EAGLE
Gene Chizik
(2:13 PM)
It's the third year in a row that we've had a new QB and the offense has had success. The look won't change. We'll have a new QB that will be playing but the nuts and bolts will be the same.
Tim (Auburn)
Do you think the 2010 team gave some vindication for our 2004 team?
Gene Chizik
(2:14 PM)
The 2004 team, which I happened to be a part of, was a great team. There was some disappointment there. I don't like to use the word vindication in any manner. 2010 was a different year and different team. Both teams were very special and both mean a lot to me.
Jacob (Huntsville, AL)
Coach, You are going into your 3rd season and have only lost one assistant coach, what is the secret to keeping such a great staff together, especially when everyone else wants them? War Eagle!
Gene Chizik
(2:15 PM)
I told them two years ago that I want this to be the best job they ever had. Since we had such a great administration and support for keeping our coaches that this is the best job they've ever had. I want to keep them until they get an offer that they can't refuse and at that point, I'll be happy for them.
Matt (IN)
Coach, do you like to grill? Which is better, charcoal or gas?
Gene Chizik
(2:16 PM)
I am a charcoal man, beyond a doubt. Yes, I like to grill. I don't like to brag, but I do it quite well.
Josh (Mobile, Al)
If you had to pick one moment of your coaching career, as an assistant or head coach, whatever it happens to be, which one is the most special to you?
Gene Chizik
(2:17 PM)
I've been blessed to really have been around so many special moments. The two that stand out to me that were great moments were the Iron Bowl of 2010 and the national championship. Those are two special wins that will forever be imprinted in my mind.
Gene Chizik
(2:18 PM)
Reminder that any involvement you want when you go to the website is great because some of the proceeds will go to children's charities. It's important for us to contribute to the young people. Thanks!
Buzzmaster
(2:18 PM)
Thanks coach!