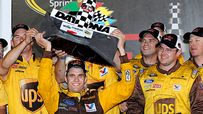 Ragan's been driving in the Sprint Cup since 2006.
Welcome to SportsNation! On Tuesday, David Ragan, driver of the No. 6 Ford for Roush Fenway Racing, stops by to chat about his first career victory over the weekend.
In his fifth full season as a Sprint Cup driver, Ragan won the Coke Zero 400 on Saturday. For his career, he has 27 top-10 finishes and 11 top-5s.
Fans can follow him on Twitter: @David_Ragan.
Send your questions now and join Ragan Tuesday at 1:30 p.m. ET!
More Special Guests: Previous chats | SportsNation
Buzzmaster
(1:13 PM)
NASCAR driver David Ragan, winner of this weekend's Coke Zero 400, will be here at 1:30 p.m. ET to take your questions!
Buzzmaster
(1:31 PM)
David is here!
Matthew (Columbia, NJ)
David, what driver have you learned from the most since you've been in Cup?
David Ragan
(1:33 PM)
Carl Edwards. He and I were running both the Nationwide and Cup circuit. We spend a lot of time together and being a teammate.
JESSE (iowa)
Congrats David!!! How nervous were you on that final restart that somebody was going to sidedraft up to you and break you and matt apart?
David Ragan
(1:33 PM)
I was pretty nervous. I thought that was the only way we could lose, for someone to get a good run on the outside. That was the main thing I Was thinking about.
Kyle (Knob Noster, MO)
Is Daytona International Speedway the track you wanted to get your first win on?
David Ragan
(1:34 PM)
Absolutely. You could pick two or three tracks on the circuit and Daytona is up near hte top. The history there. The Coke Zero 400 and the Daytona 500 are two of the top 5-6 races of the year. Anyone would like to win at their home track, but Daytona is up there.
Mallory Duff (Hampstead, MD)
What are your thoughts on the revamped points system and the new "wild card" that is in place? Is consistency more important than wins or should it be a combination of both?
David Ragan
(1:35 PM)
I like it a lot. The wild card might be our ticket to the Chase. I think it's very easy to understand the way the points structure is. It's something NASCAR should have done 10 years ago.
Teri (CA)
I am so happy for you, David! How much do you credit your win to Matt Kenseth? I thought the teamwork between the two of you was exceptional!
David Ragan
(1:36 PM)
He helped me 100%. If it weren't for Matt, I wouldn't have had a partner all day. He and I agreed to work with each other. You have to have a partner at Speedway racing. You can't win without a drafting buddy. He was a big help.
Drake (Kentucky)
David, first off, congrats! You deserved that win and I was so happy to see you in victory lane. Moving on to next week, how do you prepare for Kentucky? Hardly any of the drivers have experience on that track, and from watching nationwide races in years past it seems very hard to figure out. It doesn't remind me of any other track on the sprint cup schedule. Thanks.
David Ragan
(1:37 PM)
I can go off some past experience from the Nationwide Series and Craftsman Truck Series. Other than that, it will be hard for our crews to prepare, because a lot of them haven't even been there. We have an open test date on Thursday for all of the Cup teams. That will allow us to get some extra track time.
Dustin (Chattanooga, TN)
Hey man congrats on the win, my question for you is about Kentucky. Which track does Kentucky compare to as far as the car setup? Thanks a good luck!
David Ragan
(1:38 PM)
It reminds me a lot of Kansas and some characteristics of Chicago. Those are two tracks we'll pay attention to the notes we have there. I think we did a tire test, Greg Biffle did on behalf of Ford, a couple of weeks ago. We'll apply that to the car for this weekend.
Sam (Georgia)
David, watching you win made my weekend, congratulations. Reading some of the other drivers' complaints, I was curious as to how you felt about the unique two car drafting that has become so prominent this year?
David Ragan
(1:39 PM)
I like it for now, because we won over the weekend. But it's really on exactly what I'd prefer going to the speedways. It sucks having to have a partner the whole time. I think it's just here for a few years. I don't think it's here forever. It's just the way racing is now. But it's still a race, you have to go and perform and there is still a winner. IF we have to jump jumps and go backwards, it's still a race. It doesn't bother me that much.
Alex (Pa)
how exciting was it to redeem yourself at the track you made a mistake on earlier this year
David Ragan
(1:40 PM)
Very exciting. It was cool to win at Daytona. Any other race would have been cool to win, but winning at Daytona, you can go back and redeem yourself.
Tracy (CT)
Congrats on the win! Now that you have finally gotten a win, where do you see yourself in the standings when the year is out?
David Ragan
(1:41 PM)
I think we have a great chance to make the Chase. I think that we should really concentrate on being consistent the rest of the year to make the Chase. Another win would help, but we're in the driver seat for making the Chase.
chris (hudson)
How glad were you that Gordon was wrecked? no offense but he had a great car and it showed since he still finished 6th.
David Ragan
(1:42 PM)
I didn't know he had wrecked until after the race. The only thing I was thinking about was getting to the checkered flag. Our strategy to get to the front a few laps earlier was the right one. I could see everyone wrecking behind me. Maybe Gordon waited a little too long.
Justin M (Boone, NC)
Congrats on the win! What did the drivers learn this week about the two car drafting that will affect the Chase race at Talladega this fall?
David Ragan
(1:43 PM)
I think that we are assured that it's here for the time being. Whoever can work with each other together and not have to swap positions will be here at the front. I think it will be important to get hooked up with someone early and stay with him all day.
Geoff Mattiuzzo (San Rafael, CA)
Hey David - no question here, just wanted to say congratulations on the win. I'm a Hendrick guy and was hoping to see either Jr or Jeff win this thing, but I have to say that I was genuinely happy to see the 6 car pull it out. Good luck down the stretch.
David Ragan
(1:44 PM)
I think the car ran great. The engine, we pushed it very hard. It ran to its max most of the night. It's a testament to how good the new Ford engine is. The way you win those races is being teamed up with someone all night.
PJ (Cary, NC)
Hey David, congrats on the win Saturday night. I have a fantasy racing question for you. This weekend the Sprint Cup Series heads to Kentucky for the first time. Do you think drivers who have raced here in the Nationwide Series have an advantage? And what tracks currently on the Sprint Cup Series schedule are similar to Kentucky? Thanks!
David Ragan
(1:45 PM)
I think we'll have an advantage when we get there initially, but guys like Jimmie Johnson and Gordon are quick learners. They'll catch up fast. It will even take me a few sessions to get back, it's been a few years since I've been there. The playing field will be more level.
Brad (Gadsden,Alabama)
David, What is your favorite track to race at?
David Ragan
(1:46 PM)
I like Richmond a lot. I like the short tracks. It's tough not to say that Daytona is not my favorite track now. I like the short ones too. The racing is exciting, they're usually on Saturday nights. It's a good feel.
David Ragan
(1:46 PM)
Thanks for tuning in. Hopefully we have more opportunities to chat with you. Tune in this weekend to watch.