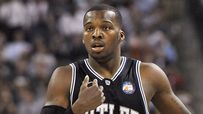 Mack was second on the team in scoring last season, averaging 16.0 ppg.
Welcome to SportsNation! On Friday, former Butler star, and 2011 ESPYs nominee Shelvin Mack stops by to chat. The ESPYs air Wednesday at 9 p.m. ET on ESPN.
Mack and his Butler Bulldogs teammates are up for the Best Game of 2011. The Bulldogs, seeded eight, defeated the region's No. 1-seeded Pitt Panthers in the second round of the 2011 NCAA Tournament. Butler's Matt Howard hit two free throws with 0.8 seconds remaining to cement the win and Butler went on to make back-to-back Final Four appearances.
A career 14.1 ppg scorer at Butler, Mack was chosen with the 34th overall pick by the Washington Wizards in the 2011 NBA draft.
Send your questions now and join Mack Friday at 2 p.m. ET!
More Special Guests: Previous chats | SportsNation
Buzzmaster
(1:52 PM)
Recent NBA draft pick and former Butler standout Shelvin Mack will be here in a few minutes to take your questions!
Buzzmaster
(1:55 PM)
Shelvin's here, everyone! Keep the questions rolling.
Jeremy (Chicago, IL)
What was your favorite game that you were part of at Butler?
Shelvin Mack
(1:56 PM)
We were down 10 to Florida with a few minutes to go, and it really showed the resilience of our team.
Tommy (Madison)
How do you think you'll supplement John Wall?
Shelvin Mack
(1:57 PM)
I think I can be a Jason Terry-type guard and play along with him, or be a backup type player and get points off the bench. The important part will be knowing my role as a rookie.
Danny (NYC)
What are your thoughts on the NBA lockout and how it affects your career?
Shelvin Mack
(1:58 PM)
Right now, I'm just enjoying the moment and the opportunity to play in the NBA. Hopefully we'll get the chance to get the season going soon.
Shelvin Mack
(1:58 PM)
I've been up in Indianapolis working out with some former coaches and hanging out with the guys, trying to maintain.
Tommy (Madison)
How much do you look forward to playing against the Jazz and Gordon Hayward?
Shelvin Mack
(1:59 PM)
It's going to be fun, kinda unique. I've played Gordon before, but it'll be great to see two Butler guys out there playing.
Shelvin Mack
(1:59 PM)
I talk to Gordon frequently, and we're going to start working out soon together in Indianapolis.
Eddie (NC)
Who are you most excited to see/meet at the ESPYS?
Shelvin Mack
(2:00 PM)
There are going to be a lot of people, I don't really know who's going. It'll be crazy to meet a lot of these players and celebrities you see all the time. I'm just excited!
Jeremy (Chicago, IL)
What NBA player are you most excited to go head-head against?
Shelvin Mack
(2:01 PM)
Chauncey Billups. He's one of my mentors, and it's going to be awesome to go out there and play against each other.
Leo Jenkins (Europe)
Shelvin,I heard yesterday that some NBA players were thinking of playing overseas next year. Have you ever been to Europe? And would you ever consider playing over there?
Shelvin Mack
(2:02 PM)
I haven't really thought about that. It's normally the offseason right now, so the lockout isn't affecting me much. If it came down to next season, it would be something to think about, but I don't think I would.
Jeff Esquire (Boston)
What were your thoughts on The Decision? Did it work or not? It's a year later and I think it worked even though they didn't win the Championship this year.
Shelvin Mack
(2:03 PM)
That had to be tough for LeBron. I think he's in a good situation now, on a team that made the NBA Finals in one year. That's tough to do. I think they're going to have a lot of success in the years to come.
Tommy (Madison)
Do you see Butler being a longstanding elite team like North Carolina and Duke in the future?
Shelvin Mack
(2:05 PM)
If you have a great group of guys that come in and work hard, you can accomplish anything as a team. Only time will tell if Butler can remain elite, but with Coach Stevens there, I like their odds.
Carla (Detroit)
Can you describe draft night went for you?
Shelvin Mack
(2:06 PM)
It was a really emotional day. There's nothing that can prepare you for something like that. In the end, it was a good day, one of the most memorable days of my life.
Juan (Brazil)
What do you think of the Wizards' new unis?
Shelvin Mack
(2:07 PM)
I like them a lot! It's a great place to have the red, white and blue. I can't wait to get my own jersey and put it on.
Nathan (Kentucky)
Hey Shelvin, what are you looking forward to the most going into the NBA?
Shelvin Mack
(2:08 PM)
Getting to play against the best athletes in the world. There are more games in a longer season. Going from 30 games to at least 82 should be fun and exciting.
Megan (Detroit)
What are your thoughts on Matt Howard's career?
Shelvin Mack
(2:09 PM)
Matt's definitely got a future in the NBA. He's one of those guys who will do anything to win, and sacrifices everything--even his body--for the team.
Ed (Troy)
For this ESPY nominated game, do you have a favorite memory?
Shelvin Mack
(2:10 PM)
How quickly my emotions changed in the last two minutes of the game, with the fouls and Matt's shots.
Eric (LA)
Anything you'd change about the past two years?
Shelvin Mack
(2:11 PM)
I wish we could've won one or two more games, but I loved my time at Butler. It was the experience of a lifetime.
Larry (Jersey)
Favorite opponent to face in college?
Shelvin Mack
(2:12 PM)
Cleveland State and Norris Cole. That guy can score.
Jeremy (Chicago, IL)
Was it harder getting to the championship for the second time or was it harder 2 years ago?
Shelvin Mack
(2:13 PM)
The second time, because everyone knows what you're capable of doing, so they're going to come out and play their hardest.
Brett (Ohio)
Did you have a preference for a team on draft night?
Shelvin Mack
(2:14 PM)
I think Washington's a great fit, the perfect team for me. So that worked out.
Awayne (INDY)
How much do you know about the issues of the lockout and will you follow the talks or just lt your agent deal with all that type stuff?
Shelvin Mack
(2:15 PM)
I don't know a lot of the legal details or any of that stuff. I do let my agent deal with it. I'm focused on playing.
Shaun (Grand Rapids)
Do you see yourself as a scorer in the NBA? Jay Bilas says you're a "Power Guard"
Shelvin Mack
(2:17 PM)
I can see why Jay would say that, because of my body. I think I'll be able to do anything the team needs me to do. Scoring, defense...whatever they ask.
Justin (Bristol)
Which NBA team did you root for growing up?
Shelvin Mack
(2:18 PM)
I lived in California growing up, so I rooted for the Lakers. Especially Kobe. I'm more of a fan of players than teams.
Justin (Bristol)
Kobe's a trash talker! What are you going to say to him?
Shelvin Mack
(2:19 PM)
I don't talk too much trash unless someone's in my ear. I just play.
Randy (Texas)
What did you think of Jan Vesely's kiss at the draft?
Shelvin Mack
(2:20 PM)
Ha! I think if Jan could do it again, he might not. It got blown out of proportion a little bit. It was good TV, though.
Shelvin Mack
(2:21 PM)
Alright, I gotta get going. Thanks so much for the questions, guys, it was great!
Buzzmaster
(2:22 PM)
Big thanks to Shelvin Mack for stopping by to chat. You can vote for Sheldon's Bulldogs in the 2011 ESPYs here: http://espn.go.com/espys/#!/voting/. Don't forget to tune in to the 2011 ESPYs Wednesday, July 13 at 9 PM ET on ESPN.