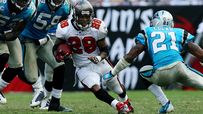 Dunn was the 12th overall pick in the 1997 NFL draft.
Welcome to SportsNation! On Friday, former NFL running back Warrick Dunn stops by to chat about the EA Sports NCAA Football Traditions vote, which pits Michigan v. Florida State in the final matchup.
The Traditions vote started with a bracket of 16 of the best college football traditions and SportsNation's vote determined which one advanced. The winning school will receive hundreds of copies of EA's "NCAA Football '12" on the day of the game's release (July 12), courtesy of SportsNation and EA Sports!
Dunn still holds records at Florida State for the most career and single season rushing yards and he is the only Seminole to rush for over 1,000 yards in three consecutive seasons.
Send your questions now and join Dunn Friday at 1:30 p.m. ET!
More NCAA Football Traditions: Braylon Ewdards chat, 2 ET | Vote!
Buzzmaster
(1:29 PM)
Former NFL and Florida State running back Warrick Dunn will be here in minutes to take your questions!
Buzzmaster
(1:30 PM)
Warrick is here!
Matt (LA)
Who was your favorite team to play? And besides Doak Stadium, where was your favorite place to play?
Warrick Dunn
(1:32 PM)
I always loved playing against the Miami Hurricanes. During that time, the teams had great players. You knew if you played well at that game, you had a chance to play at the next level, because you tested you talents against guys would be pros.
Warrick Dunn
(1:33 PM)
I actually liked playing at Clemson. We played there one time. Just the atmosphere. You learned about the tradition and the guys tapping the rock on the way down. It seemed like it was a big game. Also, playing in South Bend. You grow up watching them play and you have a chance to play on that field with that tradition. Amazing feeling.
Kevin (FL)
Why is FSU's tradition better than Michigan's? Why should I vote for Florida Staet?
Warrick Dunn
(1:35 PM)
Well, when you look at the history of Michigan, they've been around for so long. They've had a chance to build tradition because of the longevity of the program. But if you look at FSU, and the last 30 years with coach Bowden, no coach has done what he's done in college football. For him to come in and build the tradition, they have what Michigan has, they just don't have the longevity. And if you look at the last time they played, Florida State beat Michigan IN Ann Arbor.
Matt (Cincinnati OH)
Warrick - greetings from a fellow Seminole, Class of 1992. Could you talk about Charlie Ward's impact on your development both personally and as a football player since he roomed with you as a freshman? And was that purely Bowden's idea or did Charlie make the request? Thanks for being a class act and someone ALL FSU fans are proud of.
Warrick Dunn
(1:37 PM)
Personally, he taught me how to accept the limelight and how to treat people when you're in the limelight. He didn't change. He stayed himself. He was on top of the world and he was the same person, I realized that you didn't need to change for anybody. Football wise, you continue to learn the craft. Fine tuning your game, working on your game. Your work ethic. Not just on the field or basketball court, but in the film room, in the class room. I learned a lot from him.
Joey (SC)
Thanks for being a Falcon! I became a Falcons fan when it was Vick, you, Crumpler, Kerney and the team. Great years and great teams! What was your favorite memory of those years?
Warrick Dunn
(1:39 PM)
I think it was the comraderie. The one year we beat Green Bay in Green Bay, no one thought we could do that. It wasn't like we had standouts at every position, but we played as a team. I loved that. I loved when coach Mora came in. We didn't have a big defense, they were just sound. I loved the fact that we relied on each other. Different units won games during the season. Special teams, included. We played as a group. We were a couple of players away from playing in a second Super Bowl for the Falcons.
Nathan (Missouri)
How do you feel about your Seminoles taking on Michigan in the Traditions matchup? Do you think they will win?
Warrick Dunn
(1:40 PM)
I love it. I love it. I think at every school, you have your down time. Michigan is going through it right now. FSU has gone through it and they're coming back. I love the tradition that we have has been constant for so many years, though we have had a drought. Michigan has had it for many years. As I said before, FSU beat Michigan the last time they played.
Warrick Dunn
(1:40 PM)
At one point in time, FSU went to a number of national championship games in a short period of time.
Nathan (Kentucky)
Warrick, who were some of the toughest defensive players to go up against 1 on 1 in the open field?
Warrick Dunn
(1:42 PM)
I think the toughest defensive player I had to go up against in the open field is myself. In the open field if you can outthink yourself. I played against Ray Lewis, Brian Dawkins. It's hard to pick out one amongst all of those great players. I really blamed myself if a guy tackled me, beacuse I thought I was that good. You have to play with confidence.
Drew (NY)
Now that your out of football, what takes up most your time?
Warrick Dunn
(1:43 PM)
Foundation. Speaking engagements. Appearances. My involvement with the Falcons as a limited partner. Last year I was working with ESPN on First Take. I was doing college games during the weekends. And golf. Got to golf.
Daniel Macaluso (Trinity, Fl)
Hey Warrick! I am going into my first year at FSU this August. Do you have any tips for me as far as getting started in the right foot at FSU?
Warrick Dunn
(1:44 PM)
I would say the first semester of college is going to be the most important time. It's how you start off. You don't want to start off in a hole. You want to start off on the right foot. Enjoy college, but you want to start off on the right foot academic wise.
Cheesehead Sports Nut (Chicago, IL)
Every year people talk about the Super Bowl hangover. Thanks to the lockout (something I rarely say) it seems like the Packers will avoid the Super Bowl hangover. Do you agree or do you think the Super Bowl hangover will hold back the Packers this year if there is in fact football?
Warrick Dunn
(1:46 PM)
I think it puts the Packers at an advantage. When you end the year all on the same page, and if they've had to make minimum change, because of the chemistry they had at the end of the season, I give them a good shot. They didn't dominate the whole year, they just jelled at the right time. That's what it's about.
Warrick Dunn
(1:47 PM)
I appreciate all of the questions. I appreciate the support. You can follow me on Twitter: @WarrickDunn. You can check out the Foundation at wd-ff.org. I appreciate the love.