Chat with Charlie Wittmack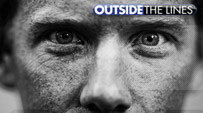 Wittmack traversed 13 countries to complete his adventure.
Welcome to SportsNation! On Thursday, someone who traveled 7,000 miles to be in chat will join us. Adventurer/Explorer Charlie Wittmack will be here to tell the story of his "World Triathlon," the subject of Wayne Drehs' recent Outside the Lines story, as well as Sunday's "Outside the Lines" airing at 9 a.m. ET on ESPN2.
The 34-year-old Wittmack seems like an average guy, but within his 5-foot-7, 145-pound frame is a burning need to push his body beyond its limit. It's the reason last summer that he sold his house and car and left his wife, his son and his job to complete this improbable test of human endurance. Starting at the origin of the River Thames in England, the plan was to swim, cycle, run and climb his until he stood on the summit of Mount Everest. Death, he said, was the only thing that could stop him.
Send your questions now and join Wittmack Thursday at 3 p.m. ET!
More Outside the Lines: OTL index | World Triathlon | ESPN The Mag | Wayne Drehs | OTL TV
Wayne Drehs
(3:02 PM)
Hey ... it's Wayne Drehs here. Charlie and I are ready to go.
Dave (Washington)
This trek seemed very strenuous, so did you have a chance to follow your wife's advice and actually have fun during your journey?
Charlie Wittmack
(3:03 PM)
Not really. It was really day by day most of the time. Until the final leg on Everest things got a lot better. With experiences like this it gets more and more fun now that it's over. It's the memory that's the fun back.
Jason (New Jersey)
Of all the places that you travelled through during this journey, that you haven't seen before, what was the most awe inspiring?
Charlie Wittmack
(3:04 PM)
Kyrgyzstan is incredible. The northern tip of the Himalayas, it's just spectacularly beautiful. It's so untouched, the roads are very primitive, it's so undeveloped. It's perfect as far as I'm concerned.
Mark (Maine)
Why did you leave everything, including your family, just to complete this "World Triathlon"?
Charlie Wittmack
(3:05 PM)
I guess you need to read the story, Mark.
Jason (New Jersey)
What was the hardest part of summiting Everest the second time around? Was it more mental or physical?
Charlie Wittmack
(3:05 PM)
This time on Everest it was a lot easier, certainly compared to the rest of the year. This year, frankly, it was a lot of fun.
Jules (Bristol, CT)
Hi Charlie! Have you heard of anyone attempting the world tri since you've successfully completed it?
Charlie Wittmack
(3:07 PM)
No, I haven't. I'd be thrilled. I'd love to have all kinds of people go try it. It's a phenomenal route. It's an open route. Let's see some people go after it. With extreme endurance sports like this, it's 90 percent mental and the other 10 percent mental. That's the thing that I underestimated. I knew there would be things that would happen that I hadn't expected, but the biggest advice I would give is for people to be ready for the unexpected.
Andrew (Connecticut)
Was there any point that you felt like giving up?
Charlie Wittmack
(3:08 PM)
Yes, Andrew. You need to read the piece, too. Just about everyday I thought about giving up. It's just so hard mentally.
Geoff (San Diego)
Do you think you sought the adventure of the World Triathlon or the athletic part of it? Could you not get what you were looking for from the Ironman or something similar?
Charlie Wittmack
(3:09 PM)
yeah, for me this was a personal journey. It was more about coming to a greater understanding of who I was and what I was seeking in life. I get more out of the thrill of a long expedition. I wasn't looking for a 10 or 12 hour event, I wanted a 10 or 12 month event.
Luke (CT)
Were you ever scared for your life, not from the elements or your trip, but from other people? Especially when traveling through some of those more rugged countries.
Charlie Wittmack
(3:11 PM)
Definitely. In Kazakhstan I had an armed escort so I was less concerned there. But in the southern border of Nepal I was traveling alone and people started to get more aggressive. The place where I started to feel losing control was in Southern Nepal where people had never seen somebody like me. People in the village would mob me and rub hands on me and throw glass bottles at me. That's where I felt I was losing control of my safety.
Trish (Lexington)
Hey Charlie. How's your body holding up after all the punishment from the last year?
Charlie Wittmack
(3:12 PM)
I feel great now. It's nice I'm back to my usual working out schedule and everything feels good. The side effect is that I start to feel bad the less I'm working out. So if I'm working out a lot I feel great. But 10-12 hours in a car I feel worse. It's the absence of training that is hurting now, not the presence of it.
Henry (Denver)
Not to get too personal, but you sold your house and spent part of your life savings on this trek....are you doing all right financially now?
Charlie Wittmack
(3:13 PM)
My mom made me dinner last night, so. I'm trying to get it pieced back together. I think everybody has a dream and I guess this is a story about that, about going after it. My wife and I decided it was better to go after that dream in our 30s as opposed to our 50s.
Wally (NYC)
Some of these countries have rough terrain, what were the roads like? What kind of bike did you have that could hold up to those kinds of roads?
Charlie Wittmack
(3:14 PM)
I ride Specialized bikes. And the worst roads were the places with no roads. In the desert in Kazakhstan, 23 days straight cycling across sand there and then on the Tibetan plateau. But the good news is the Tibetan plateau they are creating a road there so that will be paved with shiny new asphalt.
Jake (DC)
After doing the World Triathlon, do you think you could ever just do a regular triathlon? Have you tried?
Charlie Wittmack
(3:15 PM)
Yeah, absolutely. I'd love to do the Ironman distance, the Olympic distance. They are great events. They are just pure athletic events. I guess it's a purely physical challenge where expeditions like this are mental, physical, emotional and financial. It's just different. I like expeditions because of the variety of challenges.
Danny (Orlando)
In planning the trip, how did you think it would go and how would do you think you would feel about it and how did that compare to how it actually played out?
Charlie Wittmack
(3:16 PM)
It was pretty much what I expected, I guess. I expected that I would be pushed beyond what I thought my limits were. I expected that I'd come pretty close to coming back. And I thought it would be extraordinarily fulfilling. It was all those things. I may have underestimated all of those things. It was tougher and more fulfilling and tougher, but it was all of those things.
Patty (Boston)
How is your son? Do you feel like you've caught up on the time that you say you missed?
Charlie Wittmack
(3:18 PM)
Yeah, absolutely. We really picked right up where we left off. It's been great. We've had a great summer. It's the little things, hanging out, going for bike rides and walks and going swimming. We go swimming every night before dinner. The usual stuff you do with your kids. It's just great. He remembers some of this stuff. So last night we were watching the piece and he goes, "What? You got hit by a car in Kazakhstan?" So we go to dinner and he tells everybody, "Did you know Dad got hit by a car in Kazakhstan?"
Tim (Atlanta)
How is your wife doing? you don't have anything crazy planned before she gives birth do you?
Charlie Wittmack
(3:19 PM)
She's doing great, Tim. She's happy to have me home. The biggest adjustment is having two parents. She's getting used to having to compromise on decisions again. She'll probably be ready for me to get lost here before too much longer. As for the second question, yeah, there will be expeditions in the next few months. Smaller things.
Charlie Wittmack
(3:19 PM)
The most important is the Global Health Work in Nepal, where I'm going to work with Save the Children to help reduce the infant mortality rate there.
George (New Jerey)
Do you follow a special type of diet?
Charlie Wittmack
(3:20 PM)
It's eat everything in sight diet. Yeah, the dietician on the team said I was burning 10 to 12,000 calories a day so I pretty much just eat anything I can. My metabolism has dropped off a lot since I've been home so here at home I've been eating very lightly -- for me.
Chris Fiegler (Latham,NY)
Who do you think is the Best Triathlete besides your self that you have seen?
Charlie Wittmack
(3:21 PM)
Oh my gosh. Macca is the king. He is the won who just won the Ironman World Championship. He is the undisputed king. What I do is very different from what those guys do.
Cheesehead Sports Nut (Chicago, IL)
What extreme sport do you think is the best in terms of working your entire body?
Charlie Wittmack
(3:22 PM)
Um, triathlon definitely. Next to that I'd say rock climbing. The best shape in my life before this trip is three months in the Yosemite Valley climbing the big walls there. That's just awesome.
Tom (CA)
Pick a sport, brah!
Charlie Wittmack
(3:22 PM)
That's what triathlon is all about, Tom. It's the crossover. Anybody can swim or bike or run but doing them all -- that's what makes it fun. That's the challenge.
Kevin (MA)
How much pre-planning did you do before you left? Equipment, places to stop, etc.
Charlie Wittmack
(3:23 PM)
Probably two years. And just one example of how tricky this is. Just the visas in line to have the permission to get into these countries, that took 14 months. Getting the visas and the sponsor letters in place and then trying to get the vehicles in and out of these countries.
Darryl (Georgia)
Are you back to practicing law or have you totally given that up?
Charlie Wittmack
(3:24 PM)
No, no. I'll be back to practicing probably at the end of the summer.
Charlie Wittmack
(3:25 PM)
Catie wants me to say that I'm looking for a lot of opportunities.
Jules (Bristol, CT)
Did you ever have to wonder where you would sleep at night or was that part predetermined?
Charlie Wittmack
(3:26 PM)
Oh no, there were lots of nights where I had no idea. We were pretty well organized until Prague and the support team had to go home. And then from there it was an absolute free for all. I slept on park bridges, in an abandoned trailer, in tents, anywhere you could sleep.
Levin (NC)
What are your favorite books, fiction and nonfiction? (No law books, please.)
Charlie Wittmack
(3:28 PM)
I love expeditions because there are certain books that are expedition books. My No. 1 is Les Miserables. No. 2 is Don Quixote, No. 3 would be anything by Kurt Vonnegut. But on this I read a lot of books by authors in the countries I was traveling do. One great book is The Long Walk by Salvador Rawicz.
Charlie Wittmack
(3:28 PM)
And I also read a lot of Dostoevsky, as he is the king of Russia. But there were fun ones, too. David Sedaris.
Joe (CA)
You've summited Everest twice now. Are you done with that, or are you going to climb it again? If so, why?
Charlie Wittmack
(3:29 PM)
Oh, you know I love Everest. It's an old friend now. I plan to have many more trips to that mountain. It's not because of the challenge at this point, but a love for the people who are there and a love for the line. It's a great line.
Charlie Wittmack
(3:29 PM)
I love to go to my favorite restaurant again and again and again. Everest in a lot of ways is like that -- I just love that mountain.
JE (Chicago )
Charlie, congratulations on going after and accomplishing your dream! Did you suffer any injuries that set you back during training or the trek?
Charlie Wittmack
(3:30 PM)
The biggest injury I guess was the car accident. And then the edemas in Tibet. But aside from that, everything else was great.
Cheesehead Sports Nut (Chicago, IL)
My wife is running a marathon in a few months which as you know ends up being a big time commitment in terms of training. What advice would you give to both of us, me in terms of how to be supportive and her in terms of trying to enjoy it as much as possible?
Charlie Wittmack
(3:32 PM)
Well I think for her most of the enjoyment comes after its done. For you, the only way she's going to be able to do it is with your support. That's the evidence of a good marriage, when we have a spouse we love and her dreams because our dreams. It should be just as important to you and maybe even more important. It's going to be a big sacrifice for you, too, but hopefully fulfilling for you too.
Pete (LA)
If you could have had your wife and son with you the entire time, do you think you would have had the same experience?
Charlie Wittmack
(3:33 PM)
I think parts of it would have been more enriching and parts would have been harder. When James was along I spent most of everyday working out and trying to complete the task but constantly worried about him and what was happening with them. After he left it was easier and I could focus on my work. But so many things happened that I wish I could have shared with my family. It's a double-edged sword.
Trish (Lexington)
I know that communicating without knowing the local language was an issue. Were there any concepts you felt you could always make yourself understood? Or, any that absolutely no one seemed to get?
Charlie Wittmack
(3:34 PM)
The funniest thing -- most of my communication revolved around me trying to get food. I was at a McDonalds in Poland trying to order three value meals and they could see there was only one person and they just couldn't understand how I needed three of them. I told them chicken value meal and three of them and that's where it got confusing. You pretty much know what the questions are because they ask the same questions. First is where you from? Second is where you going? And then mostly laughing and disbelief.
pete ramos (LA)
Have you set sights on doing it again
Charlie Wittmack
(3:35 PM)
Well I already said I loved going back to my favorite restaurants, so ... some things I've done in my life are more fun a second time, but I can't see how I could do this again. It's a once in a lifetime opportunity I think. But I'd love to do it again. In the future I'm becoming more focused on the global health work and the communities I've been able to travel in.
Charlie Wittmack
(3:36 PM)
Thanks everyone for your questions and support. For more on my next adventure, please visit www.savethechildren.org/worldtri.