Chat with UFC fighter Mike Pyle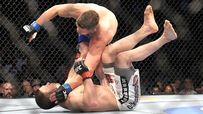 Pyle has fought with, among others, the WEC, Elite XC and Strikeforce.
Welcome to SportsNation! On Thursday, we jump into the Octagon with UFC welterweight fighter Mike Pyle as he prepares for his fight on the undercard of UFC 133: Evans vs. Davis.
Pyle (21-7) faces Rory MacDonald (11-1) on Aug. 6 live on Pay-Per-View from the Wells Fargo Center in Philadelphia. Pyle is 4-2 since joining the UFC in May 2009.
In Pyle's last fight in March, he earned a decistion over Ricardo Almeida, forcing the veteran fighter into retirement after the loss. Pyle's MMA career began in 1999 when he faced future UFC light heavyweight champion Quinton Jackson, who was also fighting in his first career MMA bout.
Send your questions now and join Pyle Thursday at 1:30 p.m. ET!
More Special Guests: Previous chats | SportsNation
Buzzmaster
(1:29 PM)
We've got Mike!
Kevin (CT)
How are you preparing for your fight in August?
Mike Pyle
(1:31 PM)
The same way as always, training as hard as my body can physically be pushed and smart at the same time.
Pete (RI)
How have you liked the level of competition in the UFC?
Mike Pyle
(1:31 PM)
I like it very much. The competition is very stiff. It also brings out the best in me and makes me train hard and makes me a better fighter.
PaulP (UK)
Hey Mike, what was it like getting booed so bad at UFC 120 last year? I was only guy cheering for you. Did your early career prepare you for fighting away from home?
Mike Pyle
(1:32 PM)
I think yeah, my early career probably did help. I got to go around and experience a lot of different cultures. That might have helped a bit. But what do you expect? You're going into a guy's backyard in another country. But I think I earned a lot of respect and by the end there were more cheers than boos.
Fred (Atlanta)
How much time off do you give yourself after a fight to recover?
Mike Pyle
(1:33 PM)
It's always the most amount is 2 weeks out of the gym. Getting away. Doing something with my wife. Fly fishing. I have a place up in northern California. Just go up there and chill, man.
Adam R (Brookfield)
Mike, what did you think of Rampage when you fought him in '99?
Mike Pyle
(1:33 PM)
I thought, "what have I gotten myself into?"
Nash Williams (Fort Lauderdale, FL)
How have you come about your success in the UFC?
Mike Pyle
(1:34 PM)
It would have to be the challenges that the UFC presents to you. You have to perform. You have to perform well. You have to be on your "A" game. The UFC itself has brought the best out of me. I have to do the best in my training to guarantee I get a spot in there and have a shot at the title.
Ines (Venezuela)
Who is your favorite for Evans-Ortiz? Thanks!
Mike Pyle
(1:35 PM)
You know what, I would have to go with Evans.
Mike Pyle
(1:35 PM)
I like his style better.
Edward (San Diego)
Since you are from Las Vegas, what is your favorite place to take visitors on the Strip? What about off the Strip?
Mike Pyle
(1:36 PM)
For me, visitors come in and if they like to golf, then we go off the strip. If it's on the strip, then it's the MGM or Mandalay for some of the Cirque De Soleil shows. Those guys are incredible athletes.
Frank (Toronto)
Hi Mike. I wanted to get your thoughts on Rory MacDonald. He's an up-and-comer who seemed to dominate Diaz. How are you preparing for him?
Mike Pyle
(1:37 PM)
Yes, he's an up and comer. No doubt about that. He did dominate Diaz, who is a 155-pound fighter. He should have done that. I'm not impressed by that performance. Diaz was in the wrong weight division, MacDonald was in the right weight division. He should have done that, not get a pat on the back.
Reggie (LA)
What's been your best MMA accmplisment?
Mike Pyle
(1:38 PM)
Hmmm, I guess I would have to say getting into the UFC and finally getting some respect as an athlete. What the UFC is doing with the fighters now and the fight game is incredible. I'm happy to be a part of it.
PaulP (UK)
Mike - when you beat Hathaway he was the Young Gun with all the hype. This year it is Rory MacDonald. Isn't it time the 'old guy' got some hype on him #respect
Mike Pyle
(1:39 PM)
First of all, thanks dude! It is what it is. They build hype around who they want to, because they have reasons for it. When I fought Hathaway, they tried to build hype in England and I went there and made the hype train quieter. This is what I'm going to do again. It's going to be a repeat. That's all I have to say about that.
Jimbo (Alaska)
Do you see your fight with Rory going the distance?
Mike Pyle
(1:40 PM)
It could possibly go the distance, you never know how fights are going to go. I predict that I will finish the kid. I always want to get a finish. I want to finish, but it could go to the distance. He's young, without the experience I have, but he's tough.
Tommy (CA)
Hi Mike. What's your least favorite part of training camp?
Mike Pyle
(1:41 PM)
I guess sprints. Those are tough. I've always been a crappy runner, even as a kid. I've been a slow runner. But I do it anyway, because I have to.
shahvaiz fazl (valley stream, New York)
Ive noticed you've won many fights with submissions. Do you feel more comfortable on the ground or on your feet?
Mike Pyle
(1:42 PM)
Earlier in my career, I wanted to grapple mostly. I was more comfortable with that. But now, I've been cross training and I don't think about that. I just take the fight where it needs to be. I'm as equally comfortable on the ground or standing up.
Kal-el Curry (GA)
Where do you picture yourself in the welterweight division if you beat Rory? And who would you like to fight?
Mike Pyle
(1:42 PM)
I would like to fight whoever's next in line to put me next in line for the title, whoever the UFC has in mind. I'm not getting any younger, let's go.
Jenny (Paradise, NV)
Do you stay in Vegas to train in the Summer months? Does the heat help build your endurance (like the guys who train at high altitudes?
Mike Pyle
(1:43 PM)
I'm always here in Vegas. I don't know if there's any science behind that or not. There could be. I think only if I was in Vegas during those summer months that it would make a difference, but I'm in the A/C gym.
Matthew Carmichael (Baddeck)
What's the part of your game your most confident with?
Mike Pyle
(1:44 PM)
My submissions. I know that I can hang with the best the UFC has to offer, or the MMA period.
Matt (San Diego)
How much weight do you normally cut? And what is your opinion on fighters like Anthony Johnson or Thiago Alves, who normally cut down from 200+ .lbs to make 170 .lbs?
Mike Pyle
(1:45 PM)
I'm a 200-pound welterweight. It's easy for me. I use a diet to get to that weight. I cut down from 17-20 pounds, no problem. I have since I started in welterweight.
Mike Pyle
(1:47 PM)
Thanks for all of the questions. There were questions from all around the world. It's pretty cool that you're all over following me. You can follow me on Twitter: @Mike_Pyle where I'll talk more about my training and my destruction of MacDonald. And check out my blog on ESPN.com.