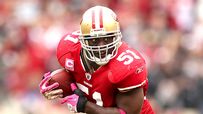 Spikes was second on the 49ers in tackles during the 2010 season.
Welcome to SportsNation! On Friday, San Francisco 49ers LB and NFL player representative, Takeo Spikes stops by to chat about the NFL labor situation.
Spikes spent the first five years of his career with the Cincinnati Bengals before moving on to the Buffalo Bills, Philadelphia Eagles and then the San Francisco 49ers prior to the 2008 season. As a member of the Bills, he was a two-time Pro Bowl selection.
Fans can follow him on his website TakeoSpikes51.com or on Twitter: @TakeoSpikes51.
Send your questions now and Spikes Friday at 1 p.m. ET!
More Special Guests: Previous chats | SportsNation
Buzzmaster
(12:54 PM)
Takeo just finished up on SportsCenter and is making his way to us. He should be here at the top of the hour!
Buzzmaster
(1:02 PM)
I can hear Takeo coming!
Nathan (Missouri)
What's the deal with the CBA and labor agreement as of now?
Takeo Spikes
(1:03 PM)
Just waiting to get all of the information to make an educated decision to empower the players to vote.
Bob (San Diego, CA)
Takeo - hopefully you will be able to get back to work. Looking forward to free agency? Chargers have two things if you want to play ILB for us - Manusky and Rivers - good luck!
Takeo Spikes
(1:04 PM)
Yeah, I'm looking forward to it. I've been fortunate enough to earn the right to go through this for the fourth time.
Drew (NY)
Wut up Takeo, What type of Vacationing did you do in the offseason?
Takeo Spikes
(1:05 PM)
Yeah, I went to the south of France, the French Riveria, Monaco.
Nathan (Kentucky)
Who was your favorite player growing up?
Takeo Spikes
(1:05 PM)
My favorite player was Bruce Smith, Lawrence Taylor, Walter Payton.
Lamar (Hunters Point SF)
Takeo, thanks for all the work you put in for the Niners and good luck this year. The Bay supports you. Are you and Willis good friends off the field? You two seem to work good together.
Takeo Spikes
(1:06 PM)
Yeah, he's like a brother to me. We share a lot of things in common away from the field.
Kevin (CT)
So, how much has your phone been blowing up today while you're at ESPN?
Takeo Spikes
(1:07 PM)
I have 50 text messages, over 300 new Tweets and 35 e-mails. I'm looking at them now.
Victor (Monroe,Louisiana)
Doyou think the players and owners will come to an agreement so we can get some nfl football in?
Takeo Spikes
(1:08 PM)
Speaking for the players, we don't have a timeline. Our timeline is when we feel a fair deal is presented for both sides. That's what our timeline will decide.
James (North Carolina)
Hi Takeo,The media seem to suggest that all the players agree with the Players Association?s demands and you guys are ALL on one accord, but are there players that frankly disagree with the group and openly support the owners?
Takeo Spikes
(1:09 PM)
We have true solidarity amongst the men that make up the players. We will stick together, regardless of whatever smokescreen that is put in front of us.
Jeff (RI)
How good is the league's PR? They signed a deal that they made up, not the one you agreed to and called it a win?
Takeo Spikes
(1:10 PM)
It's good enough to have people write in thinking the lockout has lifted. That's why you have players like myself that care about the 1,900 men that makes up the players.
Chatwish (Local)
Do you think there will be some hard feels between the players and owners after an agreement is meet?
Takeo Spikes
(1:11 PM)
I think at the end of the day more players will look at it like what it is, that's business. I don't think the trust will ever be there. All it is is a working relationship.
Jericho (Lodi, CA) [via mobile]
How strongly do you feel about your chances of returning to the 49ers?
Takeo Spikes
(1:11 PM)
I don't know. I know they want me back. I'm willing to listen to anything that is presented to me that's given to me by the 49ers.
Nathan (Kentucky)
Who are some of the toughest offensive players to go up against?
Takeo Spikes
(1:12 PM)
Barry Sanders, Jerome Bettis, Brett Favre, John Elway.
Drew (NY)
What are some good spots to eat at in SF?
Takeo Spikes
(1:13 PM)
Bix. Slanted Door. Just a few to start you off.
Karl (denver)
are you tired of talking CBA? ARe you ready to play?
Takeo Spikes
(1:14 PM)
Yeah. I think we're all tired of the back and forth business aspect, but that's the reality before we can get back to any type of playing.
Ryan (NY)
Come back to Buffalo... I'll buy you a beer
Takeo Spikes
(1:15 PM)
Done! BLL -- Bud Light Lime.
Nathan (Missouri)
Takeo, what is your favorite stadium to play in?
Takeo Spikes
(1:15 PM)
I love Baltimore. Oakland. Pittsburgh.
Drew (NY)
Come to KC, ill by u a keg!
Takeo Spikes
(1:16 PM)
By the way, everyone check out my Twitter: @TakeoSpikes51.
bo ben (colorado springs, CO) [via mobile]
Throughout the labor situation the 49ers as a team have stayed out of the spotlight with the exception of Jim harbaugh, even the quarterback situation in San Francisco has been overshadowed by the likes of Tim Tebow in Denver, so my question is, going into the season who do feel will have the best opportunity to start at QB, and what do niner fans have to look forward to in the upcoming season?
Takeo Spikes
(1:17 PM)
A lot of unknown excitement. Jim Harbaugh was a great hire for the fans and hopefully for the 49ers organization as well.
Chatwish (Local)
What are some of your goals, whenever the NFL season begins?
Takeo Spikes
(1:17 PM)
Yeah, win. Playoffs. Super Bowl. Win.
Takeo Spikes
(1:18 PM)
That's what it's about.
Takeo Spikes
(1:18 PM)
Follow me on Twitter. Know that the players want to play. Be patient until we get a deal done.
Buzzmaster
(1:18 PM)
Thanks Takeo!