Chat with Tamika Catchings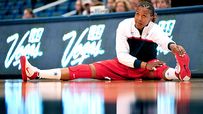 Catchings is a four-time defensive player of the year.
Welcome to SportsNation! On Friday, WNBA's Tamika Catchings of the Indiana Fever stops by to chat about the league's all-star game on Saturday (3:30 p.m. ET, ABC).
Catchings was voted by the fans to start the game for the Eastern Conference, leading all players with 32,706 votes. Her 14.6 points and 7.9 rebounds per game averages rank among the league leaders.
Catchings is in her 10th season in the league, all apent with Indiana. In addition to being named to the WNBA's All-Decade team, she's also been a nine-time all-star, while being a member of the last two Team USA Olympic gold medal winners.
Send your questions now and join Catchings Friday at 1:55 p.m. ET!
More Special Guests: Previous chats | SportsNation
Buzzmaster
(1:50 PM)
We'll have WNBA leading all-star vote getter Tamika Catchings chatting in a few minutes. Send in those questions!
Buzzmaster
(1:54 PM)
Tamika Catchings!
Kelly (Dallas)
How does it feel knowing that you were the top vote getter for the all-star game?
Tamika Catchings
(1:54 PM)
It makes me feel really good. Obviously, I definitely appreciate the fans and all of the support I've gotten over the years. I'm excited about it being here in Texas, where I went to high school. I'm looking forward to it.
James (USA)
What game day routine like?
Tamika Catchings
(1:56 PM)
Normal game time is 7 p.m. We'll shoot around from 9:45-11. I'm walking out of there at 11:30. Then do whatever I need to do for the next hour. I eat at 1. I normally eat chicken, mashed potatos and broccoli. I nap for a couple of hours. I get to the gym around 5:30. I shoot around. Then change clothes, change uniform and get ready for the game.
joe (fl)
which is your favorite road arena to play in?
Tamika Catchings
(1:56 PM)
I don't really have a favorite arena. I have a favorite city. San Antonio, because my family is able to come.
James (USA)
Most NBA players say the road is the hardest to deal with, do you agree? Does your team hang out togeather on roadtrips or go your seprate ways?
Tamika Catchings
(1:57 PM)
Our team hangs out a lot on the road. I would say for me, as far as being on the road, sometimes it's better, because we have so much going on at home. Being on the road, it allows you to be in one place in a hotel and not have anything else to do. It can kind of be relaxing.
ian (ny)
Did you watch the Women's World Cup? Who was your favorite American to watch?
Tamika Catchings
(1:59 PM)
I did! I don't really have a favorite player. Soccer was the first sport I ever played and transitioned to other sports and stuck to basketball. We couldn't watch the Japan game. We were playing at the same time. We watched it before we went out and then watched it at halftime, but the game was over. I thought people were joking saying we lost. I watched the game before watching the shootout. I was commentating the game for my brother who was on the road. It was fun.
Steve (Ohio)
Just wanted to wish you a happy birthday, Tamika!
Tamika Catchings
(1:59 PM)
Thank you! I appreciate it. I can't believe I'm getting older.
jackson (America)
All-Star weekend, are you planning a girls night out? Ready for shoot around?
Tamika Catchings
(2:00 PM)
Girls night out! My whole family is here! Everyone is driving in as we speak. We're actually going to do something tomorrow night after the game. Tonight is jam packed with everything getting ready for the game. But tomorrow we'll have some fun.
Karen (NY)
It seems like you wear short socks overseas, are long socks a WNBA thing?
Tamika Catchings
(2:02 PM)
Yeah, I really never thought about it. It's just the socks that are provided for you. I like the long socks because it keeps my legs warm. And I've been wearing the knee pads for a long time. I wear them no matter where I'm at.
kingmaine (west palm beach)
does mya moore remind you of yourself as a rookie?
Tamika Catchings
(2:03 PM)
Yeah. I think Maya definitely has the passion. We both play with the same passion for the game. We love what we do. It's fun watching her play. Being able to play with her for Team USA, people telling me that they couldn't tell us apart. Come on now! We do look a little different. Seeing her come into the WNBA is great.
jackson (America)
When with your family what does your Mom and Dada do special for you?
Tamika Catchings
(2:04 PM)
Just them being here is special enough for me. My mom and dad are divorced, so it's not that often when we're together. Putting the differences aside and be around each and have a good time.
Birdfan (Louisiana)
Do you feel the WNBA will be a challenge to the very last game?
Tamika Catchings
(2:04 PM)
Oh yeah. It's definitely going to be one of those seasons this year. Some teams have struggled early on but we've seen teams go from struggling to one of the best teams after the all-star game. I think it will be a challenge right to the end.
jackson (America)
Last years allstar weekend was a warm up for the World Championships, this year can you ladies have more fun?
Tamika Catchings
(2:06 PM)
I think so. That's something someone had asked whether we're playing to win. It depends on the coaches and the situation. I think this year will be a lot more fun, as far as people just playing. We have some new players this year. You don't know what's going to happen. It will be a great couple of days.
joe (fl)
Hi Tamika of all the current players in the league who would you most like to have a chance to play with that you haven't already?
Tamika Catchings
(2:07 PM)
Hmmmm..not really. I've played with so many players. There are some young ones coming in that are talented. But there is not just one player who I am like, ooh, ohh, I want to play with her. There are a lot that I would enjoy playing with.
kingmaine (west palm beach)
do u see the wnba expanding to more teams or you think 12 team is enough? and would you want to paly more regular season games say 50? if people are watching?
Tamika Catchings
(2:08 PM)
I think right now where we stand, 12 is definitely enough. I think eventually we will grow and expand. But for right now 12 is a good number for us.
Wonderwoman (Amazon)
A lot of rookies in the game this year? Changing of the guards?
Tamika Catchings
(2:09 PM)
Yeah, I do, but I think it's great for the league. Any time you have new players coming in, there is a new fan base following them. A lot of these rookies now, they grew up with the WNBA around. Now they're playing with players they watched growing up. It adds an edge, a new flair for the league.
Birdfan (Louisiana)
What are some of your favorite TV shows?
Tamika Catchings
(2:09 PM)
I don't really watch TV. I read a lot of books. My sister lives in Indiana too. Most of the time, I'm with her or if I'm at home icing up getting ready. I do a lot with the Catch A Star Foundation. I'm always doing meetings with that.
Nagle (Big Apple)
Tamika in the House!!! That was my favorite song from the WNBA cd years ago. Do you remeber that?
Tamika Catchings
(2:10 PM)
That might have been in my crazy days.
Wonderwoman (Amazon)
What is your favorite meal?
Tamika Catchings
(2:11 PM)
I love steak. Outback Steakhouse is one of my favorite places to eat.
Tamika Catchings
(2:12 PM)
I just want to say thank you to everybody. Thank you for all of your support for getting me to the all-star game this year. It will be a lot, a lot of fun. I hope to see you at the all-star game!