Chat: Derek Dooley, Houston Nutt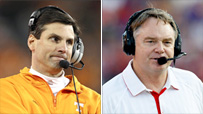 Tennessee and Ole Miss both open their seasons Sept. 3.
Welcome to SportsNation! On Monday, we will have our own version of Media Day when we have the first of two groups of SEC coaches stopping by to chat: Tennessee's Derek Dooley and Ole Miss' Houston Nutt.
Dooley (2 p.m. ET chat) enters his second season in Knoxville, having gone 6-7 in 2010. Dooley arrived at Tennessee following three seasons as the football coach at Louisiana Tech.
Nutt(2:30 p.m. ET chat) celebrates his 30th year as a coach in 2011, 18th as a head coach and fourth at Ole Miss. After arriving on campus in 2008, Nutt helped Ole Miss return to a bowl game for the first time in 5 years, winning the Cotton Bowl two straight years.
Florida's Will Muschamp and Auburn's Gene Chizik will also be at ESPN on Monday. We sat down both Muschamp and Chizik earlier this summer.
Send your questions now and the chat Monday at 2 p.m. ET!
More Special Guests: Previous chats | SportsNation
Buzzmaster
(1:56 PM)
Tennessee's Derek Dooley will be here at the top of the hour to take your questions!
Buzzmaster
(1:58 PM)
Coach is here!
Jack (Knoxville)
Coach Dooley, what is something you've learned from the team since the end of last season?
Derek Dooley
(2:00 PM)
I learned that we lost our way a little bit and understanding of standard of playing at the University of Tennessee. So, we've spent the entire offseason that everyone on the team understands the expectations of our fanbase and how we're going to meet them.
Michael (Chattanooga)
Coach Dooley,2 of the most heartbreaking losses I can recall happened to your Vols in ONE SEASON! How do you mentally recover and how do you better prepare your young team?
Derek Dooley
(2:01 PM)
Just like in life when things don't go your way it's important to look in the mirror and determine what you could have done differently to change the outcome. There are many things that the coaches and players could have gone to change the outcome. We learned and we will do what we can to change it.
Troy (Atlanta)
Coach Dooley, I just watched the Lombardi documentary on HBO and learned that he, too, attended law school, albeit briefly. What was your favorite class and what skills you learned there do you bring to the sidelines?
Derek Dooley
(2:02 PM)
I really enjoyed Civil Procedure, which is learning the rules of the game, so to speak. In any competition, it's important to know every detail of the rules, so you can always find ways to use them to your advantage.
BT (Scottsdale, AZ)
Coach Dooley have you ever been offered a hair modeling contract? Through all the adversity you went through last season, your hair was always perfect. Now win us some ball games.
Derek Dooley
(2:03 PM)
Love to see Vol fans out in Arizona. I've been combing my hair the same way for 30 years. When you do something the same way for 30 years, it has a tendency to never deviate from that.
THomas (Soddy Daisy, TN)
What are your expectations for the incoming freshman on the 2011 team (as far as the roles they will play this year)?
Derek Dooley
(2:04 PM)
Our shortterm expectation is that they come to work every day and show improvement in their physical, intellectual and emotional development. Our long term expectation is that they form a nucleus to bring home another SEC championship for the Vols.
Nathan (Missouri)
Coach Dooley, what one game are you looking at this season as being the most important (must-win)?
Derek Dooley
(2:05 PM)
The most important game right now is Montana, because it's the first one. In college football, every game is a season and all 12 count the same.
AndrewVolsFan (Toms River, NJ)
Coach Dooley I've noticed that JUCO players have been a major focus of your recruiting efforts. Is this due to the lack of experience on the roster or do you plan on signing a number of JUCO players every year?
Derek Dooley
(2:05 PM)
We only signed three out of 28 last year. So, when we do sign junior college players, it's because we have a critical area of need on the roster and we think that those players will fit into our culture of doing things.
Josh Hunt (Knoxville, TN)
Coach Dooley, I am a UT Student and a die hard vols fan. I love everything about what you stand for and I know the program is going in the right direction. However, I would love to see you bring back the Black jerseys or orange pants at home this year. Any chance that happens?
Derek Dooley
(2:06 PM)
E-mail our new AD for that answer.
Tom (Knoxville)
Coach Dooley, as the head coach, how hard is it to not be able to be in contact with your team during most of the offseason?
Derek Dooley
(2:07 PM)
It's very difficult. I wish we could go out there and coach them every day, especially given how young we are and our needs. But those are the rules and we'll have to make up for lost time come August.
Justin (Memphis)
Coach Dooley, What are your expectations for Bray coming into this season and how do you think he has grown as a QB from last season to this season?
Derek Dooley
(2:08 PM)
He's still in his infant stages of playing QB, but we expect him to continue the growth that he's been on since last season. Only experience and a continued investment in being great will allow him to reach his potential.
Law VOl (Charleston SC)
Coach: What are your expectations for the TN v. UF game this fall given it will be the start of what will surely be a great rivalry between you and CWM? Thanks!
Derek Dooley
(2:08 PM)
I hope we have our personnel in place by that time and that we will be able to play our best in the Swamp.
sandy a. (alcoa)
I love that your players all wore suits and Orange ties as you did at media day. Do you coordinate that? It's very classy, I love your style.
Derek Dooley
(2:09 PM)
I didn't coordinate it, but I was very proud when I saw them all show up, looking like professionals. Maybe they are all listening to me.
Matt (Rocky Top)
Where do you think our young offensive line is in their development from improvements we saw last year?
Derek Dooley
(2:11 PM)
Our OL has a chance to be a real strength of our football team, if they continue to develop the chemistry that was started late in the year. It's a young group, but it's a talented group.
Kris (Bristol)
How many hours do you sleep at night? I know if I was head coach at UT, my mind would race through all kinds of different scenarios and I would probably never sleep.
Derek Dooley
(2:11 PM)
My mind is always racing and there is never a feeling of comfort, but as coaches, we've learned how to manage that to ensure we get enough sleep to make good decisions every day for our program.
Chris (Pigeon Forge, TN)
What will be the biggest difference between last year's team and this year's team? Glad to have you representing our university.
Derek Dooley
(2:23 PM)
Hopefully our production at punt returner. If not, I really won't be able to sleep.
Derek Dooley
(2:23 PM)
I just want to thank the Vol fans for their unconditional support of the program. I can assure you that it won't be long before we bring spirit and pride back to Tennessee and restore the standard that made this place so great.
Buzzmaster
(2:23 PM)
Thanks for chatting Coach!
Buzzmaster
(2:23 PM)
We'll have Ole Miss' Houston Nutt stopping by at 2:30 p.m. ET to take your questions!
Buzzmaster
(2:28 PM)
We've got Coach Houston Nutt!
Buzzmaster
(2:30 PM)
Hang on, he's finishing a chat with Gene Chizik.
Trent (Greenville)
Coach, how are the defensive line and linebackers looking so far?
Houston Nutt
(2:32 PM)
They're going to be names that you're not going to be familiar with. I'm excited about Brian Bennett, Carlton Martin, Justin Smith and Gilber Pena in the middle. You get Wayne Dorsey, Carlos Thompson. They're names you're not familiar with, but I'm excited. LB wise, we lost a great one. He was a tremendous person and leader for us. Mike Merry, Joe Kite, Williams have done a great job of stepping up. We need some of those guys to step up.
Karl (Miami)
Coach if you had to choose one game, which would you say you'd most like to win this year?
Houston Nutt
(2:32 PM)
That's so hard. I want to win the first one. I want to get off on the right foot. That was a bad taste last year when you're up and lose.
Andrew (Oxford, MS)
Coach Nutt, how challenging has it been to keep the Rebels excited and motivated after last year trying season?
Houston Nutt
(2:33 PM)
You know, it hasn't. They've been the exact opposite. Very hungry, motivated and very determined to give our fans back to seeing winning football, after two back to back January Cotton Bowls. You can't assume you're going back, especially in the SEC.
Nathan (Kentucky)
Coach Nutt, what do you think about there being many teams switching conferences? Also, what do you think about BYU going independent and what was your reasoning in scheduling them?
Houston Nutt
(2:34 PM)
Well, my first immediate thought is that everybody is trying to resemble the SEC. They want to be in a powerful conference. They want to have our SEC championship game with that build up. Everybody's jockying for position to be in a superconference. We are in a superconference.
Derek (Iuka MS)
Coach Nutt, what has made Barry Brunetti ahead of Randall Mackey at this point, considering many consider Mackey having the better spring?
Houston Nutt
(2:35 PM)
Very good question. I like both of them. They're both athletic. Both can throw the ball. It's going to be very competitive. Don't forget about Zack. We're fortunate to have three talented QBs on the roster. If we played tonight, Brunetti would start, but we don't play tonight.
Ian (New Orleans)
Coach Nutt, what states (outside of Mississippi) do you try to emphasize the most when recruiting? Do you recruit Texas or Florida? How widely do you range at Ole Miss compared to when you were at Arkansas?
Houston Nutt
(2:36 PM)
We start in Mississippi. Louisiana, Alabama, Georgia, Florida. That's where we put our emphsais. We'll go farther east, west, California. But those are the ones we focus in on.
Josh Hunt (Tennessee)
Coach Nutt, What do you think of the new Mascot?
Houston Nutt
(2:37 PM)
I like it that we're still the Ole Miss Rebels. I'm looking forward to seeing it. Seeing it all dressed up. But my main focus has just been on coaching.
Mike (TX)
In my opinion the SEC West is the toughest division in all of college football. What makes you believe that Ole Miss will be competitive with LSU, Arkansas and Alabama, they favorites to win the division?
Houston Nutt
(2:37 PM)
The one thing about our league, every Saturday, no matter who plays who, you must be ready. Within 60 minutes, anybody can beat anybody in any given day. I feel like we'll be very competitive.
Oscar (Tampa,FL)
Coach Nutt, what are you expecting from Jeff Scott this season, how are you going to use him in your great plan
Houston Nutt
(2:38 PM)
Jeff Scott is a difference maker. He's one of the fastest players on the field. We'll find a way to get him the ball. If he's hot, we'll keep giving it to him. He can really make something happen in a ball game. He's an explosive player. We'll have a lot of plays for him.
Deante (Louisville)
Coach Nutt...Coaching a Pee-Wee football team this year for the first time. Any advice?
Houston Nutt
(2:39 PM)
I would really make it fun for them. I would keep it really simple. This is going to be their first experience for most of them in Pee-Wee football. I would make it a lot of fun for them and hopefully everybody can get to play.
DJ (Hattiesburg)
Coach Nutt, how do you see the new class of wrs contributing this season?
Houston Nutt
(2:40 PM)
That's an excellent question. I think this is the most talented group of receivers we've signed and maybe in the last 10-15 years. Besides Nick, who's unbelievable and fast, Tobias, Collins, TJ, don't forget about Jamal, who can be real impact for us at TE.
Jeff (RI)
Coach Nutt, what do you say to critics , do you listen to them?
Houston Nutt
(2:42 PM)
No, I can't afford to waste energy on critics. No one puts more pressure on me than myself. I'm going into my 14th year. Just 300 days ago, everybody was asking if I was going to retire, after two back to back Cotton Bowls. In a short time, it shows you the reality in our league that everyone wants to win yesterday. That's how tough our league is. I'll put the pressure on myself. I want to win, I want to please our fans, make sure our players graduate and take them to where they've never been -- Atlanta.
Taylor (Winchester, VA)
Coach, will the front seven be able to pressure the quarterback enough to help out the secondary? That seemed to drive the defensive success in previous seasons.
Houston Nutt
(2:43 PM)
That's what we have got to have. Real good point. We didn't have that last year. With Carlos, Wayne, Jason, I'm hoping those guys will put some pressure on the QBs and not so much on our secondary.
Deante (Louisville)
Do you feel recruiting is out of hand or do you enjoy it? If you could change something about the process, what would it be?
Houston Nutt
(2:44 PM)
I enjoy recruiting. Getting to know parents and the family. But what's gotten out of hand is the speed of it. Everybody's rushing it. Everybody wants to offer 9th graders, 10th graders. The recruiting services to the speed of recruiting, it's just so fast now. That's what's out of control.
Brent (TX)
Looking back, how blessed were you to have Darren McFadden, Felix Jones and Peyton Hillis in the same backfield?
Houston Nutt
(2:45 PM)
Unbelievable! My brother who coached them would say we don't know how lucky we are. He would say that there weren't enough balls to go around. He was so right. IT was such a privilege to coach them. Great players. Great character. I loved coaching them. We were very blessed.
Eric (Columbus, MS)
Coach, when you're in a living room with a recruit and his family, what about Ole Miss do you pitch to him first and foremost? What do you tell him that Ole Miss has that makes it unique?
Houston Nutt
(2:46 PM)
First and foremost, it's one of the safest and most beautiful campuses in the country. Our coaches will take care of that young man as if it were our son. It's been proven that they come back, 5, 10, 15 years after graduation and say that that was their best times of their lives. Good staff with a very good eduction under their belts.
Houston Nutt
(2:47 PM)
My family and I really appreciate Ole Miss and the family of Ole Miss. I felt their passion this spring. We're building something special there. One day we're going to the SEC championship game. We need a sell out in the stands. Everyone's talking about building and improving our stadium, but what's really important that everyone's there for our game. We have to have that homefield advantage.
Buzzmaster
(2:54 PM)
Thanks for chating Coach Dooley and Coach Nutt! We'll be back again Tuesday for more SEC coach chat!