Chat with OU's Jones, Broyles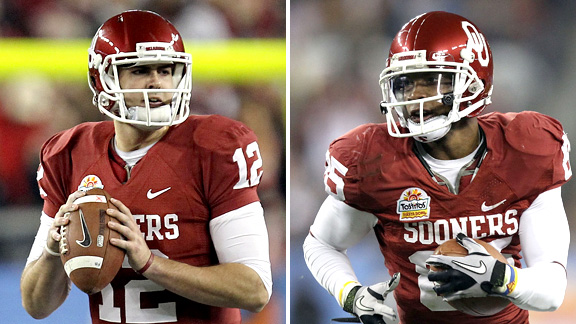 Jones and Broyles are a combined 32-9 at Oklahoma.
Welcome to SportsNation! On Friday, Oklahoma touchdown combination of quarterback Landry Jones and wide receiver Ryan Broyles join up for a chat.
Jones enters his third year as the starter at Oklahoma, having already accumulated over 7,900 passing yards and 60 TDs. He's led the Sooners to two straight bowl game wins, including the Fiesta Bowl last season, for the first Oklahoma bowl wins since 2005.
Broyles led the country last season with 131 catches and his 1,622 receiving yards was third nationwide. He enters 2011 needing 51 catches and 1,656 yards to break the all-time NCAA D-IA records.
Send your questions now and join the chat Friday at 1:15 p.m. ET!
More Special Guests: Year of the QB | Previous chats | SportsNation
Buzzmaster
(1:08 PM)
Oklahoma's Landry Jones and Ryan Broyles will be here at 1:15 p.m. ET to take your questions!
Buzzmaster
(1:13 PM)
We might get started a minute or two early!
Buzzmaster
(1:15 PM)
Let's get started!
Parrish Aiguier (Midland Tx)
Landry what has been our favorite game that you have played in since coming to OU ? Ryan same question to you
Landry Jones
(1:17 PM)
My favorite game is always the OU-Texas game. That's my favorite to play in. It's fun.
Ryan Broyles
(1:17 PM)
Not to be boring, but mine's pretty much the same.
William (Ohio)
Which one of you will win the Heisman and why?
Ryan Broyles
(1:17 PM)
Both of us.
Landry Jones
(1:18 PM)
It's going to be co-Heismans.
Mike (Tulsa, OK)
Do you prefer a clean and respectable matchup, or do you like when someone lights a fire under your team by saying something that can be interpreted as 'billboard material?'
Landry Jones
(1:18 PM)
It doesn't really matter to me. I don't really read it anyways.
Sadieogrady (Oklahoma City, OK)
How does it feel when you come out of the tunnel to all the screaming fans?
Ryan Broyles
(1:19 PM)
It's a great feeling. Overwhelming. Escatic. It's a natural high. Surreal.
chris (houston, tx)
The color orange, in any form, makes me wanna puke! Do you agree?
Ryan Broyles
(1:19 PM)
My high school team was orange, so it's kind of ingrained in me. But when it's opposite of me, I am not a big fan.
Landry Jones
(1:19 PM)
My high school was orange too.
Don Paczosa (Columbus NE)
With Coach Wilson gone and Coach Heupel taking over will we see much changes on offense,and will we see more of the Diamond formation? Boomer Sooner!!!
Landry Jones
(1:20 PM)
Good question. We won't see much change in the offense. Just changes in the style of play calls.
Ryan Broyles
(1:20 PM)
We won't be as conservative. Go down field more. But I don't think we'll see a lot of change.
Nick (MN)
Landry, is their any pressure succeeding Sam Bradford at QB?
Landry Jones
(1:21 PM)
Not really. There was more pressure on me to win games than succeeding Sam.
David (Kabul, Afganistan)
Who wins in one on one basketball with you too? Boomer Sooner, Good Luck This Year Boys!
Landry Jones
(1:21 PM)
I do.
Ryan Broyles
(1:22 PM)
We had a little tournament going and my team beat Landry's. We're supposed to win the championship game. My team against Landry's.
Landry Jones
(1:22 PM)
But one on one, do you want to go out on the court right now?
Ryan Broyles
(1:22 PM)
But I played with Blake Griffin in AAU.
E-DOOM (Norman)
For both. What is the toughest secondary in the Big 12
Landry Jones
(1:23 PM)
It was Nebraska.
Ryan Broyles
(1:23 PM)
That's what I was going to say. Why? Because they had 6 DBs.
Joseph (Munich)
Ryan you have arguably the best hands in the NCAA. I bet you could count your dropped passes on one hand. If you could take a stab at it, how many do you think you have dropped?
Ryan Broyles
(1:24 PM)
In my career? I would say probably three or less.
Whitney Hand and MaryBeth Offenburger (Norman)
We know you are both excellent football players but we want to know what is your favorite scripture and why!
Ryan Broyles
(1:27 PM)
Galatians 5: 22-25. "But the fruit of the Spirit is love, joy, peace, longsuffering, gentleness, goodness, faith, Meekness, temperance: against such there is no law. And they that are Christ's have crucified the flesh with the affections and lusts. If we live in the Spirit, let us also walk in the Spirit."
Landry Jones
(1:28 PM)
Oooh. Good question. I'm going with one I just change to my favorite. Hebrews 12:1-2 "Wherefore seeing we also are compassed about with so great a cloud of witnesses, let us lay aside every weight, and the sin which doth so easily beset us, and let us run with patience the race that is set before us, Looking unto Jesus the author and finisher of our faith; who for the joy that was set before him endured the cross, despising the shame, and is set down at the right hand of the throne of God."
Scott (Oregon (Duck Country BOO!!!))
How do you guys and the team not believe all the preseason hype and just march through your schedule and take care of business?
Ryan Broyles
(1:29 PM)
We just focus on what we can control. We lay a foundation through the spring and summer going into camp. We cut off everything else and control what we can.
John Owen (Dallas)
Outside of football what do you like best about OU?
Landry Jones
(1:30 PM)
I like the people that I've met at OU. I'm surrounded by a good group of people.
Ryan Broyles
(1:31 PM)
I like being there because I'm from Norman. I have the same friends that I've been friends with. I can go back and see my old school. That's what I like, I have the best of both worlds, I can develop new relationships at college and have the old friends.
Timm Decker (Louisville, KY)
What was a reason behind both of you came back this year besides winning the BCS?
Landry Jones
(1:32 PM)
For me, I really didn't have an option of leaving, I don't think. For me, it was pretty easy to come back and finish up my career.
Ryan Broyles
(1:32 PM)
To finish up and graduate. Walk across the stage. The college atmosphere. Enjoy being a student.
Brad (Dallas)
Demarco Murray is a big loss. How do you think the young RBs will impact this year's team?
Landry Jone
(1:33 PM)
I think we recruit pretty well at OU. I think those guys will step up and be fine. It's hard to replace DeMarco, but we'll have some guys.
Ryan Broyles
(1:33 PM)
I think we'll have guys for different matchups and mixing it up. We have guys who are sprinters and other guys who do other things. Just mixing it up.
Greg (Lawton, ooooklahoma)
One game you could get a do-over, which one and why?
Ryan Broyles
(1:34 PM)
Ooooh, my red shirt freshman year against Florida in Miami in the national championship game. I want another shot at that one.
Landry Jones
(1:34 PM)
I think I would have one of two. Of course last year, the Missouri game or the Texas A-M game.
Ryan Broyles
(1:35 PM)
Follow me @RyanBroyles. Thank you.
Landry Jones
(1:35 PM)
Follow me @LandryJones12.
Ryan Broyles
(1:35 PM)
Boomer Sooner!