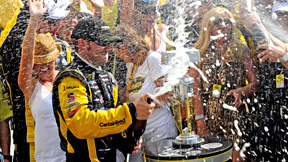 Menard was the first Sprint Cup driver to get his first win at the Brickyard 400.
Welcome to SportsNation! On Monday, we'll have the 2011 Brickyard 400 winner Paul Menard stopping by to chat about his victory Sunday.
Menard, driver of the No. 27 Chevrolet for Richard Childress Racing, won Sunday for the first time in his five-year career. The win put him in 14th place in the Chase standings and put him in position to secure one of the two wild card slots.
Send your questions now and join Menard Monday at 1:30 p.m. ET!
More Special Guests: Previous chats | SportsNation
Buzzmaster
(1:33 PM)
Paul is here!
Jim (New Albany, IN)
How did the bricks taste?
Paul Menard
(1:33 PM)
They were hot, actually really hot, gritty and it was awesome.
Paige (TN)
First off, congrats Paul! You earned that win! So proud of all you guys over there! Second, Are you guys gonna try and go for another win to get in the chase or play it safe to try and get up in points more?
Paul Menard
(1:35 PM)
We have to see what the 11 does and the 88 and the 14 and 6. THose are the guys we're racing right now. We won't do anything different. But if we see something on fuel mileage or anything like that we might go for the win, as that will help get us in.
Joe (New York)
Congrats on the win paul enjoy it you earned yesterday it was nice to see you win even though I'm a die hard gordon fan...how do you feel about your chances to hold on to the last wild card spot?
Paul Menard
(1:36 PM)
Thank you. We feel pretty good. We have 6 races to go. There is a lot that can happen, good and bad. We'll try our damndest to gain more and not have to rely on the wild card. We're sitting pretty good right now.
Aaron (Maine)
What does it feel like when you look into your mirror and see Jeff Gordon breathing down your neck late in the race?
Paul Menard
(1:37 PM)
Yeah, there was a lot of great guys behind me there. I had Mark there for a long time and Jamie. And then Jeff all running us down. When the 24 closed within 2-3 seconds and we knew he was the one we had to beat. We could either go for it or slow down and maybe finish 2 or 3. We went for it and the car went.
Ryan (Middleton WI )
Congrats! Maybe now people here will realize there's more then one WI guy to cheer for. What was going through your mind exiting 4?
Paul Menard
(1:38 PM)
Just hoping that we had enough fuel. I kept one eye pinned to the fuel pressure guage. The other was on the rearview mirror and the 24. He wasn't catching us, so I felt good about it.
Jim (New Albany, IN)
I'm about your age and am still rocking the sideburns. How long before we need to grow up and clean those up? (Please say never.)
Paul Menard
(1:38 PM)
Never.
jesse (iowa)
Paul, Congrats!! Been a big fan of yours for awhile!When Jamie Mcmurry passed you late, What were thinking? did you think it was over?
Paul Menard
(1:39 PM)
No. We were in major fuel conservation mode. I knew what Jamie was doing, cat and mouse. He may have been unsure of what his fuel situation was. I let him go and tried to save some fuel by following him. Luckily Slugger told me it was time to go before Jamie got the same call.
Jake (Waco)
Does it tick you off to see people calling your victory an "upset"?
Paul Menard
(1:40 PM)
No. I'll take it any way we can get it. It was an upset because we probably weren't the fastest car. We had a top 10 car. We definitely had a quicker car. If you just keep running in the top 10, top 5, things like this happen, putting yourself in a position to win.
Josh (FL)
You, Bayne, Smith and Ragan are all first time 2011 winners in your 20's. Is this the beginning of a new Sprint Cup youth movement?
Paul Menard
(1:42 PM)
I hope so. They're all good guys. I hope to be racing with them for a long time to come. There's a lot of guys out there that are a little bit older that will continue to be out there for a while. I don't see Tony, Jeff, Jimmie, Kurt going anywhere. They'll be out there for a long time. But it's good to see some new guys win.
Matthew (Columbia, NJ)
Paul, big congrats on winning at Indy yesterday! Are you finally glad you will be in the All Star Race next year instead of trying to make the show through the Open?
Paul Menard
(1:43 PM)
The Open race is a lot of fun. We usually end up with a crashed race car. It's nice that we can bypass that and go right to the all-star race. But I will miss the shootout in some ways, just glad we won't have to go through it.
Kevin (CT)
So, Paul, the obvious sponsorship deal for you would be with Menards, right. That just made too much sense, huh?
Paul Menard
(1:43 PM)
It sure did. We've been involved with Motorsports for 30-plus years. It's been good for business and good for my family.
Brian H (Mankato, MN)
For all the support the Menard family has poured into racing the past 2 1/2 decades; I just feel so good for you and your family. Congrats!!
Eddie (Indy)
Paul, Congrats on your great win! You and your dad deserve it. Do you see yourself as a team owner in the future ? If so when?. To see another driver who has dreamed of an Indy win since adolecence (Jeff Gordon, Tony Stewart) is very cool.
Paul Menard
(1:44 PM)
Maybe some time in the far future. Not anything soon. We have to focus so hard in what we do each week and the team. If something like that came about it would be 10 years down the road.
JB (Denver)
Paul, it was great to see you pull that off! Congrats to you and Slugger. Do yo have any interest in doing some openwheel stuff??
Paul Menard
(1:45 PM)
Yeah. I've never driven a midget car or anything like that. I have driven an openwheel car. NASCAR is where I want to be. I love driving it.
Logan (MA)
Big 24 fan here, I was hoping that you would run out and Jeff would win, but now that I see who u are as a person I am happy for u. What other tracks could u see yourself winning at in the near future?
Paul Menard
(1:46 PM)
Thank you. We've got a string of fairly good tracks for us coming up. Michigan and Atlanta particularly heading into the Chase will be good for us. Pocono, hopefully we can continue running well there. The biggest test will be at Richmond. We're just trying to find the right balance.
Parsons (VA)
Did you have a Leinenkugel's to celebrate ... or a Bud?
Paul Menard
(1:47 PM)
I had a Bud, because they're a team sponsor. If there was Leinenkugel's available, I would have had one of those. They're hard to get outside of Chippewa Falls.
jonah (WI)
could this be the start to something bigger this year and does this mean that u r serious chase contenders?
Paul Menard
(1:48 PM)
I kind of hope so in one regard. We just go out every week and do the best that we can. We're not going to try any less hard. We're just going to continue to do what we're doing.
Paul Menard
(1:49 PM)
Thanks for experiencing my first chat with me. I've gotten a lot of great e-mails and text messages. I've had fans Tweeting me and Facebooking me. It's been cool to see. I appreciate it.