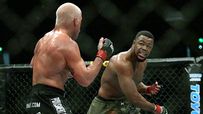 Evans won 2008 Fighter of the Year.
Welcome to SportsNation! On Monday, we'll jump into the octagon with UFC light heavyweight Rashad Evans as he prepares for his upcoming fight on Saturday.
Evans (15-1-1) will square off against Tito Ortiz (16-8-1) as the main event for Saturday's UFC 133, live on Pay-Per-View at 9 p.m. ET/6 p.m. PT from Philadelphia's Wells Fargo Center. The fight is a rematch of a July 2007 fight in which Evans and Ortiz finished in a draw.
Evans last fought in May 2010 in UFC 114 when he won a three-round decision over Rampage Jackson. It was his second win of 2010, defeating Thiago Silva in a decision at UFC 108.
Send your questions now and join Evans Monday at 1:30 p.m. ET!
More Special Guests: Previous chats | SportsNation
Chris Ryan (New York, NY)
How do you feel you size up against your opponents in your division? If you beat Tito, do you think you deserve the title shot?
Rashad Evans
(1:35 PM)
I size up pretty well against my opponents. I think I should get a shot, but we'll see what happens if I beat Tito.
Steve (Chicago)
Hey Rashad, how much of a change, if any, was there in preparing for Tito instead of Phil Davis?
Rashad Evans
(1:36 PM)
Not much change at all to be honest. I'm just sharpening up some things I know Tito is better at than Phil, but I didn't really change anything.
Brian (Ireland)
Hey Rashad, I know you have had lots of high profile fights but which performance and win are you most pleased with? Good Luck Saturday.
Rashad Evans
(1:36 PM)
I guess I'll say the fourth fight when I won the belt. There were a lot of different things in that fight and a lot of challenges to overcome.
JD (Denver, CO)
It seemed like from watching you on the TUF series, that you enjoy coaching. Is that something that you do regularly, or that you could see yourself doing more of in the future?
Rashad Evans
(1:37 PM)
Yeah, I love to coach. It's something natural to me. It's probably because I've had some excellent coaches. They probably rubbed off on me. I like to give back.
Sylvie (Albuquerque. NM)
Without giving away your game plan how can Tito be finished this time Rashad? I know he doesn't have any hook shots and only has a decent straight punch. What do you think?
Rashad Evans
(1:38 PM)
It's a tricky question. I think I can finish Tito on my feet as well as on the ground. It's gonna be dictated by what Tito Ortiz does.
Jeff A (NJ)
How are you feeling going into this fight?
Rashad Evans
(1:39 PM)
I feel good. My mind is in the right place. That's the most important thing. If you're not mentally prepared, none of the other stuff matters. I'm in a mindset to compete.
steven (calgary, alberta,canada)
Do you expect tito to be fresh this saturday, or do you think he will be over trained and tired coming into the fight?
Rashad Evans
(1:40 PM)
I'm preparing for the best of Tito Ortiz. If you put it in your mind that he'll be less than 100 percent, you might get a bad surprised. I'd rather be surprised the other way around.
Tom (NM)
I'll bet you can't wait to get another shot at Machida? Does it dig at you everyday that your only loss?
Rashad Evans
(1:41 PM)
Having that loss was very important for my mentality as a competitor and for my career. I do look for the opportunity to get a chance to fight him again, but I'm thankful for having faced him.
James Renz (Casper Wyoming)
What?s going to be your biggest challenge coming back to the octagon after 16/17 months?
Rashad Evans
(1:41 PM)
I guess dealing with the mental pressure of having to compete. I've had a lot of time to heal up and learned so much in terms of different techniques. Just competing and getting my timing back are my biggest challenges.
Ralph (Montana)
Is your relationship with Bones one that can ever be repaired?
Rashad Evans
(1:42 PM)
Time heals all wounds, and who knows what will happen, but from where I am in my life right now, I don't think so.
Tom (Stafford Va)
What are your thoughts on the Dan Henderson / Fedor fight and how would you match up with Hernderson?
Rashad Evans
(1:43 PM)
I'm a big Hendo fan. I picked him even though I didn't think he was really going to win, but it was a pleasant surprise. I would love to fight him. He's getting better and better -- not so much learning new techniques, but having a stronger competitive mentality.
Chris S (Lexington, KY)
Have you ever thought about moving to middleweight and fighting A. Silva?
Rashad Evans
(1:44 PM)
I have, but who's to say Silva would be there by the time I would have sorted myself out there? Why bother when I'm at the top of my weight class now.
Eric (Indiana)
Who would you rather face, Rampage or Jones?
Rashad Evans
(1:44 PM)
I would love to fight either of them. It's all about the situation.
Rashad Evans
(1:45 PM)
I like Rampage more than I like Jones, but I'd fight either one. Rampage is funny as hell. He an interview where he turned his back on Jon, it made me lose it.
Greg (Vancouver, WA)
Whose the one fighter you want to face before you retire?
Rashad Evans
(1:46 PM)
At this point, it would be Jon Jones. But there's no iconic figure now. Fedor fell, so there's no one really out there. Couture and Lidell have retired. Really nobody that's an icon.
Spencer (White)
I always listen to Eminem or Rage Against the Machine before I wrestle. Any certain songs/artists get you going before you fight?
Rashad Evans
(1:47 PM)
I listen to hip-hop and reggae before I fight. Sometimes I throw some dancehall and gospel reggae too, just to calm me down. I don't want to be in the red zone for too long. There has to be a certain point where I turn the switch. If I do that too early, I'll be drained.
Will (Houston)
Have you chosen your walkout song for 133 yet?
Rashad Evans
(1:48 PM)
I haven't chosen it yet, man. I'll have to call Dana. He'll have to dig something out for me. We'll see. I've been tossing around a few ideas.
Rashad Evans
(1:49 PM)
Thanks to all the fans out there who have followed me on this road to UFC 133. Hope everyone checks it out, whether you hate me or you love me. Everyone's been great following me!