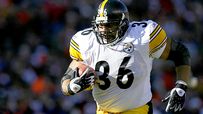 Bettis was drafted 10 overall by the Rams in the 1993 draft.
Welcome to SportsNation! On Tuesday, now that the NFL is officially back, we'll be talking about the 2011 season with former running back Jerome Bettis.
Following a 13-year career in the NFL, Bettis retired after his Pittsburgh Steelers won Super Bowl XL in 2006, his only Super Bowl win. He left the game with 13,662 rushing yards, good for fifth all-time and his 91 rushing TDs is 10th all-time.
Bettis has teamed up with Dick's Sporting Goods for education on concussions through PACE, a program that will screen 1 million youth athletes for concussions. Through Sept. 12, Dick's will donate $1 to PACE for every pair of athletic shoes purchased at a Dick's location.
Send your questions now and join Bettis Tuesday at 1 p.m. ET!
More Special Guests: Previous chats | SportsNation
Buzzmaster
(12:59 PM)
Former NFL running back Jerome Bettis should be here in minutes to take your questions!
Buzzmaster
(1:01 PM)
Jerome is here!
Kevin (DC)
Jerome, you had a few concussions during your career, didn't you? So, what does this new PACE program mean to you, especially in terms of helping raise the awareness of concussions in kids?
Jerome Bettis
(1:03 PM)
It means so much to me, because I wasn't educated about concussions and it caused me to make some decisions that I probably wouldn't have made if I was educated about concussions. Now, I want to use my testimony as a way to create awareness about concussions and raise the education level so that our young athletes of tomorrow don't have to deal with the issues of the lack of education that I had to deal with.
Keith (Cleveland, Ohio)
One part of your game that I enjoyed watching was how agile you were for your size: did you work on agility drills or is that something you naturally had?
Jerome Bettis
(1:04 PM)
That's something that I was blessed with, the quick feet. But I did work on moves because it was not instinctual. I did a job of really working and teaching myself how to make people miss.
Michael C. (Westport, CT)
I loved your appearance on The Office a few years ago. Do people bring it up when they see you? Was it fun telling Michael Scott and Dwight Schrute to get lost?
Jerome Bettis
(1:05 PM)
It was hilarious. I loved it. People ask me about it all the time.
Ryan (San Diego)
Do you think the Chargers have what it takes to get back to the playoffs this year and challenge for a Super Bowl?
Jerome Bettis
(1:06 PM)
They definitely have a chance to challenge for a Super Bowl. But their chances hinge on them getting off to a quick start. We know how well they finish the season. The first six weeks will tell us if they have a chance.
Nick (MN)
As a former Steeler, what's your take on the James Harrison drama and do you think it will be a distraction?
Jerome Bettis
(1:06 PM)
First of all, it was disappointing to hear the comments that James made. But it will not be a distraction. This is a very close knit team. The issue was handled internally and it's a nonissue now.
Joey (SC)
Will you be making a comeback anytime soon??? Do you feel like you could if you wanted to?
Jerome Bettis
(1:07 PM)
No. No way I could! My body is beat up then and it's beat up now.
Rives (Memphis)
What skill does a running back need to have to seperate himself from good to great?
Jerome Bettis
(1:08 PM)
I think the No. 1 skill has to be vision. The players with great vision ultimately are the players that are the best in the NFL.
Jason (Vickadelphia)
Is any team going to be more exciting to watch?
Jerome Bettis
(1:08 PM)
It's hard to say. From an on paper standpoint, it's one of those deals where it's a lot of expectations for the Eagles and a lot of buzz, but it will be interesting to see if it translates to wins.
Keith (Cleveland, Ohio)
Now that you are retired, how is your health?
Jerome Bettis
(1:09 PM)
My health is doing pretty good. It's not the best, considering the way I ran the football, but it's as good to be expected. I'm not complaining at all.
AJV (Scranton, PA)
Would the Bus have rolled for another year if you didn't win the Super Bowl in 06?
Jerome Bettis
(1:10 PM)
It's quite possible. But the reality was my body was starting to fall apart. I knew it was a matter of time. Possible, but not probable.
Nathan (DC)
Who are some of your favorite running backs not named Adrian Peterson or Chris Johnson?
Jerome Bettis
(1:11 PM)
Definitely Adrian Peterson. He's the No. 1 guy in terms of being physical and running with a purpose. But I like Michael Turner in Atlanta and Jones-Drew. I like his style. I like Mendenhall too. He's running real aggressive and physical.
Shawn (Motor D)
Better motivator on gameday...Coach Cowher or Coach Holtz??
Jerome Bettis
(1:12 PM)
Hmmmmm. I would probably say coach Holtz. He was a good motivator. When you get to the pros, there isn't much motivation needed. When you're in college, you need different ways to motivate. I would say he's the better motivator.
Seth Rataiczak (Marietta, OH)
Hey Jerome,I was at the steelers game vs the dolphins a few years ago when you came out on the bus following the Superbowl XL win. What was that moment like for you?Thanks!
Jerome Bettis
(1:13 PM)
It was electric. The crowd was going crazy. The energy was in the building. The first time back on the field since we won. It was like a dream.
Doug (Mansfield, Ohio)
Outside of the Ravens what teams defense did you hate running through?
Jerome Bettis
(1:13 PM)
Tennessee Titans I think was the toughest defense that we had to go against. Even tougher than the Ravens.
Jeff D (Iowa)
Hey Jerome, How's the bowling game these days? Ever do USBC Nationals?
Jerome Bettis
(1:14 PM)
Not a lot of bowling. A lot more golf than bowling nowadays.
Vince (Milwaukee)
Where would you rank Aaron Rodgers among active Quarterbacks?
Jerome Bettis
(1:14 PM)
He's definitely in the class of Brady and Manning and Brees. It's probably 4 or 5 guys. I would like to put Roethlisberger in there as well. Rodgers is definitely in that upper echelon.
Drew (NY)
Would u say the Chiefs will be exciting to watch with of Charles of course and that upgraded receiving core?
Jerome Bettis
(1:15 PM)
I definitely think they'll be exciting. They'll be able to run the football. The development of the offense will be impressive to see.
Jeremy (Chicago, IL)
Any interest in coaching football at any level?
Jerome Bettis
(1:15 PM)
At this point, no, but never saw never.
Jack (Body in Atlanta, Soul In Pittsburgh)
Jerome, what do you think about the changing role of the Fullback in the NFL. Tim Lester sure opened holes for you in Pitt. Do you keep in touch.
Jerome Bettis
(1:16 PM)
We still keep in touch. He lives about 25 minutes from me. Our kids play together. We're still great friends. The fole of the FB has changed, unfortunately, not for the better. I think the fullback's role should be expanded. But that's not happening.
Devin (Florida)
What are your thoughts on your home town team, the Lions? Can they make a run for the playoffs?
Jerome Bettis
(1:17 PM)
I think they can. I think they've got to be in a situation where they keep their QB healthy. If they can do that, they'll make the playoffs this year. Unfortunately, they're probably in the toughest division in the NFC with Green Bay and Chicago.
Jerome Bettis
(1:18 PM)
Go to DicksSportingGoods.com/PACE to get more information and education about concussions and the PACE program that Dick's is starting.
Buzzmaster
(1:18 PM)
Thanks for chatting Jerome!