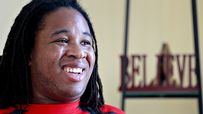 Through his rehab, LeGrand has been able to move his arm.
Welcome to SportsNation! On Thursday, former Rutgers fotoball player Eric LeGrand stops by to chat about his rehab following his on-the-field injury in October that left him paralyzed.
While doctors told LeGrand that he would never come off a ventilator nor walk again, he has been off the breathing aid for months, is able to shrug his shoulders and recently said he feels some tingling in his body. He also has resumed his studies at Rutgers, who has set up the Eric LeGrand Believe Fund. New York Jets linebacker Bart Scott also set up Can'tWait57.com to sell T-shirts to help raise money.
LeGrand has set up a Facebook page and a Twitter page -- @BigE52_RU -- to keep fans informed of his rehab progress.
Send your questions now and join LeGrand Thursday at 3:15 p.m. ET!
More Special Guests: Previous chats | SportsNation
Buzzmaster
(3:11 PM)
Eric's running a few minutes behind schedule. Right now he's working with FrontRow.com. He just told them that he's been able to stand for up to 40 seconds. Pretty awesome.
Buzzmaster
(3:17 PM)
Eric is here!
Dan (New Brunswick, New Jersey)
How do you prevent yourself from getting frustrated during the long and slow process of recovering from your injury?I go to Rutgers and I hope that someday you can lead the football team out onto the field again!
Eric LeGrand
(3:19 PM)
You do get frustrated. But when you have so many people behind your back and so many people out there in worse conditions than I am, how can I complain?
Alan (San Diego)
Eric, are you still able to play XBox? I saw on your Twitter you're taking on all challengers. Which game?
Eric LeGrand
(3:19 PM)
I'm not able to yet. But when these hands return, FIFA will be on my daily schedule.
Larry (Boston)
Did you team up with Bart Scott for his "Can't Wait" shirt idea or was that something he set up on his own as a way to support you?
Eric LeGrand
(3:20 PM)
He set it up all on his own, as a way to support me. It's tremendous that he would think of me to do something like that and just reach out to me to help.
Eric LeGrand
(3:20 PM)
I thank him for that.
Wes (Miami)
Prior to your accident, what were your future plans?
Eric LeGrand
(3:21 PM)
It was always go to the NFL, retire and become a sportscaster.
Mike (Hoboken)
Keep Choppin' Eric! Can't wait for the day you come out of the tunnel again on to the field. Is there a possibility you will be announcing any Rutgers games this season?
Eric LeGrand
(3:21 PM)
There's a strong possibilty I will be announcing a few games this season. I can't wait to get the experience.
Ryan (St. Louis)
You're such an inspirational figure to many people out there, where do you turn for inspiration?
Eric LeGrand
(3:22 PM)
To all of you and my mom. Because you guys are all behind my back through this whole situation. I won't let myself let me or you down.
Dave (Houston)
Football season is just around the corner...you played football for a number of years, how do you think you'll fill the void this year of not being able to play football?
Eric LeGrand
(3:23 PM)
It's going to be hard to not go out there and strap it up. But if I can't be doing it, I'm going to for sure make myself be around it.
Karl (LA)
Have you ever thought about what you do if you never are able to fully walk again?
Eric LeGrand
(3:23 PM)
I will walk again.
jason mattingly (memphis tn)
Keep fighting Eric, I was told I would never walk after shattering T6 vertebrae from a gun shot when I was 13 years old. I would except any doctor's saying I wouldn't walk but after 1 1/2 years of rehab I'm not perfect but I doing everything they said I would never be able to do. I believe your are only limited by what you believe can do, your positive attitude and never give in mentality will take you farther than you believe. Keep the faith and keep pushing back bro
Eric LeGrand
(3:24 PM)
Everything is going great. I'm recovering fast. You are an inspritation to me to get to where you are at.
Jeff (RI)
I'm guessing that everything in your life was put in perspective following your accident. I'm curious as to how things were in your life prior to last fall? Do you feel like your priorities are totally different now versus then?
Eric LeGrand
(3:25 PM)
Things change. My life has changed. So of course priorities have changed. But in the end, the priorities will come back and I will have the same ones that I had prior to the accident.
Fred (Texas)
What makes you believe so firmly that you'll walk again?
Eric LeGrand
(3:25 PM)
My faith in God.
Eric LeGrand
(3:25 PM)
And the will power that I was born with.
Adam R (Brookfield)
Eric, if there's one goal you want to reach that few people know about, what would it be?
Eric LeGrand
(3:26 PM)
To scratch my head.
Eric LeGrand
(3:26 PM)
Or my face whenever it gets itchy.
Eddie Konczal (New Brunswick, NJ)
Eric, I really enjoyed hearing you provide color commentary for the Red & White intramural game on Rutgers Day earlier this year. Do you have any plans to pursue other opportunities in the field of broadcasting?Best wishes, Eddie
Eric LeGrand
(3:26 PM)
Whatever's out there, I want to look at. I will probably do everything I can. I have to plan my schedule around class.
Jay (Rutgers)
Do you still help out the younger guys on defense? You and Vallone as the starters would have been one hell of a team!
Eric LeGrand
(3:27 PM)
I had a big chance to work with them this summer, being around them.
Rick (NYC)
What kind of work do you do during your rehab sessions?
Eric LeGrand
(3:28 PM)
A lot of unweighted stuff on my arms. Standing up and riding a stunt bike.
Nick (MN)
Hey congrats on your recovery, do you think you will ever be able to play football at any level someday?
Eric LeGrand
(3:29 PM)
If my body becomes 100% I will strap it up and go back out there. It's all in God's plan.
Matt (Grandville, MI)
Hey Eric, I'm a fellow quad just like you, in fact the same level as you and I just want to say you should check out the "center for spinal cord injury recovery." It's a fantastic rehab facility, and I think you would benefit greatly from it - I know I have!! Keep up the hard work and stay strong!!!
Eric LeGrand
(3:29 PM)
Thank you. Keep on working hard, my man.
jaustin (Kentucky)
As this tragic event has befallen you, it has given you time to contemplate live, with that always infectious smile, what message would you like to convey to young boys/men about sports, education and/or life?
Eric LeGrand
(3:30 PM)
Believe in yourself. Keep God first. The sky is the limit in your life if you just believe.
Eric LeGrand
(3:30 PM)
I will be back.