Chat with Caroline Wozniacki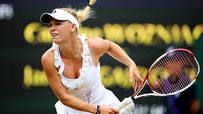 Wozniacki has held the No. 1 ranking for 42 weeks.
Welcome to SportsNation! On Friday, the top player on the WTA Tour, Caroline Wozniacki, stops by to chat some tennis as she gears up for the New Haven Open at Yale, which starts Aug. 21 as the lead-in to the U.S. Open, which starts on Aug. 29.
Wozniacki has five wins in 2011, losing only eight matches. The 21-year-old has 17 total wins in her career to go along with over $9 million in prize money.
Send your questions now and join Wozniacki Friday at 1 p.m. ET!
More Special Guests: Previous chats | SportsNation
Caroline Wozniacki
(1:03 PM)
Hello! Welcome. Happy to talk to all of you today. I'll try to answer as many questions as possible.
Julie, NY [via mobile]
How do you handle the pressure of being No. 1? Does it change the way you approach preparing for tournaments? Good luck at the U.S. Open!
Caroline Wozniacki
(1:03 PM)
Thank you. I prepare like I always did. I'm a competitor. It doesn't matter what ranking I have. When you're on the court, it doesn't matter what ranking you have.
Ryan (Aston, Pa) [via mobile]
What do you consider to be the biggest obstacle you've overcome to become a top player?
Caroline Wozniacki
(1:04 PM)
It's not always great fun to be out in the morning running at 7 o'clock, or playing tennis before school, but I have a goal of holding a trophy above my head, and that makes me go out there and practice.
Kelly (CT)
If you could play with any tennis player, male or female, past or present, who would it be?
Caroline Wozniacki
(1:05 PM)
I've played with so many players, so it's tough to find someone I haven't played with. Martina Hingis was my favorite player growing up, but I've played with her a few times. It would be fun to play with her again.
Marianne Bevis (Near London)
You've played a few pranks on your Monte Carlo neighbour Novak Djokovic, like invading his press conference. What jokes as he played in return? And do you practise together, as your Tweets last week suggested?
Caroline Wozniacki
(1:06 PM)
We do practice together. We live right next door to one another, so it's great practice for me. He's always joking around. He makes jokes all the time. I'm sure he'll figure something out sooner or later.
Elena (Russia, Arzamas)
Hey Caroline! What do you think about the prospects for Liverpool this season? Thanks!
Caroline Wozniacki
(1:06 PM)
I'm very excited about the new season. They've made some new buys and I think they'll do well.
Mary (Southington, CT)
You have had the opportunity to travel to many parts of the world. What are some of your favorite destinations to visit?
Caroline Wozniacki
(1:07 PM)
I went once to Barbados to play a match against Serena, and I loved it there. My favorite city is New York.
Nick (Boston, MA)
How do you like your chances heading into the US open series?
Caroline Wozniacki
(1:07 PM)
I feel like I'm playing well. I'm excited for the series to start. If someone is going to beat me, they'll have to play very well.
Mark (Burlington, VT) [via mobile]
What would you be doing if you weren't playing tennis professionally?
Caroline Wozniacki
(1:08 PM)
Maybe I'd be an actress! I'll have my agent get me in a movie. Maybe Twilight if he wasn't sleeping!
Cameron (Lubbock)
What kind of music do you like to listen to before a match?
Caroline Wozniacki
(1:08 PM)
It really depends. If I'm nervous, I listen to music that calms me down, but if I'm too calm, I'll listen to music that pumps me up.
Jim (Cape Cod, MA)
Which player/players bring out the best in you during competition?
Caroline Wozniacki
(1:09 PM)
The top players, when you play against someone who is playing very well, you need to play better yourself, so playing against the best on the big stage is always good for me.
Newrich3 (Oklahoma City)
caroline, what's your normal daily workout schedule?
Caroline Wozniacki
(1:10 PM)
Run in the morning for 45 minutes, then I go play tennis for two hours. Then I have a break and go to the gym for 45 minutes, and then I go on court again for about an hour and a half.
Melissa (Buffalo, NY)
What is your favorite thing to do to relax, as an outlet from tennis?
Caroline Wozniacki
(1:10 PM)
I like to be with my friends and family. Watch movies, read books.
Tim (Arizona) [via mobile]
Which of your fellow players do you hang out with off the court? Are most of your close friends tennis players?
Caroline Wozniacki
(1:11 PM)
Quite a few of them. Victoria Azarenka, Serena, Daniela Hantuchova, Sanya Mirza, Cristea.
Tony (Pt Jeff, NY)
Favorite surface and why?
Caroline Wozniacki
(1:12 PM)
Hardcourts. I feel like the ball always bounces the same way, and my movement is very good on hardcourts. That's the surface I enjoy the most.
Kelly (Berlin, CT)
Do you help design the outfits you wear with Stella McCartney and Adidas?
Caroline Wozniacki
(1:12 PM)
Yes I do. I have quite a lot of input. I really enjoy that. It's something that really interests me.
Sun Devil (Los Angeles)
What are your favorite restaurants in New York?
Caroline Wozniacki
(1:13 PM)
I like Mr. Chow's and Buddha Bar. Del Fresco's steakhouse as well.
Matt (Florida)
Hey, what has been your favorite match of your career??
Caroline Wozniacki
(1:15 PM)
It's tough to say. I've had so many good matches. I think the match where I became No. 1 for the first time definitely meant a lot to me.
Igor (Ukraine, Kiev)
What are your favorite movie? book?
Caroline Wozniacki
(1:15 PM)
I like The Hangover. I love Harry Potter and Twilight.
Derek (Chicago, IL)
If you could play any other sport, what would you pick and why?
Caroline Wozniacki
(1:17 PM)
If I was a guy, I'd definitely play soccer. It's my favorite sport and I follow it all the time on TV.
Jack (Rhode Island)
Do you already know what your outfit will be for the US Open? If so, what's it like?
Caroline Wozniacki
(1:18 PM)
I do! It'll be nice. White, very feminine. Pretty tight-fitting dress on the top, and then it'll flow on the bottom.
Stetson Thomas (East Hampton, NY)
How would you describe your playing style? Would you say you are more defensive than most #1's in the past?
Caroline Wozniacki
(1:19 PM)
I think I can play a bit of everything. I can play aggressive if I want to, but I can defend as well. I can do whichever is required.
Caroline Wozniacki
(1:19 PM)
Thanks for all the questions and support! Hopefully I'll see you on the tour!