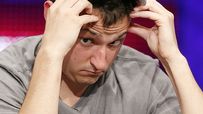 Giannetti has eight previous cashes in the WSOP.
Welcome to SportsNation! On Wednesday, November Nine member Matt Giannetti stops by to chat about playing in the final table of the 2011 World Series of Poker.
Giannetti enters the final table sitting in third place with 24.7 million in chips. The 26-year-old professional poker player from Las Vegas will be competing for his first WSOP bracelet and the $8.7 million first-place prize.
Send your questions now and join Giannetti Wednesday at 4 p.m. ET!
More Special Guests: Previous chats | SportsNation
Buzzmaster
(3:41 PM)
Matt Giannetti, member of the World Series of Poker's November Nine, will be here at the top of the hour to take your questions!
Buzzmaster
(4:01 PM)
Matt is here!
Will (San Francisco)
Any plans to hire a coach or anything like that to help you prepare?
Matt Giannetti
(4:02 PM)
No, I don't. I kind of feel that you get this far with your own skill and intuition, you should stick with what's working.
Kyle (VA)
Will you watch any tape or the WSOP episodes on ESPN to get a feel for how your opponents play?
Matt Giannetti
(4:03 PM)
Hours and hours and hours and hours.
Chris (LA)
Do you like this format of having a break before the final table?
Matt Giannetti
(4:03 PM)
I wish we had just played it out, but I don't mind the break either. Since Black Friday, it's not nearly as lucrative as it used to be, especially for Americans.
Griffin (FL)
What was the most stressful part of getting to the November Nine?
Matt Giannetti
(4:04 PM)
Probably waiting for the last card to fall.
Gator (Ray's Evergreen)
Do you concentrate on your hand more or the range of hands someone else may have?
Matt Giannetti
(4:05 PM)
I don't goof around too much with subprime hands. But you're constantly taking in as much information as you can to make the best decision as possible.
Dan (Omaha)
Congrats first off on making November Nine.. Describe how that moment felt when you achieved making the prestigious final table. How are you preparing yourself for november?
Matt Giannetti
(4:06 PM)
The final moment was incredible when the Nine was set. There is still work to do. I don't feel like I've accomplished anything yet. Starting about 4 weeks to go, I'll start to review a lot of film and tape and bringing in my close friends to help analyze anything that will help me at the final table.
BMoreTLC (Baltimore)
I go to Saratoga every summer and stay in Clifton Park. Any good places to eat in CP other than Feretti's (which is awesome)? I'll be there next week. Good luck in November...
Matt Giannetti
(4:06 PM)
I eat at Maestros in Saratoga which was pretty good. I only go back once or twice a year, so I'm not very familiar with the food.
Erik (Denver)
Matt, you had some nice momentum going toward the end of the Main Event that got you into the final table. Do you wish you could have kept playing and see where that momentum took you?
Matt Giannetti
(4:07 PM)
I wish we had finished it out. I felt very focused and in the zone. But you can't control that. I have to bring it back to that point in November.
Joe (New York)
How do you handle knowing you have won a ton of money, but not being able to get it until November?
Matt Giannetti
(4:08 PM)
We already got paid ninth place prized money. But I'm really not focused on the money, I just want to win the bracelet.
Alan (Arizona)
When did you start playing and at what stakes?
Matt Giannetti
(4:08 PM)
Initially with my friends, we'd pla $20 buy in games with 25 and 50 cent. As I got better, I'd move up the stakes. I was 18 when I started playing.
Steve (ORlando)
Will you keep playing until November, or will you concentrate only on your strategy for the final table?
Matt Giannetti
(4:09 PM)
I'll play the WSOP in Europe. I'll play some cash games between now and then. Besides in Europe, I don't know what else I'll play. But other than preparing for the main event four weeks out, I won't start focusing on that.
Craig (DC)
How do you think it breaks down with pro poker players, in terms of those who play mostly online v. those who play mostly in person?
Matt Giannetti
(4:11 PM)
I think they're very different skill sets, but it definitely takes a lot of talent to be successful at either. There are some similarities thought.
Andrew (New York)
What's the first thing that went through your head when you saw Hewitt call 3/4 of his stack with KQ?
Matt Giannetti
(4:11 PM)
Are those two queens?
Pablo (Southwest)
How did it feel to be the short stack with about 5 mil, and then about 10 hands later, part of the november nine with 25 mil in chips?
Matt Giannetti
(4:12 PM)
It felt incredible. Going into the November Nine with 50 big blinds knowing that I can maneuver and not be all in in the first 10-20 hands, it's completely different than going in with the short stack knowing now that I have to go all in within the first 10 hands.
Phillipe the Indian Frog (India)
Was the pure white Texas has for luck, or was it more for the intimidation factor?
Matt Giannetti
(4:12 PM)
It was my lucky hat. I was doing good with it on and I didn't want to take it off.
Fred (Austin, TX)
Matt, when you usually go into a poker tournament, are you able to watch other good players, so that you have an idea of how they'll play if you see them in the final? With thousands of people in the WSOP main event, it seems like it would be hard to watch others play.
Matt Giannetti
(4:13 PM)
I've been playing poker pretty seriously for about 6 years now. For all of the professional players, we have some experience with all of them basically. For a complete amateur, it's feeling them out for the first hour or so and then hope you get a read on them. Then you play against them accordingly.
Joe (New York)
Seems like people were going all in with about 20 BBs left instead of the more usual 10. What do you think caused this?
Matt Giannetti
(4:14 PM)
I don't really know how other people think. I know how I play, but I can't really speculate on what they were doing. I usually open raise with 20 big blinds.
Phillipe the Indian Frog (India)
Any endorsement deals?
Matt Giannetti
(4:15 PM)
I'm not too worried about it. IT's something that will happen. I'm not too concerned.
Greg
When did you start tihnking you could make it all the way?
Matt Giannetti
(4:16 PM)
When I was 18.
Rob (Detroit)
Obviously there is a lot of cash up for grabs, so my question is, when entering a pot, how do you put aside the fact that every decision could affect your chances for the 8.7 million dollar prize and the bracelet? How are you going to put that idea out of brain and just play cards?
Matt Giannetti
(4:17 PM)
I think if you're always playing to win, if that's your main goal, then the bracelet is your goal and not advancing up in the prize pool. You are always making decisions to win the tournament, not making decisions to advance in the tournament
Jeff (RI)
Are you going to watch yourself on ESPN's broadcast?
Matt Giannetti
(4:18 PM)
I already saw myself on the live coverage, but yes, I will be watching every Tuesday to not only see myself but the others. Up until this point, they haven't shown the hold cards and they will be showing that on Tuesdays.
Alan (Arizona)
Who are you most worried about at the final table?
Matt Giannetti
(4:19 PM)
Myself. I just hope that I every decision I make three months or a year down the line I still agree with. Hopefully I take the game well at the final table and make the best decisions possible.
Xav (West Palm)
Do you have a personal favorite hand besides the traditional AA KK?
Matt Giannetti
(4:19 PM)
Nope.
Jay (Albany, NY)
I've heard you're friends with Tom Dwan. Gonna take any advice from durrrr before the final table?
Matt Giannetti
(4:20 PM)
The main people I talk strategy with are Noah Schwartz, Nenad Medic, David Williams.
jwash (austin)
wholl be starting for horns at QB?
Matt Giannetti
(4:20 PM)
I'm very happy that Greg Davis is gone. I just hope that we get someone that steps up at QB.
Charlie (NYC)
How will you spend your time between now and November?
Matt Giannetti
(4:21 PM)
The last couple of weeks, I've only been able to play poker for 4-5 days. Between the media and the Make A Wish Charity tournament that I did, I've had some time off already. I want to get back to playing poker, because that's what feels most normal to me.
Kevin (CT)
Have you thought about what you'll do with the winnings?
Matt Giannetti
(4:23 PM)
I've always wanted a lake house on Lake Travis in Austin, Texas.
chris (georgia)
do you think your experiences in being a strong cash game player helped you in running deep and grinding through all the mid stages of the tourney?
Matt Giannetti
(4:24 PM)
Yeah, whenever we would get deep enough that there was post flop play, I thought I would have an advantage. But there is definitely adjustments that I made to my tournament play that I would normally do in cash games that were crucial changes that I made to make it deep.
Chris (New York)
Who is the toughest pro you've played against? Good luck Crazy Legs!!!
Matt Giannetti
(4:25 PM)
For cash games? Kenny, Antonio, those two are two of the toughest guys I've ever played cash games against.
Kevin (ATL)
If you won, you'd be the face of poker, how would that feel?
Matt Giannetti
(4:26 PM)
That's why I entered the tournament. If it happens, that would be incredible. It's definitely something that I'd be looking forward to.
Matt Giannetti
(4:26 PM)
Thanks for the support. Hook 'Em!