Chat with Taj McWilliams-Franklin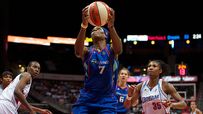 McWilliams-Franklin won a WNBA title with the Detroit Shock in 2008.
Welcome to SportsNation! On Thursday, we'll be joined by all-time WNBA great Taj McWilliams-Franklin, who, in her first season with the Minnesota Lynx, has helped her team to the league's best record.
In her 13th season in the WNBA, McWilliams-Franklin is among the top ten all-time league leaders in rebounds, made field goals, blocks and steals. This year, she is averaging 8.5 points and 6.7 rebounds per game.
Send your questions now and join McWilliams-Franklin Thursday at 1:30 p.m. ET!
More Special Guests: Previous chats | SportsNation
Buzzmaster
(1:28 PM)
Taj is here!
Nick (MN)
Are you enjoying that the Lynx are almost drawing larger crowds at Target Center than the Timberwolves this year?
Taj McWilliams-Franklin
(1:29 PM)
I don't know about the Timberwolves, but I am definitely enjoying the fan support we're getting this season. When we're playing bad, it pushes us to play better and when we're playing well, it makes it a great atmosphere.
Matt (Sandusky, OH)
Which of the following is the most important factor in determining why the Minnesota Lynx are experiencing success now rather in the past recent seasons: talent, health, or chemistry?
Taj McWilliams-Franklin
(1:30 PM)
I think it's a combination of all three. Our talent, our chemistry has been really good. Plus our health has been there. We have a good coaching staff. It's coming together at the right time and it's looking good on the court, which is the most important.
briana albea ( minneapolis)
i know you guys are doing good right now, but i hear maya and candice say you guys havent even reached your potential yet, what things do you guys have to improve on?
Taj McWilliams-Franklin
(1:30 PM)
I think we have to improve on our end of game execution. We have to improve on our bench play. For for the rest, it's just little things, playing a lot harder at the beginning of games. And relaxing a bit more when we play.
Janis (LV)
How many old age jokes do you get in the locker room?
Taj McWilliams-Franklin
(1:31 PM)
I don't get old age jokes in the lockerroom. I think the players know and respect me for the experience that I bring. I hear it more from the commentators and it gets old. Every commentator in every city says something about my age.
victor (monroe,la)
Do u think you can win the wnba championship this year?
Taj McWilliams-Franklin
(1:32 PM)
I think every team that's in the running thinks it has what it takes. I wouldn't have come to Minnesota if I didn't think that.
Jordan (west Virginia )
What's your favorite part about being on the Lynx and being a WNBA star? Your a very good basketball player.
Taj McWilliams-Franklin
(1:33 PM)
The most fun part is hanging out with these young kids and playing off of their energy. As a basketball player, it's looking at another team and trying to find your advantages.
Matt (Sandusky, OH)
Does Minnesota have the best shopping of any small market WNBA region?
Taj McWilliams-Franklin
(1:34 PM)
Well, you have the Mall of America, what more can you ask for? It's not the Mall of Minnesota, it's the Mall of America. It's humungous! Anything you want, it's there. Any time you can put an amusment park in a mall with the shopping, it will satisfy all parts of the family.
Birdfan (Louisiana)
What type of training do you do during the winter to be able to play in the summer?
Taj McWilliams-Franklin
(1:35 PM)
I play overseas in the offseason. By playing overseas, that actually keeps me in shape. I play 7-8 months overseas and then I come to the WNBA season in shape. I do P90X, yoga, pilates, to make sure my conditioning is ready to go.
NIcKI (georgia)
how old were you when you started playing organzied basketball?
Taj McWilliams-Franklin
(1:35 PM)
I was 15.5 when I started playing. I never heard of the sport before.
alice (cleveland, ohio)
do you think you will take your skills into coaching after retirement?
Taj McWilliams-Franklin
(1:36 PM)
Alice, I hope so. I hope I'm able to give back to the next generation, and the next generation and the next generation. I hope I can pass along my knowledge that I was given from the previous pioneers of the game.
Tyrone (MN)
What kind of advice and instructions did u give the team after the loss to the Mercury?
Taj McWilliams-Franklin
(1:37 PM)
Well, I can't tell everything, but the gist of the conversation included finishing the games the right way. Learning from the loss and moving on.
Tyrone (MN)
Is Seimone the best offensive player you have ever played with?
Taj McWilliams-Franklin
(1:38 PM)
For her position? Yes, I think she is.
Matt (Sandusky, OH)
In which game did you score your favorite game-winning shot of your career?
Taj McWilliams-Franklin
(1:39 PM)
Not a game-winner, but I remember Game 3 in 2008 when we beat San Antonio for the title. The last few minutes being on the bench, because we were up by a lot. My first title, being around all of those years and not winning.
Victor (Monroe,Louisiana)
Who was your favorite colllege basketball player of all time? and are you going to be in the wnba playoffs if it goes thatfar?
Taj McWilliams-Franklin
(1:40 PM)
For female, Cherryl Miller. For male, I have to go old school, Bill Russell, Mo Cheeks, Moses Malone.
Danielle (Apple Valley, MN)
How hard is to be a mom off the court and keep your head on straight when playing?
Taj McWilliams-Franklin
(1:41 PM)
It's not that hard, because I've been doing it for more than half of my life. My daughter is 23 and I had her at 18. I am able to compartmentalize and focus more than new moms, because I have a load of experience doing it. When it's time to play, it's time to play. I focus on nothing but prepping to play. It's easier for me, because I've been doing it a long time.
Taj McWilliams-Franklin
(1:41 PM)
I appreciate you taking the time to ask questions. I hope to be available again if needed. Go Lynx!