Chat with O.A.R.'s Jerry DePizzo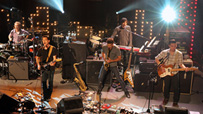 Welcome to SportsNation! On Friday, we'll have O.A.R. saxophonist and back-up vocalist Jerry DePizzo stopping by to chat about the band's latest album "King" which hit stores Aug. 2.
"King" is O.A.R.'s seventh studio album and first since their 2008 release of "All Sides." In early sales, "King" has hit No. 12 on the charts.
The five-member band started in 1996 with Marc Roberge and Chris Culos founding the group. They added Richard On and Benj Gershman before the four finally met DePizzo while all five were attending Ohio State. They've gone on to sell more than 1.8 million albums and 2 million concert tickets.
Send your questions now and join O.A.R. Friday at 3 p.m. ET!
More Special Guests: Previous chats | SportsNation
Buzzmaster
(2:54 PM)
O.A.R.'s Jerry DePizzo will be here at the top of the hour to take your questions!
Buzzmaster
(3:00 PM)
Jerry is here!
Benny K (South Dakota)
Jerry when you gonna dawn the Tressel Vest on stage?
Jerry DePizzo
(3:01 PM)
That would be actually a good Halloween gag, but generally for that I go Kenny G.
Waldo (Krammer)
Jerry, you're a beast on the sax! Who's the biggest sports fan in the band, what team?
Jerry DePizzo
(3:02 PM)
I would say we're all Buckeye fans. I still live in Columbus, so I bleed Scarlet and Gray. Marc is a pretty diehard sports fan to and he's a Redskins fan. I feel so bad for him because they are such a dumpster fire and people are trying to put it out with gasoline.
Wes (MI)
Is it difficult writing music with such a low IQ, since you went to OSU?
Jerry DePizzo
(3:02 PM)
Wes, you can suck it.
Michelle (New Hampshire )
What is your favorite part about recording a new album and were there any struggles along the way of this recording?
Jerry DePizzo
(3:04 PM)
My favorite part is just getting in there and getting your hands dirty and recording the songs. For us, we do so much leg work before we hit record, the recording process is kind of fun, you're there to perform. There were a lot of things that we went through for this past record. It took us a year and a half to get it done. We had to get a new record deal, so there was a lot of business parts. It distracts you from the creative process. And our singer's wife was pregnant, so we had to take some time off to make sure she was on her feet. But I feel it was all worth it if you like the record when it's done and we do.
Kevin (Chicago)
How did you guys come about adding the two brass guys? They really bring something to your shows now.
Jerry DePizzo
(3:05 PM)
We were writing this record and a couple of the tunes had horn section arrangements to them. They were integral parts of the songs. We try to add something every year to the experience for the fans. This year we added a horn section. We got some local guys for the horns. Young guys with fire in their bellies with nothing better to do.
LaurenZambo (Cleveland, Ohio)
As a current student at The Ohio State Univestiy, what was the best part of your's as well as the band's time at OSU? What was the craziest thing an OSU fan did at one of your concerts? OAR needs to join up with TBDBITL this fall!!!
Jerry DePizzo
(3:07 PM)
Man, it was such a unique experience. My freshman year living in the dorms was probably the most quintessential college experience I had, being away from home and having fun. I live with Mike Redd while there. Some other guys lived with some football players. Some big dudes. The other part was I got to do what I wanted to do, which was be in a band and play shows. We would play Thursday through Sunday around Ohio. That was pretty cool.
Scott Bolthouse (New Boston, MI)
When you and the band are jamming, how much of it is improvised and how much of it is planned?
Jerry DePizzo
(3:08 PM)
The easiest way of putting it is we do the "ins" and the "outs" which are cued. Everything else is a go for it and an improvised experience. Our improve and jamming is cued on vocal cues. Just because we've been playing in a band for 15 years, I know by what Marc says and how he says it what we're going to do.
Cheesehead Sports Nut (CheeseheadSN)
As Ohio State grads, what is your take on all the NCAA violations pending for the football program?
Jerry DePizzo
(3:10 PM)
We'll see what happens. It's certainly deserved, you can't lie to the NCAA. You just can't. You're going to lose your job and vilified in the media. Now, by saying that, I'm a big Jim Tressel fan. He's done a lot for the university and Ohio in general. He's donating millions of dollars. It's just a chapter in the book of Jim Tressel. I agree with Colin Cowherd. We self-imposed punishment. If we get a bowl ban, which I think we should, I don't think it's a big deal. I'll be bummed out, though, if we get scholarships taken away. And, since, you're from Michigan, you can suck it too.
Rick (Troy, Alabama)
How did the band name "Of A Revolution" originate?
Jerry DePizzo
(3:11 PM)
As 16 year olds, it was a mindset and a goal that you want to have, trying to change the world. And as a 32 year old, you try to live up to it. It was us trying to embody ragae music, but not necessarily trying to emulate it.
Sean (Pennsylvania )
What is your favorite song on the new "King" album?
Jerry DePizzo
(3:12 PM)
The tune that I really love the most is "Not for me." Two reasons. It's a modern O.A.R. take on a classic O.A.R. sound. That song was written as Marc was sitting next to his newborn boy and putting him to bed. I have a child as well. Marc speaks for all of us when he writes his songs. This world isn't exactly the best place, but I'm going to try to make it better for you.
Daniel Mecca (Connecticut)
Cant wait to see you tonight! Do you think Connecticut needs a professional sports team?
Jerry DePizzo
(3:13 PM)
That's a question for Connecticut. Ohio has four. Five if you want to count soccer. And Buckeye. I wish I could answer that. Like anywhere, there are diehard sports fans in the community. Sports teams are great to rally the community. I'm sure it couldn't hurt.
Jerry DePizzo
(3:14 PM)
It would be better than another casino.
Phil Quattrocchi Jr (ILLINOIS STATE UNIVERSITY)
What is your favorite city to play in? I mean, we all know its Chicago right?!?
Jerry DePizzo
(3:15 PM)
I would say Chicago is up there. I love that city. That was the first place that the band went to when we were still in college and I thought to myself that we had a shot of making a career in music. The band feels strongly about that town. I like the Carolinas a lot. I love going down there. Denver is a helluva town.
Karl (NYC)
How have you guys stayed together so long with no fights or band members leaving?
Jerry DePizzo
(3:16 PM)
It's really a special thing. I was talking to a buddy about it yesterday. I love the fact that this band is a group of buddies and good friends that have come up together, instead of compiling pieces as we went along. The trick to it is to treat it like a marriage. The group dynamic is far more important than an individual dynamic.
Tyler H (North Carolina)
What are the best things about being on tour? I could see your tour bus being the place for a lot of laughs and fun....
Jerry DePizzo
(3:17 PM)
It is a lot of fun. It goes back to the group dynamic of being a bunch of buddies. We've been doing it with the same group and staff. Today is International Mustache Day, so you had to grow one or wear one amongst the crew. Funny stuff like that. The best part of tour is you get to go out and do it at a fairly high, comfortable level.
Jeff (Columbus, OH)
Favorite late-night snack on campus? Catfish Biff's?
Jerry DePizzo
(3:18 PM)
Cluck U. Chicken. Or Kings. Ironically enough Kings.
Chad (MI)
Jerry, when did you start learning the sax? You rock bro
Jerry DePizzo
(3:19 PM)
I started learning the sax when I was 10. I played in the middle school band, the high school band. I wanted to be a drummer. There were 30 kids in band and 17 were drummers. I showed up a day late and asked the band director and he said we have enough drummers, you should play the trumpet. My mom told me that we had a sax and I could play that.
Jerry DePizzo
(3:20 PM)
Good questions. I appreciate everyone being involved. I also appreciate the good Big Ten, Michigan, Ohio State banter. We have fun with it, but we leave it all out on the field. Thank you very much.
Buzzmaster
(3:21 PM)
Thanks Jerry!