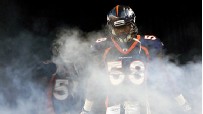 Miller has five tackles and a sack in Denver's first two preseason games.
Welcome to SportsNation! On Tuesday, we'll have rookie Denver Broncos linebacker Von Miller stopping by to chat about the upcoming NFL season. The Broncos open the regular season Sept. 5 at 10:15 p.m. ET against the Oakland Raiders as the second game of ESPN's Monday Night Football doubleheader.
Miller was the second overall pick back in April's draft. He compiled 27.5 sacks at Texas A&M in his final two seasons in college, winning the Butkus award last year as the best collegiate linebacker.
Miller has teamed up with Gatorade's Beat the Heat program to help prevent heat-related illnesses through education and prevention. Through the program, Miller is a part of the NFL's hydration awareness efforts. More information can be found on the NFL's website.
Send your questions now and join Miller Tuesday at 4 p.m. ET!
More Special Guests: Previous chats | SportsNation
Buzzmaster
(3:38 PM)
We might be getting Von a few minutes early, so be sure to get your questions in!
Buzzmaster
(3:52 PM)
We've got Von!
Matthew (Columbia, NJ)
Von, how was the whole NFL draft experience for you personally?
Von Miller
(3:54 PM)
My draft experience was surreal. Just getting to know all of the guys that were in this year's draft. It allowed us to form a bond as rookies and really get closer as football buddies. We play a sport that's dangerous, and you need to have some comraderie between you to make it better.
Kevin (NYC)
Von, how did you get hooked up with Gatorade and this hydration program?
Von Miller
(3:55 PM)
I've been working with Gatorade almost a year now with this Beat the Heat program. It helps get athletes hydrated in the right way so they can perform to their best abilities. It's important when you're working out in the heat. It lets me know what I can do to perform to my fullest potential.
Deano (New Haven, Connecticut)
Von what kind of an impact has your mom and your family had on your career from your beginnings?
Von Miller
(3:56 PM)
My mom was extremely important to whatever I wanted to do, whether it was football or if I wanted to be a circus clown. She would have made sure I had my wigs, my makeup and my big floppy shoes to make sure my goal was obtained. She was there to make sure I had everything. For my little brother too. She did everything she could as a parent.
Benny "Big Cube" Cubit (Desoto High School)
Don't hurt my Chiefs sir......ha ha ha
Von Miller
(3:57 PM)
Desoto High School is where it's at! In this game, you never know on Sundays. We'll just have to see.
Neil (College Station, TX)
Von! You just made the Broncos my second favorite team. How do you think the Ags are gonna do this year? You think we'll win the big 12?
Von Miller
(3:58 PM)
If you ask me, I think we're going to win the national championship. To be more realistic, I think we'll shock a lot of people this year. We'll win some pretty big games this year. We'll definitely be playing in a BCS bowl this year. But if you're asking me, I think we go undefeated and win it all.
Reggie (Miami)
How important is this issue of educating about heat illnesses?
Von Miller
(3:58 PM)
It's extremely important. Whenever you're practicing during these hot summer months, you have to know how your body will respond. Working with Gatorade, they have the 1, 2, 3 to make sure you're well hydrated and well fueled.
Nick (MN)
We typically don't see linebackers go #2 in the draft. Do you think this has put more pressure on you to play well as people will jump to the conclusion your a bust if you don't perform?
Von Miller
(3:59 PM)
No pressure at all. Fortunately, I come to a team where we already have stars here. It makes my job a lot easier. I just have to play football to the best of my ability and the rest will take care of itself.
Shawn (Lakeland, Florida)
Hey Von I see that you got you first sack in the NFL. How did that moment feel and please describe what it was like to go up against the Buffalo Bills offensive line in that game?
Von Miller
(4:00 PM)
It felt incredible. I'm the type of guy that I plan on being there quite a few times, so I won't make a big deal out of it. It was just another play for my teammates. Hopefully I can get some more.
Emma Coleman (Los Angeles, California)
Just one question, do you feel at home on the field there at the Mile High stadium?
Von Miller
(4:01 PM)
Every time I go out there and play. It doesn't matter if it's practice or to play. The nerves go away. The more reps I get, the more I feel like a pro.
Julie Daehnert (DeSoto High School)
Congratulations on your successful debut! It's thrilling here in DeSoto when people are excited about your success, but even more so when I worked with a state-wide All-State choir of high school students this summer and totally impressed one singer from Abilene when he heard I taught in DeSoto. He didn't waste any time coming to meet me to see if I knew you and could get an autographed football for him! So, look for your base of admiring fans to continue to grow!! Good luck on a great season.
Von Miller
(4:02 PM)
My experience has been great in the NFL so far, especially coming from DeSoto, knowing the talent we have had there. I just want to keep climbing as high as I can.
Donny Bishop (Crane Texas)
How does it feel to make it to not only make it to the NFL, but make it like you've said you would every since you were in grade school?
Von Miller
(4:03 PM)
It's been surreal. A surreal experience. To finally achieve your dreams. This is the only thing I've ever wanted to do. To finally get there is a humbling experience. I just want to work even harder now. I want to be the best player I can be. I want to take full advantage of this opportunity.
Coach Pinchback (Desoto Texas)
What information would you share with young people about preparing themselves for the life of a Student Athlete? (College or High School)....PS. We are proud of you!
Von Miller
(4:04 PM)
I would tell them that you have to look at every day as its own day. You have to know your track and your path and stay on it. That will be the only way you can achieve anything in your life in general. And to have faith.
Rios (New Britain) [via mobile]
Being this off season is different than any other. Has adjusting to the speed of the game and terminology of a NFL system harder than you thought it would be?
Von Miller
(4:05 PM)
No, it hasn't been harder at all. Fortunately, I went to college with a pro style head coach. Some of the stuff we do here with the Broncos we did at TAM. I'm just taking it one day at a time.
Tod (Sedona, AZ)
Von, how important is "the big hit" to you individually? I know that makes the highlights but as a linebacker don't you have a lot more to worry about than just that?
Von Miller
(4:06 PM)
Yeah, whenever you can make a big hit, it sends a message to all of the other teams that you're ready to play. But if you can just get them to the ground, that's good too. Especially in this day's game and how it's structured, it helps the offense. So if you can get a big hit in, it sends a message.
Jeremy (Chicago, IL)
Any pre-game rituals?
Von Miller
(4:07 PM)
I like to listen Phil Collins' "In the Air Tonight." It reminds me that I've been waiting for this my whole life and I get to go out and play football.
Jeremy (Chicago, IL)
If you weren't playing football, you would instead...
Von Miller
(4:08 PM)
I don't know. Football has really made me the man I am now. The morals and character you get from playing football. It's hard to think about what type of person I would be without football.
Von Miller
(4:08 PM)
Maybe, but safeties have it pretty hard too. They have a lot of running and hitting they have to put up with. Any position on defense in the NFL is pretty strenuous.
Caleb (Denver)
how do like city of Denver so far. and are you excited to be on the same D as doom?
Von Miller
(4:09 PM)
I love the city. Just taking it one day at a time.
Jeremy (Chicago, IL)
Do you play video games and if you do what team do you usually play with in Madden?
Von Miller
(4:09 PM)
I used to be a Cowboys fan, so I used to play with the Cowboys. Now I play with the Broncos.
Buzzmaster
(4:10 PM)
Thanks for chatting Von!