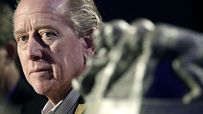 Manning has two sons in the NFL: Peyton (Colts) and Eli (Giants).
Welcome to SportsNation! On Wednesday, former NFL quarterback and Ole Miss great Archie Manning stops by to chat about the upcoming NFL and college football seasons.
Manning played 13 seasons in the NFL, 10 with the New Orleans Saints. Despite playing on only one Saints team to finish over .500, Manning still threw for over 20,000 yards in his career and 125 TDs. He was the second overall pick in the 1971 draft coming out of Mississippi and was inducted into the College Football Hall of Fame in 1989.
Manning is working with the Liberty Mutual Coach of the Year Award to honor excellence in coaching on and off the field, while also raising money for charity. Entering its sixth year, the award has donated more than $1.2 million.
Send your questions now and join Manning Wednesday at 4:15 p.m. ET!
More Special Guests: Previous chats | SportsNation