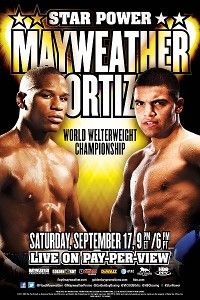 Welcome to SportsNation! On Wednesday, we're going inside the boxing ring when Victor Ortiz stops by to chat.
Ortiz (29-2-2, 22 KO) takes on Floyd Mayweather (41-0, 25 KO) for Ortiz' WBC welterweight belt. The fight will be live from the MGM Grand in Las Vegas Saturday at 9 p.m. ET/6 p.m. PT on HBO PPV.
Ortiz enters the ring for his first title defense since winning the welterweight belt from Andre Berto in April via 12-round unanimous decision. He ran his record to 5-0-1 since his last loss, which came in 2009 to Marcos Maidana.
Mayweather will be fighting for the first time in over a year, having last fought Shane Mosley in May 2010, a bout Mayweather won via 12-round decision.
Send your questions now and join Ortiz Wednesday at 3:15 p.m. ET!
More Special Guests: Previous chats | SportsNation
Buzzmaster
(3:14 PM)
We're getting Victor!
Buzzmaster
(3:14 PM)
Here he is!
Carlos (Miami)
I know you have the power to hurt Floyd but Do you think you're fast enough to hit Floyd?
Victor Ortiz
(3:16 PM)
Apparently I didn't have the speed against Berto, and look at the outcome. I'm not cocky or anything. I'm confident in the work I've put in the gym. Saturday night, we'll show him.
Emmanuel D (Santa Ana, CA)
Will we see Mayweather kissing the canvas on Saturday? If so, what round?
Victor Ortiz
(3:16 PM)
I'm definitely going to try and knock him out. I don't know what round. I'm not Ali. I can't predict like he used to. Knockout or decision, I'll be going for victory.
Safi Afzal (Detroit, MI)
How are you going to overcome the defense that Mayweather has become legendary for?
Victor Ortiz
(3:17 PM)
I'm not really afraid of him at all. I won't be surprised by everything he's done. He's been a champ. I have respect for him because of that. But at the end of it all, defense is defense. I'll show that on Saturday night.
Craig (Sarasota)
Do you think Floyd hits as hard as some of the other guys you have fought or is it his speed that surprises his opponents?
Victor Ortiz
(3:18 PM)
Absolutely. He does carry power. He has his knockouts. I'm sure he'll try to knock me out as well. But I'm not a person that looks for a knockout. If it comes, it comes.
Matt (Chicago)
What problems does Mayweather's style pose to you?
Victor Ortiz
(3:18 PM)
I don't know if he really poses that many problems, really.
Deston (LA,Ca.)
Given Mayweather tendency frustrate opponents with his elusive style. have you considered a strategy to avoid from becoming frustrated with it and not opening up like ricky hatton did?
Victor Ortiz
(3:19 PM)
I hired some of the best sparring partners out there. Some of the best replicas of his style. I'm ready for whatever comes Saturday night.
paul (fort worth tx)
Have you been working on a game plan that includes using your jab, because we all know that oscar was winning till he stopped using his jab against mayweather
Victor Ortiz
(3:20 PM)
Definitely. We've had our gameplan. We'll see what unfolds. right now, I'm very confident. We'll be fine and come back with a victory.
Michael (Toronto)
Has your trainer having a day job impacted your training for this fight?
Victor Ortiz
(3:21 PM)
What's up Toronto? That's awesome. Not at all. We've been doing the same thing since I was 17. I do too. When we get together after work, we go to work. Not an issue.
bubba (dallas)
how have you been handling fight week so far, has it got to you any?
Victor Ortiz
(3:22 PM)
It's another fight. It hasn't been too crazy. For me, it's a normal thing. I enjoy it and love it. I don't see it as any different leading up to this fight.
Josh (Iowa)
What do you bring to the table that Mayweather hasn't seen before?
Victor Ortiz
(3:23 PM)
Iowa? Niiiiiice. I like the Drake area. I definitely bring a lot to the table that a lot of fighters haven't. Floyd? I don't know. He just has never really impressed me.
Mykel (Courthouse, NJ)
Mayweather is an excellent and accurate counter-puncher. How will you overcome this?
Victor Ortiz
(3:23 PM)
It won't be a problem. Every fighter is made different. We prepared for the best Floyd Mayweather and I'm ready.
Jose Noriega (hayward California)
after you beat mayweather, who will you fight next... Many Paquiao, Kahn or rematch with Maidana?
Victor Ortiz
(3:23 PM)
All of them. Definitely. Why not? Just line them up.
Matt Crawford (San Diego, CA)
Will you try to give a show on Saturday or will you just do what it takes to win?
Victor Ortiz
(3:24 PM)
I just go out there and listen to my coaches. If we're going to war, we're going to war. I don't have any ifs ands or buts about it. I do what I'm told. I listen to my coaches.
Rupert (Panama)
Mayweather has proven that he never folds with pressure, as we were able to see with hatton (style), and given that you are a pressure fighter, there are certain angles utilized by Floyd. Have you unpuzzled a way to overcome such and be faster in order to catch him?
Victor Ortiz
(3:25 PM)
Not any disrespect, but I don't think Hatton is on my level. I'm a bigger guy. My style is complicated for many because I'm a lefty.
Jason Ortiz (New Jersey)
What do you think will be the hardest part about fighting Mayweather?
Victor Ortiz
(3:27 PM)
I see absolutely nothing hard about stepping into the ring. Nothing. Ever. No matter the fighter. I don't really care.
ANGELO (ALBZ NM)
HEY VIC WOULD LOVE TO SEE U SHUT FLOYD UP WOULD U TAKE A FIGHT WITH KHAN
Victor Ortiz
(3:27 PM)
Definitely, why not? I would definitely love a fight with any of the best pound for pounds out there.
Tony Ocean (Tokyo)
Considering that Floyd tried to use mind games on you(been knocked out) do you consider that a blessing that you been hurt and handled it and he hasnt?
Victor Ortiz
(3:29 PM)
I couldn't have said it any better. I can definitely say that. I have never been knocked out and stopped, but I've been hit where I can't remember anything. We'll see how Floyd handles it when I put him on his behind this weekend.
Boxingtitan (NYC)
Do you see your self moving up to 154 in the next 2 years
Victor Ortiz
(3:29 PM)
Why not? I have no problem making 147. I've been eating like a little pig. I'm definitely enjoying 147. If my body asks for 154, then we'll go there.
Victor Ortiz
(3:30 PM)
Thank you very much for the support and tuning in. Thank you very much.