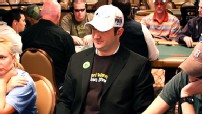 Welcome to SportsNation! On Wednesday, World Series of Poker executive director Ty Stewart stops by to chat about the upcoming November Nine and the finale of the 2011 WSOP.
Stewart joined the WSOP in 2005, leaving behind a growing career in the marketing wing of the NFL. In his short time on the job, he's been able to extend the tournament's TV deal, as well as bring in new corporate sponsors.
Send your questions now and join Stewart Wednesday at 3 p.m. ET!
More Special Guests: Previous chats | SportsNation
Andrew Feldman
(3:04 PM)
Hey everyone, I'm here with Ty Stewart, send in your questions, we'll get started in a second.
LilSliIvey (United Kingdom)
Mr. Stewart, we are sad to see WSOP Europe leave London but Cannes is a great city. How are things shaping up for the event in Cannes and any chance you'll come back to London with WSOPE?
Ty Stewart
(3:07 PM)
Things are shaping up great in Cannes. We've tripled the number of tables, been able to fill the schedule with side events, we've got an on-site hotel which is one of the most glamorous destinations in the world. Our partner is putting in 1M euros of new seats, poker is going crazy in France as they say in French, c'est bon. We are sad to leave London as well as we felt the British poker community really embraced the event and it grew London as the Vegas of the fall season. You never know what may happen in the future, but we think this tournament goes to the next level by being in Cannes.
Kevin (Syracuse)
Do you think the government accusing Full Tilt Poker of running a Ponzi scheme is going to help Caesars' efforts to license and regulate online poker in the US?
Ty Stewart
(3:10 PM)
We think what's happening to consumers is very sad and obviously want to see online poker become legalized with the proper protections so that yesterday's news and the scandals that have plagued online poker for several years are avoided in the future. We of course are very passionate about seeing online poker legalized but there is no sense of joy in what is transpiring. We hope that poker players will share their stories and take action to help the cause. A good source for how to get involved is likely the FairPlayUSA group.
checkout (memphis)
there was very little coverage of the WSOP Circuit event in Bossier City. Is that something that is going to change for the upcoming WSOP-C events. Will you ever consider broadcasting the final tables via WSOP.com
Ty Stewart
(3:12 PM)
Absolutely. There will be increased coverage of the Circuit going forward. We had some logistical challenges with internet bandwith being that this venue was on a riverboat in a temporary space. We plan to stream every live final table, not just the main event, but every one for the rest of the circuit season and dedicate resources to covering the chip counts and live blogs.
James Taylor (England)
Will the WSOPE feature tables be streamed live like the WSOP stream in July?
Ty Stewart
(3:13 PM)
Yes. The final tables of the first six events will be available via WSOP.com and the main event will be covered live on ESPN3.com.
Greg (Ellicott City)
In your opinion, what is the timetable before we will be able to legally play poker online?
Ty Stewart
(3:16 PM)
I'm not the proper authority on that. I've heard there's more momentum than at any point since last December and that many people believe, as we do, that poker should be legalized in the United States so as to generate significant tax dollars, new jobs and the proper consumer protections. The good thing is, we believe, as you do, it's more a function of when, rather than if.
Roberto (Las Vegas)
Does the fact you were in the NFL and now in the gaming industry help you in Fantasy footabll?
Ty Stewart
(3:17 PM)
Absolutely not. I'm essentially drawing dead at this point, but using my time in Bristol to get all the insider tips that I can from Christopher Harris.
Aaron (Texas)
Do you think that year-around satellites to WSOP events could help increase traffic in summer? Someone visiting Vegas in December who wins a $1k seat in June would probably go and choose to enter even more tournaments.
Ty Stewart
(3:21 PM)
Yes. I believe you are right. Our system offers a high number of satellites, but in most cases they have been in the spring as many players don't want to part with their money for an extended period of time. That being said, the new developments put more pressure on our system to be creative and find offline qualification means. You will absolutely see more satellites than ever in 2012 and likely a National qualification weekend at every property in our system.
Toby (Kansas City)
The WSOP already has a seniors event and a Ladies event. Do you think there is an opportunity to create other events with specific entrants in mind? What about an under 25 only event? Or how about an event where only non-bracelet winners could enter?
Ty Stewart
(3:23 PM)
Isn't the under-25 event like every event at the WSOP? In all seriousness, the reason we run the Seniors and Ladies events are primarily because of the history and tradition. We take the integrity of the bracelet very seriously and believe it means most when it is awarded in an open competition.
Nick (Reno, NV)
With the WSOPE a success, are there plans for a WSOPA (the "A" being for Asia"? If no, then why not?
Ty Stewart
(3:27 PM)
I'm glad you consider WSOPE a success. As far as I'm concerned, we can and will make this event much bigger and better starting this year. Ultimately, we will have a WSOP Asia and are monitoring very closely the development of players in the market. For us to extend the WSOP brand, we want to make sure that a number of factors will be present: large fields, a committed host venue, the opportunity for mainstream TV broadcasts and the likelihood that the world's best players will attend. I think on all of these, we're very close to seeing a credible event in Macau or Singapore.
Fred (Louisville)
Ty are you working on getting some new non-poker sponsors for the WSOP? It seems like all the males the WSOP attracts would be a good fit for marketers to reach, things like razors, deodorant, beer, etc.
Ty Stewart
(3:30 PM)
Absolutely we are and in fact, I was in your city just last week talking to a prominent spirits company (hint hint). I agree that some categories are no-brainer fits given the large passionate audience. However, the reality is some marketers still seek to steer clear of the genre. Each year we've broken through with a few new categories and seen some of these companies go beyond WSOP sponsorship into player relationships. We're having a great offseason of discussions and stay tuned for some good announcements before the 2012 WSOP.
Seth (Las Vegas)
What do you think has been the most difficult situation you've been in since your time at WSOP? Sell out of Main Event, watching a great leader like Jeffrey Pollack leave, or Black Friday?
Ty Stewart
(3:33 PM)
Without a doubt the sellout was a situation that just broke my heart. The whole idea of the WSOP is that anyone can enter and anyone can win and that dream took a real hit when we left people on the sidelines. I always thought there were reasonable solutions and we handled that incredibly poorly. It is our responsibility to have the capacity to accommodate all the guests and you have seen a tremendous commitment from us since that day.
Ty Stewart
(3:33 PM)
Thanks for the questions, hope to see some of you on the Circuit trail or in Europe Oct. 7-20. Reminder to all that poker's super bowl event (AKA, the November Nine) is free and open to the public. It's a great excuse to come to the greatest city in the world and enjoy some of the great game of poker yourself while watching it on its biggest stage.