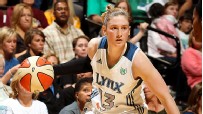 Whalen is a native of Hutchinson, Minnesota and played her college ball at Minnesota.
Welcome to SportsNation! On Friday, we'll be joined by two-time WNBA All-Star Lindsay Whalen, who, in her second season with the Minnesota Lynx, has helped her team to the league's best record.
In her eighth season in the league, Whalen is averaging 13.6 points and 5.9 assists per game. The Lynx swept the Phoenix Mercury in the Western Conference semifinals and are headed to the WNBA Finals for the first time in franchise history.
Watch Game 1 of the WNBA Finals, Sunday at 8:30 p.m. ET on ESPN
Send your questions now and join Whalen Friday at 4 p.m. ET!
More Special Guests: Previous chats | SportsNation
Buzzmaster
(3:55 PM)
Minnesota Lynx guard Lindsay Whalen will be here at the top of the hour to take your questions!
Buzzmaster
(3:59 PM)
Lindsay is here!
Sarah (Minneapolis, MN)
With all the excitement of the play-offs run this year, what has been your favorite part so far of the play-offs?
Lindsay Whalen
(3:59 PM)
Probably the win in Phoenix. The way we played that game. Getting a chance to celebrate. The flight home with the team and then the fans who stayed up until 2 a.m. to wait for us.
Matt (Sandusky, OH)
What is it like to play for the Lynx in your home state of Minnesota?
Lindsay Whalen
(4:00 PM)
It's been great. It's my second year here. The first year, we struggled a little bit and now this year we've made a ton of progress and we're in the finals. It's fun to be home with a ton of familiar faces and fans. It's been tremendous.
lynxfan11 (minnesota)
How does the atmosphere of the target center help the game?
Lindsay Whalen
(4:01 PM)
It helps us a ton. The atmosphere and energy. It's like they've had as much fun as we have this year. It's something that we've enjoyed. We've flourished in that. It's been a lot of fun.
Matt (Sandusky, OH)
How do you slow down a speedy team like the Dream that can transition from defense to offense in the blink of an eye?
Lindsay Whalen
(4:02 PM)
We had some pretty good practice in playing against Phoenix. Atlanta seems to be doing a good job with that. I think a lot of it has to do with our offense, not turning the ball over, hitting our shots. If we're scoring or hitting free throws, they'll have to take the ball out of the net and allow us to get back on defense.
Laurie (Remington IN)
Love your creativity with your drives. How does your offense compare to Atlanta's?
Lindsay Whalen
(4:03 PM)
I think they do such a good job with driving and kicking. We have our hands full with that. They have tons of people on their team that can make plays. We definitely have to guard one on one and keep our player in front of us.
mo (ms)
How do the women of the WNBA manage to play at such an intense level overseas and then come back to the US and give us that same intensity during this season, and especially in the playoffs? And thanks for giving us such great basketball.
Lindsay Whalen
(4:04 PM)
I think a lot of it is mental. You have to have mental toughness. You're playing year round. When you're tired, you have to push through. You have to take the breaks when you get them. As a player, when you have a break between seasons, you take them. You eat right, get your rest. The most successful players and teams find that balance.
Jacob Orr (Fort Campbell, KY)
2 questions: 1. How well do you think Maya Moore will play in the WNBA Finals for the 1st time?2. Do you think Maya Moore carried her winning success all the way to the Minnesota Lynx Organization?
Lindsay Whalen
(4:05 PM)
I think she'll do great. She's definitely ready for the finals. She's brought a lot to our team this year. She's been an awesome rookie. You can't say enough. On the court and off. She's ready to work every day and ready to be successful. There's a reason she's had that success, she puts in the time and gives the effort.
Ethan Menaker (Sandy Springs, GA)
After six seasons with Connecticut, How did it feel to be traded to the Lynx because I know you grew up near there?
Lindsay Whalen
(4:06 PM)
It was bittersweet a little. I made so many friendships in Connecticut and had so many good seasons there. It was hard to leave that area. But at the same time I knew I was going to be coming back to my home state. My family and friends were there. I knew it would work out. I had to go with that. It's worked out well.
Tony (Emporia)
Lindsey just wanted to say I'm a fan of yours and I think you've really stepped up your game this year. You went to the national team training camp earlier this year. What do think your chances are of making the olympic team? What was it like playing with Brittney Griner there and what do you think about her potential as a player?
Lindsay Whalen
(4:07 PM)
I don't know. It's hard to say. I'll wait and see what happens. I'll keep working hard on my game. If the team needs me or if they select me, I'll do my best. It's cool to be mentioned in that group. I'll just wait and see.
Matt (Sandusky, OH)
Since Minnesota swept Atlanta in the regular season, 2-0, will it be even easier for the Lynx to defeat the Dream now that they are without the services of Erika de Souza?
Lindsay Whalen
(4:08 PM)
It's hard to take those two games, because it was so much earlier in the season, I think it was June some time. We're two different teams now. Atlanta at that time was still getting used to the start of the year, they were something like 3-9 and now they're unbelievable. Now, you just look at what each team has done and go from there. We'll find out who plays the best the next week and a half.
Ben (NYC)
Lindsay, how do you prepare for Lindsey Harding's speed?
Lindsay Whalen
(4:09 PM)
Wooh! Just try to keep my feet moving. She's so fast. I played against her in the national team. She's really quick. Maybe the fastest player I've seen all year. She's got all of her game going this year. She's gotten a lot more comfortable with the team. I'll definitely have my hands full.
Hannah (Charlotte, NC)
Hi Lindsay! It seems like the team gets along really well and enjoys being together. do you have a favorite off-the-court memory from this season?
Lindsay Whalen
(4:10 PM)
Hmmmmm, there are a lot with this team. We've had some fun. I would say we've had a couple of team dinners the last couple of weeks. Just laughing and goofing off have been the best memories.
Antonia (Atlanta)
Minnesota has made an impressive run to its first WNBA finals. What will it take to bring a championship to Minneapolis?
Lindsay Whalen
(4:11 PM)
You try not to look forward, but people talk about so much it's hard not to think about it. You have to stay in the moment and think about each moment, each day. You have to take each 10-minute segment at a time. That's the goal that's out there. We're happy to put ourselves in a spot to go for a championship.
Chris Fiegler (Latham,NY)
What is the hardest WNBA Team that you Have Faced?
Lindsay Whalen
(4:12 PM)
In the regular season? We had some tough games with a few teams. Phoenix, Atlanta, New York, Seattle. There were a few games that were challenging. Watching that Atlanta film, we know what we have in front of us.
Lindsay Whalen
(4:13 PM)
Thanks for watching our games. Enjoy the Finals!