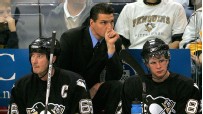 Olczyk was the third overall pick in the 1984 draft.
Welcome to SportsNation! On Monday, we'll be chatting with former NHL player and coach Eddie Olczyk as the NHL season gets set to start on Thursday.
Olczyk, a center, played 16 seasons in the league, accumulating 794 points in 1,031 games. He played for six teams during his career: Chicago Blackhawks, Toronto Maple Leafs, Winnipeg Jets, New York Rangers, Los Angeles Kings and Pittsburgh Penguins, spending five seasons each with the Blackhawks and Jets.
He coached the Penguins for two seasons, before becoming a TV analyst for Blackhawks games.
Send your questions now and join Olczyk Monday at 2 p.m. ET!
More Special Guests: Previous chats | SportsNation
Buzzmaster
(1:58 PM)
Former NHL player Eddie Olcyzk will be here at the top of the hour to take your questions!
Nick Lucaj (Sterling Hts, MI)
Hey Eddie, Are the Coyotes still gonna be a threat in the pacific even without Bryzgalov?? Can Mike Smith carry the same load that Bryzgalov carried the previous 2 seasons???
Eddie Olczyk
(2:05 PM)
They're going to need Mike Smith to really step up there. They need to be consistent. They've done a great job in Phoenix. Mike Smith needs to be consistent in goal, that's what it comes down to. Whether Jason Labarbera can step up to be the backup. I think they'll take a step back. They'll have their work cut out for them out west.
Greg (San Jose)
We're getting long in the tooth fast. when will our window of oppurtuntiy close?
Eddie Olczyk
(2:06 PM)
N-O-W. I really like what Doug Wilson has done. He's tweaked this team dramatically. Quality over quantity for Danny Boyle. He was playing as a No. 1 and there was a drop off to 4s and 5s and 6s. You look at Thornton, Marleau. You have some really good young players. Tommy, a Chicago kid that's had a good training camp. They're revamped their blue line and I think that's one place they've done a good job. I think that now they've gotten as deep as good a defense as a lot of teams in the entire league.
Lombard,IL [via mobile]
Do the Blackhawks have the talent to win the cup this year
Eddie Olczyk
(2:08 PM)
Yes, I do. I believe they've added some experience. They've added a piece of the puzzle in toughness. Guys that added some toughness and physicality. That is one of the reasons they had success two years ago, guys playing on the edge. I think they've addressed a need. The next question is can Crawford play well again. I think they have enough on offense and defense. You have to get lucky and stay healthy, but I think the Blackhawks have all of the pieces.
Jay (East Providence, RI)
If Mark Savard goes on the shelf for the season, what do you think the Bruins can/should do with their positive cap space situation?
Eddie Olczyk
(2:10 PM)
It's a great question, Jay. Any time as a manager, you're looking to make moves, trade, dance with different GMs. You need players, guys that they want. But things that all GMs want to deal with is cap space. If you have that, there is a lot going for you in making a trade. You can move a player and take on a bigger name with salary. They can take 10-15 games and see where the team is and how they're playing and then go out and find another center or goal scorer. I think it's probably more a sit and wait type of situation. The first 20 games are so crucial, you don't want to build a hole. The Bruins want to see how guys materialize, what you like, what you don't have. I would say you sit and wait and see and then pick up the phone and call 29 teams and with the cap space, you can take on the contracts that might help you get over the hump.
Petr Kazerantrat (RI)
Detroit moving to the East conference after this season. Any Truth to the rumors and does this make the East rougher then the West?
Eddie Olczyk
(2:12 PM)
Petr, one less spot open for the 15 teams in the East. With Winnipeg back in the league, there will be realignment this coming season. I think it's too far out there. Columbus is in the Eastern Time Zone. Nashville almost in the Southeast. Add Detroit and you have three teams right there that you could make a case for. Detroit in either conference is a team to be reckoned with regardless of conference. They've been so good for so long.
Bill (Montreal)
Did the Habs do enough this offseason, and with Markov's status changing by the week, to make a serious run Northeast?
Eddie Olczyk
(2:14 PM)
I like Cole. Getting Max back healthy will be an addition that they didn't have. I like the signing of Chris. I was surprised that he didn't get a job quicker after parting ways with the Blackhawks. You get some big guys back in the lineup. I think they're a team, with the consistency of Price in goal that they'll be in every game. They have a good coaching staff. I know they were very aggressive. I know they were trying to attract a defenseman or two or power forward. To get Cole is a real positive. It all comes down to a little bit of luck.
Chris (Lockport, IL)
In the case of Sidney Crosby's injury, how long after he is cleared for contact will he be able to play in games?
Eddie Olczyk
(2:16 PM)
That's been the question, Chris, going on the past eight months. The good news is he's skating and it looks like he's going to travel with the team. I'm disappointed and surprised it's been this long. We all know the importance of Crosby, but you saw it last year in the playoffs. No Malkin, no Crosby, so you'd like to think if they had one of them last year that they would have been able to move on last year, but they didn't.
Alex (dc)
Will the capitals win a title any time soon with Ovechkin Semin and Green or go to the east finals
Eddie Olczyk
(2:18 PM)
This is a gigantic year for them. I think George McPhee has done everything in his power to re-tool and re-organize. I think they have some good young players. I think Jason was a good pick up up front. The time is now. The pressure is on the Capitals to make the next step. They got Vokun. It will happen. I don't know if it's this season or not. They have too many good players. Too many good role players to not knock on the door. They need to win at home in the playoffs and they have not done that. This is a really big year. Really big year. I don't think Alex is going anywhere. Mike Green, I don't think there is anyone that improved more defensively. He became a really good player. You'd like to see it, because they're a fun team to follow and watch.
Rick (North Carolina)
Will the Canes be a playoff team this season?
Eddie Olczyk
(2:21 PM)
I really thought Carolina would have a better year last year. Obviously, with a lot of the injuries, they weren't able to get back to where they were. You know what you're going to get from Staal. I think the world of Cam Ward. I like their goalie combination. Can Jeff Skinner do what he did last year? A lot of young players have a difficult time in their second year. How will he react? Can they score? That's probably the question mark that I have. Will they outscore Washington? Probably not. But can they outdefend and win those kind of games? Absolutely. I think it will be a good year, but they need some of their young players to step up. You need Anthony to step up. It's going to be a battle. They have a way to play. We'll see. Their start is really important too. They went on a real nice run last year, but got so far back, they couldn't dig themselves out.
Eddie Olczyk
(2:22 PM)
Looking forward to a great hockey season. I appreciate everyone chiming in today. Looking forward to opening the season on Thursday on Versus when the Bruins will raise the banner on national TV against the Flyers. Look at all of the changes the Flyers have made. It should be a great night and I feel honored to be there and be a part of it.