Chat with Sport Science's John Brenkus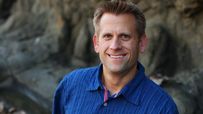 Welcome to SportsNation! On Monday, Sport Science host John Brenkus stops by to chat about his Emmy Award-winning TV show.
Sport Science uncovers sports' biggest myths and mysteries by utilizing cutting-edge technology to measure momentum, friction and the laws of gravity. In addition to his role as host of Sport Science, Brenkus, a Univeristy of Virginia graduate, is also the director and creative director of all BASE Productions programs.
Send your questions now and join Brenkus Monday at 3 p.m. ET!
More Sports Science: Chats | Index | Videos | Blog | @Sport_Science
Buzzmaster
(3:00 PM)
Sport Science's John Brenkus will be joining us shortly!
Derek (Miami)
You've had some freak NFL players come in to be tested....is WR the one position that has the most freak athletes in any question?
John Brenkus
(3:02 PM)
At the NFL level, every position requires the player to be a freakish athlete. Suh is a total freak. The quarterbacks, linebackers, tight ends, everyone is a freak when compared to everyone else.
John Brenkus
(3:03 PM)
The wide receiver position does have some incredibly fast, agile and athletic athletes for certain, but I wouldn't say they are the absolute best, because they're all great.
Kris (WA)
I've noticed you've had a few mma guys and boxers on for segments recently...is that something that you have been trying to do or has it just happened?
John Brenkus
(3:04 PM)
I'm a huge fan of MMA and really think the UFC has done an amazing job of growing the sport. MMA fighters are some of the smartest, classiest and most athletic athletes we've had in the lab. They really blow me away with how they've mastered the game of kinetic chess.
Sam (NYC)
How interesting was it for you to investigate Peyton Manning's injury? I think it probably helped inform a lot of people on exactly what's going on with him.
John Brenkus
(3:05 PM)
The Peyton Manning in jury is something that is to be taken very seriously. Obviously, I wasn't in the operating room, so I don't know exactly what happened. But the type of surgery that he had done is something that could certainly shorten his career. None of us want to see one of the greatest QBs ever on the sidelines, but this surgery may keep him there a while, if not indefinitely.
jon1386 (detroit)
can you get MEGATRON on the show? I would love to see his athleticism displayed through technology. Dude is unreal.
John Brenkus
(3:07 PM)
We would love to have Calvin in the lab. I am a huge fan of his and I've become a giant fan of the Lions. We've had Jahvid Best, Suh, Titus Young, Nick Fairly and Kyle Vanden Bosch all in the lab. Hopefully Calvin will be next.
Mike (@ Work in Texas)
John, Luv your work. So much so that I email links to my youth players parents to show the kids.What is/was your biggest revelation up to this point in the Sports Science series? Amazing, unknown, or otherwise?Thx
John Brenkus
(3:08 PM)
Every experiment shows me that there really is no secret. These incredible athletes simply work harder than everyone else. you can really see in the running back position in the NFL athletes have evolved to such a level that they are all amazing. Hard work really pays off.
Aaron (Stone Mountain, GA)
How high do you think Julio Jones can jump? Is he the future of NFL wide recievers?
John Brenkus
(3:09 PM)
Big, tall wide receivers who can jump through the roof is definitely the future of the NFL. The game has changed to throw the ball and the bigger the target, the more likely you are to complete the pass. Guys like Julio Jones are the future for certain.
Erik (LA)
John, how did you guys come up with the idea to have Gray Maynard climb a rope to show off his strength?
John Brenkus
(3:10 PM)
We asked Gray if he did any unusual training exercises for a fight. He said he used rope climbing since he was very young as a great strength training exercise and to guage just how in shape he is. He was a great wrestler (and still is) and that's served him well through his career.
Aaron (Vegas)
Did Carl Edwards surprise you with his athletic abilities and reaction times?
John Brenkus
(3:12 PM)
He did indeed. I knew NASCAR drivers were good athletes, but I didn't realize how amazing they actually are. Carl Edwards, honestly, is a supreme athlete. And anyone who thinks that NASCAR drivers only turn left all day long are sadly mistaken. The skill and athleticism needed to be a driver is mind blowing.
Harry (LA)
John, if you could do a segment with any non active player, who?
John Brenkus
(3:13 PM)
I've had the opportunity to work with Michael Jordan, but never in the Sport Science lab. It would have been awesome if he was playing while the lab was active, because I would have loved have put him through the ultimate test.
Dave (LA)
It looks like the guys always have so much fun....do they?
John Brenkus
(3:14 PM)
We have a blast making Sport Science. We've done well over 300 experiments to date and every athlete who's come in has had a good time. Sports by design are to have fun and we feel athletes at their best are enjoying it. I think that's the best way to get results.
Jay (Kalamazoo)
Given the success of many guys making the transition from college basketball to NFL TE, and the evolution of that position, do you think more NFL teams will start looking more to the hardwood to uncover the next Antonio Gates/Jimmy Graham?
John Brenkus
(3:16 PM)
The position of TE is morphing at light speed right in front of our eyes. With the spread offenses providing a QB with tons of options, the TE is becoming increasingly more important. The larger the target the more likely to complete the pass. I don't think basketball players are going to be recruited to the TE position. I think guys who normally might play basketball choose to play football. You'll see guys who are 6-5, 270 playing tight end instead of baseball.
Mr Controversy (CA)
How about a fractured rib and a punctured lung test? I really cant get myself to believe that wounds like those heal faster with no rest and continuously absusing said injury by continuing to play
John Brenkus
(3:18 PM)
Romo's injuries are of interest for certain, but his erratic play is more so. Trying to wrap my brain around if this year's fourth quarter meltdowns are because of Romo or the team.
John Brenkus
(3:19 PM)
Many more experiments coming your way. Thanks for your support.