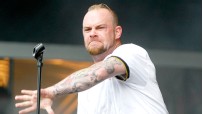 Moody is ready for your questions.
Welcome to SportsNation! On Tuesday, Ivan Moody (aka Ghost), lead singer of heavy metal band Five Finger Death Punch, will stop by to chat about music and his love of sports.
California's Five Finger Death Punch exploded onto the scene in 2007 with "The Way Of The Fist" and two years later delivered "War Is The Answer" which cemented their place in the metal landscape. On Oct. 11, the band will release their third studio album, "American Capitalist."
Moody and the rest of the band are sports fanatics who manage to watch, listen and read about sports as much as they can around their hectic recording and touring schedule.
Send your questions now and join Moody on Tuesday at 4 p.m. ET!
Visit FiveFingerDeathPunch.com for details on "American Capitalist" and to hear the first single, "Under It And Over It."
More Special Guests: Music chat archive | Previous chats | SportsNation
Buzzmaster
(3:27 PM)
Hello everyone! Keep your questions coming for Ivan! We'll talk sports and music starting at 4 p.m. ET!
Buzzmaster
(4:02 PM)
Ivan is here!
John (Milwaukee)
Who is your all time favorite athlete?
I van Moody
(4:03 PM)
Right off the bat Michael Jordan. Absolutely. I'm a Jordan fanatic. Elway because I am from Denver. I've always liked underdogs who started out not so iconic but then really took off. I'm a huge Ray Lewis fan and Ravens fan in general.
Brandon Raes (Surprise,Az )
If you played the Superbowl Halftime show what 3 songs would you play
I van Moody
(4:04 PM)
Big if there. We would put on the same show we put on all the time. Same show for 20 people or 20,000. More editing on this show than on the Janet Jackson nippelgate.
Nate Boston (Minneapolis)
Who is the best athlete in the band?
I van Moody
(4:05 PM)
Depends on which sport. Zoltan is right now becoming a student of jujitsu. He is a big martial arts guy. If it came to football, Jeremy knows more about football than music which is weird. I've always been in basketball. If you need a PG I'm your man. Jason is a big NHL guy.
James Harks ('Bama)
Would you trade your music career to be a pro athlete? Is there any better job than being a rock star?
I van Moody
(4:06 PM)
I would not change my career to be a pro athlete. A team could trade me and my band cannot! Better job than being a rock star? Maybe porn? Besides that, absolutely not.
Steve-O (Waco, TX)
What's the most un-Heavy Metal thing about you?
I van Moody
(4:06 PM)
(Laughing) Is there really such a thing as an un-Heavy Metal thing? Let's see ... I still listen to Depeche Mode.
Burneson (denver)
How do you feel about your Chargers chances vs the rest of the big dogs in the AFC? Theyre pretty banged up.
I van Moody
(4:08 PM)
For one, whoever thought I was a Chargers fan needs to do more research. They could fall off the face of the Earth for all I care. The Lions are my second team and they are kicking ass. And I think the Ravens will be in the AFC championship. I'm a Broncos fan first and foremost.
Bill (Dallas)
Do you know if any pro athletes are fans of you guys?
I van Moody
(4:09 PM)
We have met a few athletes who are fans of us. Usually NFL linemen. They say they warm up listening to our music. The Rams and Broncos have guys who listen to us. And can you make sure Tony Romo doesn't listen to us? Thanks.
Mike Jackson (Illinois)
If you could go back in time and see any band in their prime who would you want to see?
I van Moody
(4:10 PM)
Hendrix. Absolutely. I grew up on Hendrix. Also The Doors. I would say if I could reunite an entire band for one show it would be Pantera. I saw 20 or so shows of them growing up and I never got tired of them. I would love to see all those guys on stage.
Ryan Gerdes (Athens, GA)
College Football fan? If so what team/teams do you follow the most?
I van Moody
(4:10 PM)
I'm absolutely into college. Jeremy is into Nebraska big time. Him and his dad flew out to see the opener. CU is my team. I always liked the Buffs.
Timo (San Dieo)
Can you envision this band being together for the long haul?
I van Moody
(4:11 PM)
Absolutely. I wouldn't be involved if it wasn't going to be like that. This project is second to my family. It's everything for me to be here with these guys. I get that question a lot. Not sure if it is a 'what have you done for me' mentality but we are not going anywhere anytime soon.
sampaper (Hollywood)
Vikings- should we start Ponder - he's our future, McNabb seems dumbfounded (go figure) and AP is getting wasted... thoughts on QB there?
I van Moody
(4:13 PM)
As a fan of any team, I've been a Nuggets fan so it's good or bad. You can never turn your back on the team. I feel really bad for AP and I have no idea what McNabb is doing. They need to go back to the drawing board and look at basic football. There is no easy way to say it. They are screwed.
Travis O'Connor (Flint, Michigan)
What were some other ideas for the title of your upcoming album?
I van Moody
(4:14 PM)
American Capitalist was it from the start. We were in Chicago backstage and Jeremy and Zoltan sat me down and told me the concept. I rolled with it. I thought it was genius. Everyone in Flint, nothing but love for you guys. See you soon.
Alex P. (TX)
How were you guys able to avoid the sophomore slump? What keeps your inspired to keep getting better and better with each album?
I van Moody
(4:16 PM)
We didn't avoid anything. There just was no slump for us. A lot of bands put a lot of pressure on themselves but just like a team, we went in with a mentality that we would pick each other up and do what we do naturally.
Jason (Orlando)
What kind of sports did you play growing up and what sports do you follow now?
I van Moody
(4:16 PM)
I played soccer for about six years. I was a huge soccer fanatic growing up. I wasn't big enough for football or tall enough for basketball. But I loved athletics in every sense of the word.
Jack (Belarus)
Who or what influenced you to become a singer of heavy metal band?
I van Moody
(4:18 PM)
As a singer, I never intended on being one. Someone who was pissed off enough at the world and vocalize their opinion loudly, that's what I was after. I was being pushed in a direction of being a minister. A lot of people don't know that. I was raised Catholic. I studied to be a minister for four years. I looked up to my pastor and how he could control an audience and feed his information to people. It was lifechanging. I wanted to be in that position. I wanted to get a point across and say something meaningful and have someone take it in.
James (UK)
A bit off topic but when will you be in the UK?? On topic, what do you think of the NBA lockout??
I van Moody
(4:20 PM)
The lockout bugs me. I'm a blue collar kid and to see people making that much money and to still have issues is hard. You throw a ball into a net for $40 million ... so screw you and get the job done. Hopefully we will be at Download Festival next year. We will be there sooner rather than later.
Better than you (Hell)
Does it feel to rip off the Ramones logo
I van Moody
(4:21 PM)
If we did, it would feel awful. But we haven't. Next question.
twig (gaffney sc)
Do you believe in john fox?think tebow has a future?
I van Moody
(4:23 PM)
At this point, anything that would help the Broncos is good. I'd like to see Elway suit up again. I don't understand what is going on with Tebow. Orton is a stellar QB but I'm not sure his gameplan fits in with the rest of the team. There are a lot of things to be ironed out. Let's just get a win first. If it takes Tebow to do it, so be it. Bronco fans are militant. It's no joke. The orange and blue runs in our blood. Tebow was fresh air. A chance to grow. Elway took time to grow into his role and we're ready to see Tebow evolve into his role. If he fails, at least he had the chance.
Gary (Tampa FL)
when your on tour do u get the chance to play any b-ball
I van Moody
(4:24 PM)
We always try to be active. We go to games when we can and go to the gym as time allows. That stuff usually comes at home though. When you are on the road, it's all about the shows and the fans.
twistedsolis (va)
when i first seen the video for "the bleeding" it changed my whole out look of the song. what was it that gave you the inspiration for it and was it aimed towards someone?
I van Moody
(4:26 PM)
The video was a concept of mine. We were sitting around a table wondering how to project the visual for that song. One of our favorite songs of ours. I wanted it to be painful. Danielle Harris is the actress ... she was in The Last Boy Scout and the Halloween movies .. I sat down with her and racked her brain about it. It seemed logical to follow the lyrics and make it about what I went through relationship wise. The suicide part is just reality. There are situations out there that are hard to push through. I wanted that video to reconstruct how I felt when I was writing that song.
Brandon 'KnuckleHead' Colby (Illinois)
Would u ever consider doing a song for a sports team to be used as entrance music?Would you do the superbowl halftime show? If yes, who would u like to perform with?KnuckleHead For Life
I van Moody
(4:28 PM)
I would love that. We have a song called Back For More than Madden NFL 12 features. I've always loved the rally aspect of sports and fans and players digging in together to make it happen. That song was rallying up my team. The Bengals used Bad Company at times. We're big UFC fans and to see some of the fighters walking out to our stuff is pretty cool.
J.J. Black (Brooklyn)
What are the ingredients every lead singer needs to have?
I van Moody
(4:29 PM)
Little to no ego helps. Huge cajones. Attitude to push behind them. It's one of those things where you can't be afraid of anything. If you are in a rock band, you are letting everyone know who you are. I expose more of my soul on a daily basis more than most do in their lifetime.
I van Moody
(4:29 PM)
And you have to like good looking women.
Brad (Gadsden,Alabama)
Ivan, Who do you think is going to win the World Series?
I van Moody
(4:30 PM)
I wouldn't mind seeing Detroit do something cool. It has been a long time coming for that team. I've never been huge on baseball but I do know there are certain teams that are due.
Pete Gann (Eugene,Or)
Do you have any plans working with ghost machine again?
I van Moody
(4:32 PM)
I don't. Ghost Machine was something I did for fun. Lots of good friends involved. But it was never intended to be huge or even a band. We literally made 20,000 copies of that. It was just something as a spiritual release more than to get anyone's attention.
Seth (michigan)
Do you believe the lions are for real and it musht be a good year for bad teams huh?
I van Moody
(4:32 PM)
I hope they are for real. They have had enough time spent not being real. They have had so much talent come and go. I'm hoping and have my fingers crossed. The real test is Green Bay.
holybucketts (Owatonna, MN)
With the deluxe edition coming out, are all the bonus tracks dubstep?
I van Moody
(4:34 PM)
We always good into the studio with at least 20 tracks. We pick the Top 12 for the album. We sift back through and find the tracks we could have done better. I enjoyed growing up and finding that hidden track. Re-releases are generally supposed to be something that people who really follow the band can see the other side of us. No matter what we do, somebody will want to shoot it down but this is the stuff that we worked our ass off to make but you may not hear unless we release it that way.
I van Moody
(4:35 PM)
No release date yet on that but probably just after the first of the year.
Mike (Texas)
You have one of the most epic voices in metal in my opinion. You can scream and be heard in Hades and sing with the best of them. Did you teach your self and do you ever lose your voice? If not, what tips do you have?
I van Moody
(4:37 PM)
Knock on wood I have never lost my voice. I am self-taught. Only a few lessons after we got signed. I truly don't know where it comes from and I don't question it. I've just had this fascination with music and singers. Singers make or break bands. To have that kind of say-so is unique. It would be so easy to abuse the power of a front man and become the next Axl Rose but I'm not that guy. I love guys like Layne Staley who put their heart and soul into it.
Pelado (Argentina)
i am from Argentina, I wanted to ask if they're coming to Argentina?? .. and if you know something of Argentine soccer
I van Moody
(4:38 PM)
Absolutely. Not sure when but we will be there with bells on.
Ryan (Colorado)
I've seen you Live 3 times each time i go you do basically the same song setup with the new album out you planning on shaking things up a bit live or stick with same song list with a few new ones from the new album?
I van Moody
(4:39 PM)
We try to switch it up and play a lot of different stuff. We really tried to mix this set up and play stuff we have never done live before. We really want to get out there and feel fresh about what we are doing. The set list we put down ... you will be very happy you went to the show.
Tuffy (denver)
Since it'd be weird to listen to your own music, what music do you listen to when you workout? Have sex? Need to chill?
Ivan Moody
(4:42 PM)
I honestly listen to everything. Jazz and classical to country and metal. I just love music. It's a universal language. People take it for granted. I never shun anything. A good song is a good song period.
Gisela (Germany)
I saw the show one week ago in Tucson - it was a killershow. You are excited to play and sing the new songs and play 5FDP next year in Germany?
Ivan Moody
(4:45 PM)
We love going overseas. Over here in the States, especially in entertainment, people tend to be of the 'what have you done for me lately' mentality and we notice that. In UK, Japan, Australia, etc., they just take music at a whole other level. Alice Cooper plays to 30,000 people over there and 3,000 here. The love you get in German and other places overseas is indescribable. Any band that has been there can tell you the same things.
Kyle (Corpus Christi, TX)
What's up Ivan? Can't believe you guys are actually coming to Corpus! Do you think the tigers will close out the yankees tonite? See you november 9th!
Ivan Moody
(4:45 PM)
Yes. The better! You know the answer to that!
Ivan Moody
(4:47 PM)
Thanks for taking the time to chat today and for sticking with us. We promise you nothing but annihilation whenever we come near you. We'll do this again soon.