Chat with Jack Youngblood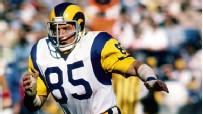 His No. 85 is retired by the Rams.
Welcome to SportsNation! On Thursday, football hall of famer, and former Los Angeles Ram, Jack Youngblood stops by to chat about his career, the NFL season and his new book "Because it was Sunday: The Legend of Jack Youngblood."
The book relays a candid account of the remarkable life journey of Youngblood, who played 14 seasons in the NFL. From humble beginnings in Monticello, Fla., Youngblood emerged as an unlikely American sports hero. Tested by tragedy and overwhelming odds, he built himself into an all-American at Florida and one of the NFL's most ferocious competitors.
Youngblood was a seven-time Pro Bowl selection, as well as a seven-time first team all-NFC player. He won back-to-back NFC defensive player of the year awards in 1975 and 1976.
Send your questions now and join Youngblood Thursday at 11:45 a.m. ET!
More Special Guests: Previous chats | SportsNation