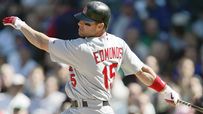 Edmonds played for the Angels, Cardinals, Padres, Cubs, Brewers and Reds.
Welcome to SportsNation! On Tuesday, 17-year baseball player, and World Series winner, Jim Edmonds stops by to chat about the MLB playoffs. The playoffs this season are on FOX, TBS and ESPN Radio.
Edmonds, an eight-time Gold Glove winner and four-time All-Star, spent 15 of his years in the majors with the Angels (7 years) and Cardinals (8 years). He was a part of the Cardinals' 2006 championship team.
For his career, Edmonds hit 393 home runs, putting him 53rd all-time in MLB history. Four times he finished in the top 10 in home runs, twice hitting more than 40.
Send your questions now and join Edmonds Tuesday at 3 p.m. ET!
More Special Guests: Previous chats | SportsNation
Buzzmaster
(3:00 PM)
Former MLB player Jim Edmonds will be here in a couple of minutes to take your questions!
Buzzmaster
(3:00 PM)
He's here!
Heather (Austin)
As an Angels fan, I have to say that your catch in KC is the greatest one I've ever seen.What's going through your mind during that catch?
Jim Edmonds
(3:01 PM)
Catch the ball. I believe the winning run was on first base, so if I didn't catch it the game was over.
DAN (Rochester, NY)
You played in both St. Louis and Milwaukee so, which team do you want to advance to the Fall Classic. My guess is St. Louis.
Jim Edmonds
(3:02 PM)
I'm a St. Louis guy, so I have to root for the home team. I'm interested to watch the series.
scott (denton,tx)
do you see the rangers in the world series again this year with thier bullpen pitching and their offencie hitting really well.
Jim Edmonds
(3:02 PM)
They have a two game lead, so the chances of them winning two of the next five is pretty good.
CJ (Iowa)
You are one of his former teammates, does Albert return to StL next year?
Jim Edmonds
(3:03 PM)
I hope so. I can't see him playing anywhere else. Hopefully for him they can work it out.
Bryan Smith (Texarkana, Ar)
I would first like to say Mr. Edmonds you will always be my Favorite player and I loved watching you play CF. Do you think tension will soon boil over in the the Cardinals-Brewers series or will they stick to just playing baseball?
Jim Edmonds
(3:03 PM)
I don't think so. I don't think you can afford to have any suspensions or ejections during the playoffs. I think it will be all hype.
Josh Billington (Kirksville, MO)
What type of similarities do you see with this year's Cardinals team compared with the championship team you played on?
Jim Edmonds
(3:04 PM)
Every championship team needs to play well down the stretch and have good pitching. Those are all similarities in every team.
Scott Stephenson (Chicago)
How was your experience playing for the Cubs after playing in St. Louis...Be honest
Jim Edmonds
(3:04 PM)
I loved it. Great city. Great place to play. Great fans. I had a lot of fun there.
Sean (Springfield)
I was at teh game in 2004 when Carlos Zambrano plunked you twice with a homerun in the middle. How sweet was it to come through in that situation and how hard was it to be his teammate in 2008?
Jim Edmonds
(3:05 PM)
It was great, obviously, hitting a home run in that situation. When I played for the Cubs, he was one of the first people to come up and apologize, saying sorry for whatever. Ended up being a good teammate.
Fan (CF Bleachers)
Who was your favorite player when you were a kid?
Jim Edmonds
(3:06 PM)
When I was young I was a pitcher, so I loved Nolan Ryan. As I got older, Don Mattingly became my favorite hitter.
Cory (Washington, DC)
Regardless of his history of success, Tony La Russa has his share of critics. The three biggest points might be that he typically had great talents, that he over-manages, and that he is prone to putting even good, young players in his doghouse. Could you weigh in with your thoughts on TLR?
Jim Edmonds
(3:06 PM)
I think he's a great manager. Every great manager will always have his critics. His track record speaks for itself. He's done a great job.
Nate (Denver)
I was at Game 6 when you hit the walk off against Houston to force a game 7.. Was there a better or more memorable HR you hit in your career?
Jim Edmonds
(3:07 PM)
I think that one sticks out as the most memorable right now. It's still fresh, but that one being in the playoffs makes it extremely important. That one sticks out.
Doug Miller (Atlanta)
Jim, Do you see yourself entering the coaching/managing arena at any point? Any interest in that?
Jim Edmonds
(3:08 PM)
I haven't thought that far ahead. Probably not any time soon. Focusing in on some other stuff and family right now.
JDR (Springfield, IL)
I know you had to retire during spring training this year...how hard is it to not be out on the field for this series?
Jim Edmonds
(3:08 PM)
It's not too bad. I kind have gotten away from baseball this whole year. I've been watching as a fan these past six months. This is definitely the best time of year for baseball.
Paul (Phoenix)
You had a big uppercut swing that looked like you were going for the fence every time. Were you?
Jim Edmonds
(3:09 PM)
No. It was just a natural left handed swing. I was never taught how to play as a kid, so I did whatever I could to get the ball in play.
Mike (Orleans, IN)
Jim, What was the best moment of your baseball career?
Jim Edmonds
(3:10 PM)
I guess winning the World Series would have to be right up there. Pretty special time for the team and the city of St. Louis.
Nater8 (Illinois)
What stadium did you hate to play in for any reason, and what stadium was the best to play in?
Jim Edmonds
(3:10 PM)
There weren't too many places I didn't like to play. You always enjoy playing at home. I think all of the time I spent in Anaheim and St. Louis, those are my two favorite.
Robert (Dallas, TX)
Are there any similarities between your 2006 Cardinals playoff run and the current batch's run?
Jim Edmonds
(3:11 PM)
I think the key is getting hot, doing well in the playoffs. It's not playing well the whole year, it comes down to the last month. The team that gets hot in the playoffs has the best shot to win.
Nathaniel Olk (Denver, CO)
Hey Jim - huge cardinals fan here - you are one of my favorites of all time, I loved seeing you all those years in STL, amazing player. You've been there before so I want to know what do you think the keys are to the Cardinals winning the World Series this year? And how will whichever outcome happens affect (if at all) the Pujols negotiations?
Jim Edmonds
(3:12 PM)
The keys are that they pitch and play defense, get some timely hitting.
Brandon (Lexington)
After you retire, do players usually have a favorite team, one they still root for even if they played for 4-5 teams??
Jim Edmonds
(3:13 PM)
Yeah, I think you root for the team that you have the longest time with or have the best connection with. I think that's St. Louis for me now.
Nater8 (Illinois)
Which pitcher did you dread facing? Which pitcher did you love facing?
Jim Edmonds
(3:14 PM)
Not really, there wasn't one. Any day a pitcher can be on and make your day hard. The other way around, a pitcher can have a tough day and make it easy for you. Each day is a challenge and each pitcher is a challenge. Whether it was Roger Clemens or whoever, you never know what kind of day you'll have until it's over.
Jeff (Indiana)
Jim, you've been one of my favorite players for years. What was going through your mind after you made that ridiculous over the shoulder diving catch for the Angels? Was it easier than it looked?
Jim Edmonds
(3:15 PM)
No, it wasn't easier than it looked. And it wasn't fun or easy on the body either.
Dom (Philly )
Do you think the Tigers have a chance of coming back in the ALCS?
Jim Edmonds
(3:15 PM)
It's going to be tough, but I wouldn't rule it out. You never know what's going to happen in the world of sports. It will be interesting to watch.
Jason (St Louis)
Are there any players who play CF now that you would say resembles your defense? The routes you took were amazing. It seems these days they just throw the fastest guy out there for that position.
Jim Edmonds
(3:17 PM)
To be honest, I haven't watched too much or too closely so I really can't answer that question. It seems like the comment about the fast guy is true in many situations. It seems like they don't give players a chance to prove themselves these days as much as in the past.
J.B. (PA)
Do you remember the first ML game you ever went to as a kid?
Jim Edmonds
(3:17 PM)
I went to quite a few games in Anaheim stadium when I was a kid. I do remember growing up and going to a lot of games there. I don't remember the first one, but we spent a lot of time there in awe of the players.
Tom (Milwaukee)
Bieng the great center fielder that you were, do you think the Brewers should sacrifice some offense by putting Carlos Gomez in center field over Nijer Morgan ?
Jim Edmonds
(3:18 PM)
I think whatever gives them the best chance to win is what they should do. I don't necessarily think that Carlos Gomez is a better centerfielder than Morgan. But only the manager can make the decision and not me from Southern California.
Jim Edmonds
(3:19 PM)
Thanks for the support and the chat. Tune in tonight for more playoffs on FOX for the ALCS.