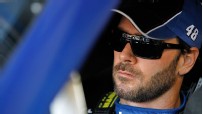 Welcome to SportsNation! On Monday, we'll be joined by greatness when five-time NASCAR champion Jimmie Johnson stops by to chat.
Johnson, driver of the No. 48 Lowe's Chevy, finished 26th at Talladega last weekend, and fell 50 points behind leader Carl Edwards in the Sprint Cup standings. He currently sits in seventh place with only four races left on the season.
This Sunday, the seventh leg of the Cup Chase stops in Martinsville, where Johnson is a six-time winner.
Follow Jimmie Johnson on Twitter @JimmieJohnson.
Send your questions now and join Johnson Wednesday at 10:15 a.m. ET!
More Special Guests: Previous chats | SportsNation
Jimmie Johnson
(10:14 AM)
Welcome! Let's have some fun.
Phillip (MN)
How does the pressure of this season compare to the last five?
Jimmie Johnson
(10:15 AM)
It's familiar, but trying to keep the streak alive does add a bit more.
Sam (UT)
Hey Champ, hows the balance been on your Mile and a half setups? Since you were dominant at kansas think it will translate to Texas?
Jimmie Johnson
(10:15 AM)
We hope so. We've worked all season to get the mile and a half stuff correct, and we're there.
Michelle (Georgia)
After the last 2 races...are you rethinking your stance on the "curse" of the Sports Illustrated Cover?
Jimmie Johnson
(10:16 AM)
I'm not into making excuses and blaming it on a cover curse is making an excuse! We just didn't do our jobs.
Chris Clayton (Afghanistan)
Do you have to get yourself into a certain mental state before you go race or can you just hop in the car and go?
Jimmie Johnson
(10:17 AM)
After doing it for ten years, I need far less time to get into that mental space. I just kind of hop in and go now. When I was a rookie it was quite different.
Shawn (Gastonia, NC USA)
I see a lot of commercials in the area about the Jimmie Johnson Foundation, where it looks like you're helping kids and schools. What are some of the projects the Foundation has done? How can us, as fans, get involved?
Jimmie Johnson
(10:18 AM)
JimmieJohnsonFoundation.org, check out what we're doing! Our focus has been on children over the years. We're on our third year of our Toolbox for Education program.
Anthony (Miami,FL)
Hey Jimmie, what is your favorite sport other than NASCAR?
Jimmie Johnson
(10:18 AM)
I really like football season. It usually means we're done, and I'm at home enjoying my house, my couch, and my TV.
Kim (Missouri)
You've mentioned before about your crew listening to music preparing for race weekends. Do you have certain music to pump you up?
Jimmie Johnson
(10:19 AM)
Not too much -- my guys usually listen to a lot of high-energy music of all genres. Prior to the race, you walk into the 48 hauler, and all the speakers are turned up to 11.
Mike (Charlotte, NC)
Hey Champ, Who do you think is your biggest threat going into these last few races of the chase?
Jimmie Johnson
(10:20 AM)
Right now there are six drivers ahead of us to focus on. Carl's been really consistent here, so things are looking favorable for him.
Casey Pahl (Winona)
Who you got tonight Jimmie, Cardinals or Rangers?
Jimmie Johnson
(10:21 AM)
I haven't even seen a game, unfortunately! So I don't know.
Vicki (Wabash, IN)
I think people have a different view of you since you began to Tweet. Do you agree?
Jimmie Johnson
(10:22 AM)
It sure seems like it. Through Facebook and Twitter, it's been a fun space to be myself and keep things a little light and loose.
Alexander (Lockport,NY)
What happened at Talladega last weekend? Did you wait too long?
Jimmie Johnson
(10:22 AM)
It certainly appears so now. The two late-race cautions really messed up our strategy.
Boss Hogg (Hazzard County)
Do you prefer the 10 race Chase format or the season long Champion format?
Jimmie Johnson
(10:23 AM)
I was slow to buy in on the Chase format, but now I think it does a lot of good for our sport, to have a playoff system of sorts. I like it.
Amyanne (Massachusetts)
What is the thing about being a parent you were least prepared for?
Jimmie Johnson
(10:24 AM)
The worrying. You just don't realize, once that little thing is born, you just worry all the time.
Jack (Orlando, Fl)
What is your favorite track you've raced on in your career?
Jimmie Johnson
(10:25 AM)
I'd put Dover on that list. We had an off-road race with off-road trucks that we raced in the LA Coliseum. They had the track built to go up through the stands, a jump out through the arch, and a jump back into the stadium. Doing that at night was really cool.
Jessica Acker (LaCrosse, MN)
Jimmie, is Tim Tebow for real?
Jimmie Johnson
(10:25 AM)
I met him before, he seems like a real guy!
Alexander (Lockport,NY)
What are your personal thoughts on the 2 car tandems? Do you think NASCAR will do anything to change it based on fan reactions?
Jimmie Johnson
(10:26 AM)
They're working on some big changes for Daytona. I haven't driven it myself, but I think they have a direction they're working on.
The Souciemaster (Minnesota)
Hey Jimmie, what kind of car do you drive off the track?
Jimmie Johnson
(10:26 AM)
I have an old '49 Chevy stepside pickup truck.
Vicki (Wabash, IN)
Did you create a monster with mini-Chad?
Jimmie Johnson
(10:27 AM)
It appears so! It's been a lot of fun though.
Jake Erdahl (Eau Claire, Wisconsin)
Favorite pre-race meal Mr. Johnson
Jimmie Johnson
(10:27 AM)
Grilled chicken and brown rice.
Paula (MI)
What does your team need to do to win #6?
Jimmie Johnson
(10:28 AM)
Bad luck for six other guys, and we have to win out. At fifty points back, we need a lot to happen!
Jimmie Johnson
(10:28 AM)
Tune in to all things ESPN today if you want to see me! SportsCenter is next. Thanks!