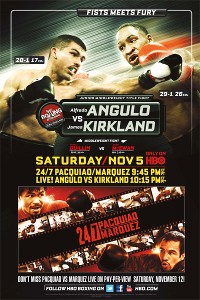 Welcome to SportsNation! On Wednesday, we're going inside the boxing ring when James Kirkland stops by to chat about his junior middleweight fight Saturday.
Kirkland (29-1, 26 KO) takes on Alfredo Angulo (20-1, 17 KO) as a part of HBO's Boxing After Dark. The fight will be live Saturday from Cancun Center in Cancun, Mexico at 10:15 p.m. ET/7:15 p.m. PT on HBO.
After taking two years off, Kirkland returns to the ring to fight for the sixth time in 2011. He is 5-1 so far this year, needing only three rounds to win his last two fights, following the first loss of his career. This will be the first 12-round bout of his professional career.
Send your questions now and join Kirkland Wednesday at 2 p.m. ET!
More Special Guests: Previous chats | SportsNation
Buzzmaster
(2:02 PM)
James will be by to chat about his fight on Saturday!
Buzzmaster
(2:06 PM)
James is here!
JUAN (RIVERSIDE)
What are you doing to prepare for Angulos power?
James Kirkland
(2:07 PM)
As far as being prepared for any power, I'm basically getting myself strong and just training hard. Giving it a lot more, because I know that Angulo is coming. He's coming to try and win. At the same time, I'm out here to try and devour and control the fight.
joe (long island)
do u plan to brawl right away or work ur way in and box in the beggining
James Kirkland
(2:08 PM)
This fight is going to go and be a contact fight. We're going to be thrashing, bumping heads, the whole nine. But at the same time, I want to do it with control, head movement, make my shots.
Brandon (Lewisville)
How many fights before you feel your ready for Sergio Martinez?Do you plan to stay at 154 lbs for most of your career?
James Kirkland
(2:09 PM)
All I know is that he went up to 160. My gameplan is to stay at 154. I was at 160 just to get myself ready to get down to 154. My weight to fight at will be 154. Once I do the things that I want to do at 154, I want to move and do some things at 160.
jay (nyc)
whats up James, how do u plan on nullifying Angulo's relentless pressure?
James Kirkland
(2:10 PM)
The pressure, I'm not worried about any pressure. The stuff that I know and the speed and power I have myself, I stop a lot of people from doing what they want to do. It's going to be the fight that everyone wants to see.
Don ( Chicago)
Who was your all-time favorite boxer growing up?
James Kirkland
(2:10 PM)
I would have to say Marvin Hagler.
James Kirkland
(2:11 PM)
Don't get wrong, Tyson was someone I idolized. But when I sat down to watch the skill, I had to go Marvin.
Manny (Washington, DC)
I see your fight with Angulo as having the potential of Hagler/Hearns type action with both of you guys throwing lots of punches with bad intentions. How do you see the fight? Good luck to you on Saturday.
James Kirkland
(2:12 PM)
That's not even a little bit of how I expect this fight to go. I have a gameplan and the skill for this fight. I'm not going in there just throwing shots and trying to hail mary on somebody. This fight will be under control from Round 1 to Round Whatever. This will be a contact fight but a lot of skill too.
Carlos (Harlem World)
How has your training gone since you last called back Anne Wolfe by your side? How has she prepared you mentally and physically going into this fight against the hard hitter El Perro?
James Kirkland
(2:13 PM)
I have to say this has and this is one of the hardest training camps I've been in. We've been at this 7 weeks preparing. I must say this has been hell and it's been hard. It's been a wonderful experience as well as a draining and hard experience. My weight is beautiful right now. I'm just ready for Saturday.
Alex (Winston-Sakem)
How has the sparring been for this fight?
James Kirkland
(2:14 PM)
We had so many different people come in. They were flying in, busing in. We had so much sparring. We were going 16 rounds. We had to fly in a bunch of people in to go 4 rounds each. A lot of people got hurt. But I had a wonderful training camp. I appreciate all of the sparring partners in helping me get through the hard work.
Gerardo (AZ)
James, are you planning on avenging your loss to Ishida, or are you simply wanting to move past that fight and not look back?
James Kirkland
(2:15 PM)
I'm not even thinking about the Ishida fight. I was no where near as far as the training and ability I am at now, not even a little bit. This fight means a lot to me, because a lot of people are saying I can't. That gives the drive and the extra push to get through it to say, hey man, I know I can do it. That's why this fight makes for a special, special fight.
JoeLuis (LosAngeles)
Did you have enough time to prepare for this fight? As in do u feel 110% ready?
James Kirkland
(2:16 PM)
This fight right here is the one I had the most time to prepare for. This is the one that I had the most time to sit back and put a gameplan together. This is the big one and utilize my time and take advantage.
Gerardo (AZ)
James, do you feel any nerves fighting outside of the U.S. for the first time?
James Kirkland
(2:17 PM)
I don't know. When we were amateurs, we fought everywhere. Not overseas, but in someone's hometown. You might fight someone right in their backyard. It's just another place. Everyone might be rooting another way, but it's just you and your opponent in the ring.
JUAN (RIVERSIDE)
Hit him in the body with that monsterious shot of yours and its over for him. What you think of that?
James Kirkland
(2:18 PM)
I'm working everything. This is the first time that I can say I'm in the best shape where I can box, I can press, I can go low, I can go high, I can do this all day long. I'm training to go 20 rounds, but all I have is 12 rounds to do. I'm well prepared to go to the body or to the head.
JUAN (RIVERSIDE)
if you beat Angulo who will you like to face next?
James Kirkland
(2:19 PM)
Alvarez. That's who I want right now. I'll just have to wait until after this fight here. Can't count your chickens before their hatched.
James Kirkland
(2:19 PM)
God bless. I appreciate it.