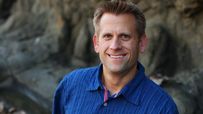 Welcome to SportsNation! On Friday, Sport Science host John Brenkus stops by to chat about his Emmy Award-winning TV show.
Sport Science uncovers sports' biggest myths and mysteries by utilizing cutting-edge technology to measure momentum, friction and the laws of gravity. In addition to his role as host of Sport Science, Brenkus, a Univeristy of Virginia graduate, is also the director and creative director of all BASE Productions programs.
Send your questions now and join Brenkus Friday at 3:30 p.m. ET!
More Sports Science: Chats | Index | Videos | Blog | @Sport_Science
Buzzmaster
(3:19 PM)
Sport Science host John Brenkus will be here at 3:30 p.m. ET to take your questions!
Buzzmaster
(3:30 PM)
John's here!
Dave (NJ)
John, how interested were you in putting together that Sport Science segment on the Carrier Classic game tonight?
John Brenkus
(3:32 PM)
Was very fascinated and was surprised as how stable the aircraft carrier actually is. It doesn't seem like the environment will effect the game that much.
Freddy (Texas)
John, did you ever think that your production of Sport Science segments would lead you to researching the metacentric height of a aircraft carrier??
John Brenkus
(3:32 PM)
It's amazing where our roads in life will take us.
Derrick (Alabama)
How much of a freak athlete was Dwight Howard?
John Brenkus
(3:33 PM)
I believe he has the most impressive power to weight ratio in the history of the NBA. I wish I could go back and test every single guy who's ever set foot on the court, but in my experience, he is a true amazing anomaly.
Greg (DC)
If you add up, height, speed, jumping, all of those physical attribute, could Calvin Johnson be one of the best overall athletic specimens that you've looked into on Sport Science?
John Brenkus
(3:34 PM)
Calvin Johnson is an exceptional athlete. At that level, most of the elite athletes are in the one millionth of one percent of all humans on the planet. It's hard to definitively say any one athlete is "the best" or "the most impressive" but what I can say is he is a mind-blowing athlete.
Sammy (Boston)
After having an athlete to the Sport Science lab, do you take an extra interest in their career and to see how they're doing after meeting them in person?
John Brenkus
(3:36 PM)
Indeed. There is a real bond between the show and the athletes. The athletes that appear on the show take a particular interest in us and visa versa. We seem to be a good luck charm for many of the amazing athletes who pass through. Go Andy Dalton! Go Christian Ponder! Go Suh!
John Brenkus
(3:36 PM)
Go Drew Brees!
John Brenkus
(3:36 PM)
And the list goes on and on and on.
Peter (RI)
Every time you work on another Science segment, do you once again get amazed at how much science plays a role in nearly all aspects of sports?
John Brenkus
(3:37 PM)
Science is the foundation of sport, so I'm not surprised at how much of a role it actually plays. But I am always interested in learning something new, which, quite frankly is the best part of my job. Every day I get to do a test on the world's best athletes or analyze something about sport and learn something new.
Paul (Boston)
Dwight Howard looks like a beast on TV, so just how big was he in person?
John Brenkus
(3:38 PM)
It's not how big he is as much as it is how powerful he is. He's not the tallest player in the NBA, but I believe his power to weight ratio to be the best in the game.
Aaron (San Diego)
How do you go about choosing the topics for the sports science bits, and how(if possible) does one submit an idea?
John Brenkus
(3:39 PM)
It's a collaborative effort between our team and the producers at ESPN. We try to stay as topical as possible, but many of our segments are ever green as well.
Dave (CT)
How fast can you turn around a segment if you have to if something interesting happens?
John Brenkus
(3:39 PM)
Same day. We've done it several times.
Kevin (CA)
What was the most interesting thing you learned about trying to play basketball outside?
John Brenkus
(3:40 PM)
The most interesting thing is how stable the platform actually is.
Kidd (Bham)
Who's faster LeSean Mccoy, Mike Wallace or Chris Johnson (not this years CJ)?
John Brenkus
(3:42 PM)
At that level, all of those guys are incredibly fast. It's almost irrelevant who is "fastest" because straight line speed isn't the determining factor in creating distance between your opponent. It would be cool to do a test combining straight line speed and agility. Interestingly, the stat that's probably more important an athlete's 0-60 speed is his 60-0 speed. How quickly you can stop is as interesting as how quickly you can accelerate.
Derek (Syracuse)
What was your favorite segment that you have ever done on Sport Science?
John Brenkus
(3:42 PM)
The Dwight Howard segment was pretty cool of the recent ones we've done. He really pushed himself to reach 12-6.
Dave (Denver)
any interesting segmenst in the works?
John Brenkus
(3:43 PM)
Too many to list, the NFL season is just turning down the back stretch. Lots and lots of football coming your way.
Karl (Denver)
Any sports you would like to do a segment on but havne't yet or can't?
John Brenkus
(3:44 PM)
We've touched pretty much every sport on the planet that's considered a major sport. The "fringe" sports still intrigue me. We actually just shot a segment on Olympic table tennis that really blew me away.
Pete (LA)
Speaking of Olympics, are you guys planning for that already?
John Brenkus
(3:45 PM)
Indeed.
Kyle (Boston)
international sports?
John Brenkus
(3:46 PM)
In the past we have done experiments on rugby, soccer, cricket, etc. International is a big initiative at ESPN and will continue to be.
John Brenkus
(3:46 PM)
Lots of great stuff coming your way. Thanks for your support!