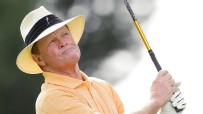 Kite's career golf earnings total more than $14 million.
Welcome to SportsNation! On Tuesday, professional golfer Tom Kite will stop by to chat about his career as well as his involvement in a special Presidents Cup clinic.
Kite is teaming up with Citi, the global partner of The Presidents Cup, to host a clinic for children from the New York City First Tee program, which teaches life and character skills through the game of golf. The net proceeds from this year's Presidents Cup will be distributed equally to the players' and captains' charities of choice.
Kite, who won the 1992 U.S. Open, was inducted into the World Golf Hall of Fame in 2004. He has 38 career wins and his currently playing on Champions Tour.
Send your questions now and join Kite on Tuesday at 2:30 p.m. ET!
More Special Guests: Previous chats | SportsNation
Buzzmaster
(2:29 PM)
Tom is here!
Kevin (CT)
Tom, how did you get involved with this children's golf clinic in conjunction with the Presidents Cup?
Tom Kite
(2:31 PM)
I have an association with Citi Bank who is the global sponsor for the Cup. One of the charities that they do is the First Tee and one of the beneficiaries to the Cup. It was a natural fit to tie the two together. I'm looking forward to going out today to see the facility and be with the kids.
Bruce (Florida)
Augusta is supposed to be a long hitters course but I recall you always being in the top 10 at the Masters during the 1980's. How were you able to compete at such a high level against all of the big hitters?
Tom Kite
(2:32 PM)
Well, at the time, I think I had, if not the best, one of the best wedge games that there was. The Par 5s there were demanding enough, back then, you had to hit two pretty good shots to get to the greens. Nicklaus was a pretty good hitter and he had to hit twice to get to the greens in regulation. I put myself in a good spot to hit a wedge shot. So, I played the Par 5s very well during my good play there at Augusta.
LeAnne (Washington)
Hi Tom. Im a fan of yours and Mark Calcavecchia. What was is like playing with Mark? He seems to really enjoy playing golf.
Tom Kite
(2:33 PM)
Calc is tremendous. He's a lot of fun. He's very passionate about his game. He loves to play. It's great to see him playing so well on the Champions Tour. It's great to see him winning some tournaments. He'll be a force to be reckoned with on the tour. He's always been a good ball striker and he's becoming a better putter as he's gotten older.
Ryan (Denver)
What's the most important lesson you will try to teach the children attending your Presidents Cup golf clinic?
Tom Kite
(2:35 PM)
Well, the main thing is to be able to have a lot of fun when you're talking about kids. If they're not having fun, they won't do it for very long. We'll stress the fundamentals of the golf game and the keys First Tee stresses so well. But the main thing is fun. As far as fundamentals, the kids should be gaining some speed. Research says there is a certain window that kids have and if they train fast, they have some speed. If they don't train fast they won't be the big hitters. I will be stressing for them to hit it and hit it hard, don't worry where it goes.
Jon (NYC)
Tom, what was your favorite non-major tournament stop when you were on tour full time?
Tom Kite
(2:36 PM)
I was born and raised in Texas, so it would be one of the Texas tournaments. Colonial had a little better golf course, but since Byron Nelson was so closely associated with that tournament, I would give the nod to that one.
Cliff (PA)
What do yout hink about the Cup? Who wins?
Tom Kite
(2:37 PM)
Well, I'm afraid the internationals will win. They're the favorites. They have a distinct advantage playing that course. A number of the international players are from Australia and have played there. We have a number of rookies on our team. We have six rookies on our squad. That's against us. And we're coming in there with a couple of players that are hurt. Mahan and Striker are injured. I'm thinking the international team will win, but it will be very very close. Obviously, I'm not hoping for that.
Jeff (RI)
Tom, how much did your hall of fame selection mean to you?
Tom Kite
(2:39 PM)
It was a nice honor. I'm very proud of that. When they announce my name on the first tee when I tee off, it's nice to hear that I'm a hall of fame member. But that was never my goal. It's nice when your peers and all of the people that vote on the hall of fame deem you worthy of going in. It was a nice class to go in with.
Chris Fiegler (Latham,NY)
What is the Hardest Golf Course that you have played on in your PGA Career?
Tom Kite
(2:40 PM)
Well, when it's set up for a major, there is no harder golf course than Wing Foot. That course is really a difficult course. Some of the devilish greens you've ever seen. Doglegs. Everything you fear in a golf course will rear its head out there. Its fair but unbelievably hard when its set up for a major.
Darryl (Washington)
How much do you enjoy playing on the Champions Tour?
Tom Kite
(2:41 PM)
I'm very happy with it. I actually enjoy it quite a bit. When you think about that I'm in my 60s right now and I can still chase this dream of trying to win tournaments. I miss the PGA Tour and quite honestly, I enjoy the PGA Tour more than the Champions Tour, but I had my run. I enjoy the Champions Tour for getting me the chance to compete at a relatively high level when everyone else my age in a sport is long past retirement.
Kevin (NYC)
what do you think of the new young players?
Tom Kite
(2:44 PM)
I think the interest in the game is incredible. It's really a global game. We're seeing so many good young players from almost every country now. When we came up, we were taking the blue print that Jack, Arnold laid out for us, there were many of us that took that blue print. Now young players are taking what Tiger and Phil had for a blue print. They're big, tall, fast and they're putting on some impressive shows out on Tour. Because the purse structure is what it is, there are some great athletes that are not going into football or baseball or basketball and going into golf. You're getting not just good golfers but good athletes.
Tom Kite
(2:44 PM)
When I came on Tour, the average height of a guy was probably 5-10. Now you look at the guys out on Tour and most of the guys are well over 6-feet and even 6-5, 6-6 and have a lot more leverage and strength than those of my generation.
Tom Kite
(2:45 PM)
I appreciate the interest. It's great to see everybody having so much interest in the game. It will be great to see the Presidents Cup this week. Hopefully everyone's pulling for the U.S. to come out with a victory.