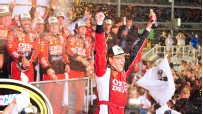 Welcome to SportsNation! On Monday, three-time NASCAR Sprint Cup champion Tony Stewart stops by to chat about his most recent title.
Stewart, driver of the No. 14 Chevrolet for Stewart-Haas Racing, entered the Chase with no victories on the season but ended it with five. His biggest win came Sunday in Miami as he captured his third points championship.
"Smoke" finished tied with Carl Edwards in the final standings but won the title on a tiebreaker (Stewart's five wins to Edwards' one). With the win, Smoke becomes the first owner/driver to win the championship since Alan Kulwicki and ends Jimmie Johnson's record five-year title run.
Send your questions now and join Stewart Monday at 11 a.m. ET!
More Special Guests: Previous chats | SportsNation
Buzzmaster
(10:49 AM)
Tony is on SportsCenter right now and will be here at the top of the hour to take your questions!
Buzzmaster
(10:59 AM)
Tony's SportsCenter hit is over. He'll be joining us in a minute or two.
Buzzmaster
(11:01 AM)
Here's Tony!
Kenneth (Tulsa, OK)
The way you drove on restarts and thru traffic was amazing last night. When was the last time you remember driving that aggressive for 400 miles?
Tony Stewart
(11:03 AM)
Honestly, I don't know if I can remember driving that aggfressively for a race before. Passing those cars, I think made for an impressive night.
Ryan (San Diego)
Do you think this year's Chase and the way it finished was pretty much what NASCAR was hoping for when the Chase was implemented? I think it made for an exciting finish to the sesaon.
Tony Stewart
(11:03 AM)
I don't know that even NASCAR knew there would be an ending like this. To have two different scenarios of drivers and Carl having a 4.9 average finish and for us to go out and win 5 races and to have us tie and for a tiebreaker to win, I don't know if they even dreamed of that.
Brian Curtis (Northern, VA)
Last nights race was a great example in itself of how your chase went as a whole. Started strong, had your issues, battle back from behind to win it all. Whats a championship win hangover feel like?
Tony Stewart
(11:05 AM)
Yeah, I think the first two wins, the win at Chicago wasn't a shock but it was a surprise. The second win, we knew we had a shot, but knew there would be some hurdles. Martinsville and Dover were the two we had some concerns about.
David (NYC)
Tony, on the final restart, was the strategy to go and do what it took to take the lead or was it just an opportunity that presented itself?
Tony Stewart
(11:06 AM)
We restarted third and we had been getting really good restarts down into Turn 1, I knew if we could get a restart again, I knew we could get into clean air again. When we got the lead, we were able to stay there and the same for Carl. I felt if we got the lead we had a shot of staying there. I was hoping to clear those guys and I was able to do it in the following lap and pass Brad to get into No. 1.
Paul (Miami)
Were you nervous at all during the race, seeing Carl lead so many laps and seeing how good of a car he had?
Tony Stewart
(11:06 AM)
Honestly, no. We still even early, didn't have anything to lose. Even though he was where he needed to be, I thought our performance was strong. We had to battle some adversity early. I thought we showed some strength battling back from the back.
Aaron (Buffalo, NY)
Thanks for the ridiculously awesome chase, and congrats on #3. Quick question.......had you and Darien discussed the possibility of trying to stretch fuel before your final stop, or was it just a last minute decision?
Tony Stewart
(11:07 AM)
It was a last minute decision that he made and it was the move that won us the title. When I heard him make that call on the radio, I didn't understand the scenario. You trust the guy making the calls.
chris (atlanta)
Tony - why do you think you went all season without a win then won half of the chase races?
Tony Stewart
(11:08 AM)
I wish I knew what changed for us. In the Chase itself, Martinsville was the turning point for us and the feeling that we could pull this off.
James Piccarreto (Rochester, NY)
Congratulations on your 3rd championship. What was your impression on becoming an owner/driver champion and winning the championship by most wins?
Tony Stewart
(11:09 AM)
It's definitely more gratifying winning as a driver/owner. It's always cool to win as a driver, but when you have to be in the position as an owner and making decisions on a daily basis and see it have success it's more gratifying.
Kevin (NJ)
Tony, how much fun was the back and forth with Carl last week leading into Miami? Seems like you guys were having a good time with it all.
Tony Stewart
(11:09 AM)
Yeah, it's fun to be able to do that. Carl is a pretty good sport about everything. I feel that's where we had the edge with him in the bantering back and forth, that's our style. Carl is a pretty nice guy so I felt we had the upper hand on him in that category.
Chris (CT)
Why are you chatting with us at 11 in the morning? Shouldn't you have better things to do right now? Like continue partying??
Tony Stewart
(11:10 AM)
Exactly!
Derrick (Chicago)
Tony, after Vegas, any vacation plans this offseason? You've certainly earned some time off!
Tony Stewart
(11:11 AM)
I'm definitely going to take advantage of it, but I haven't made plans yet. I've been so focused on the Chase that I haven't made plans. That's the advantage of being a single guy I guess, making plans at the last minute.
Charlene (Bolingbrook, IL)
Congratulations Tony on your 3rd championship! I am your biggest fan! Just curious what your thoughts were when you realized that you were going to win the race? Congrats again, and just wanted to say can't wait to see you race next year in Chicagoland!
Tony Stewart
(11:12 AM)
When we took the white flag was when I started to breath a bit easier. I knew when we got the white flag, we would win if there was a caution. Even though the race wasn't over, that last lap was a sigh of relief.
Jeremy henke sr anti go,wi [via mobile]
Great job smoke congrats and enjoy it now that finally somebody other then Johnson wins it does it make you enjoy it even more? And what's your plans for offseason?
Tony Stewart
(11:13 AM)
I don't know that we broke his string, I think circumstances in the Chase made that happen. I think it's cool that only two of us have won the Chase in the last 7 years. I'm happy to be in that category with him right now.
Brian Curtis (Northern VA)
If there was a late race caution, do you think the race outcome would have been different?
Tony Stewart
(11:13 AM)
I don't think our strategy would have changed. It definitely would have been interesting with Carl and I being the first two cars. I felt like our restarts were our strong suit all night. I feel like the outcome would have been the same. I'm glad we didn't have to find out.
nascar fan (fl)
how did you hold Edwards off for 40 laps?
Tony Stewart
(11:15 AM)
When we got the lead we were able to get out to a second lead and we were really just running our pace and not use our tires to maintain the gap. It put the pressure on Carl to find a way around us. As long as we were able to maintain that gap and not put any stress on us. We had a little bit there to us if we needed it there at the end. That's the advantage of being the leader at the end, you can dictate how hard you run the car.
Tony Stewart
(11:16 AM)
Glad that the year is finally over. Very ecstatic about the outcome. Looking forward to spending time with my head on the pillow very soon. Thanks to everybody for supporting the series and us throughout the year. Everyone have a good holiday.