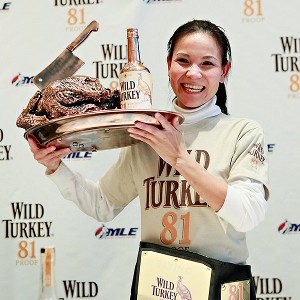 Welcome to SportsNation! On Wednesday, champion eater Sonya "The Black Widow" Thomas stops by to chat about her win at the Wild Turkey 81 Eating World Championship on Tuesday.
Thomas downed 5.25 pounds of turkey in 10 minutes to take home the trophy. Back on July 4, Thomas won the first women's hot dog contest and over Labor Day, she defeated top-ranked Joey Chestnut in a wings contest, with a record 183 in 12 minutes.
Thomas is the world champion in: cheesecake (11 pounds, 9 minutes), crawfish (3.25 pounds, 10 minutes), clams (26 dozen, 6 minutes), oysters (46 dozen, 10 minutes), jalapenos (274, 10 minutes).
Send your questions now and join Thomas Wednesday at noon ET!
More Special Guests: Previous chats | SportsNation