Chat with Matt Stinchcomb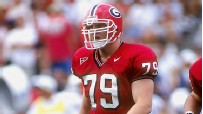 In 2009, Stinchcomb was inducted into Georgia's Circle of Honor.
Welcome to SportsNation! On Thursday, former Georgia Bulldog all-American Matt Stinchcomb stops by to chat about this weekend's SEC Championship matchup between Georgia and LSU.
A four-year player at Georgia, Stinchcomb earned two all-American honors (1997-98), before going on to a seven-year NFL career. He was the 18th overall pick in the 1999 NFL draft by the Oakland Raiders, playing in Super Bowl XXXVII. He joined ESPN in June 2009 and serves as an analyst for ESPNU.
In advance of Saturday's title game, Stinchcomb, his brother Jon and former Bulldog quarterbacks David Greene and D.J. Shockley will volunteer at Allstate SEC Good Works Day, an annual service project featuring volunteers from Allstate and the SEC to support Atlanta's CHRIS Kids.
Send your questions now and join Stinchcomb Thursday at noon ET!
More Special Guests: Previous chats | SportsNation
Buzzmaster
(11:56 AM)
Matt will be here at the top of the hour to take your questions!
Buzzmaster
(12:01 PM)
We've got Matt!
Derrick (Dallas)
How screwy is the system we have where Bama is secured a spot in the BCS title game, but they're not playing this weekend?
Matt Stinchcomb
(12:03 PM)
Yeah, well, you could say that it's screwy. Unfortunately, we've seen a number of teams go to the BCS title game that didn't go to their conference title games or didn't have one. It's just screwy that the field came back to Alabama. Oregon lost. Oklahoma State lost. Before then, it would have been likely to see one of those two in the title game. Oregon has two losses as well. They lost to LSU, but by a wider margin. It's really a lack of a better alternative. I'm not a fan of rematches, but I can't think of a better team for LSU to face.
Doug (FL)
Georgia is 10-2, it's not like they're dog meat or anything, why do you think they're getting overlooked so much?
Matt Stinchcomb
(12:05 PM)
I think most of the country saw Georgie get beat pretty handidly by Boise State in the opener. We've seen LSU on a national stage on separate occasions defeated ranked teams by double digit margins. The impression that LSU has made is more graphic than Georgia has made. There is a perception that the East Division, maybe rightfully so, is down this year and their schedule is not comparable to LSU's.
Paul (Boston)
Matt, I see you're helping out with the SEC volunteer day this weekend, do you still remain active in the Georgia community?
Matt Stinchcomb
(12:06 PM)
To me, this is the most important artifact of my athletic career, to be able to participate in community events and have an impact on an area that I grew up in, went to school in and live in now. We're very active. My brother, Jon, David Greene and I have charitable events that we host here in the state of Georgia. It's something that's very important to us. Today we're working at a facility that work with children that may need it more than anyone, that have suffered abuse, taken from their homes. It gives them a place to live because their home environment wasn't suitable.
Carlos (Gilroy)
How good are GA's chances to pull the upset?
Matt Stinchcomb
(12:08 PM)
Because so much changes once the ball kicks off. They have a better chance of winning than most would think. That hinges on two aspects. 1) The emergence of this defense against the run. They've proven to be one of the best run stopping defenses in college. They'll have a challenge with LSU's run oriented offense. 2) Aaron Murray. He's hot right now. He's a good player, but he can catch streaks where he can be great. They'll need a good performance out of him. There's no question that if LSU is focused and at their best, it leaves a small window of opportunity for Georgia to be successful.
Ben (Denver)
Even if LSU goes 14-0 this year, I would hesitate to put them among one of the best undefeated teams of all time, would you? It just seems like there weren't a lot of teams to give them a battle this year.
Matt Stinchcomb
(12:10 PM)
I would. I would say that they're in the rarest of air. There are only three other teams that's been able to beat 7 ranked opponents over the season. To do it by double digits, if they beat Georgia by 10 or more, they will be the only team in history to do that. They've beaten the best college football has had to offer. If they go 14-0, they might be in the discussion of being one of the best teams ever. And they did it ugly.
Steve Dezember (Atlanta)
Matt, What is the most important phase of the game Saturday for the Dawgs? Running it, Defense, or Aaron Murray???? Go Dawgs!
Matt Stinchcomb
(12:11 PM)
You know what, when you're playing LSU, you can't pick just one phase to be superior. I will say that one of the most distinct advantages that LSU has over any other team is special teams. They have punt and kick return for a TD. Their special teams and defense constantly gives a short field. And they put the opposition on long fields to try and score.
Willie (Kentucky)
What do you think of Urban Meyer going to Ohio State?
Matt Stinchcomb
(12:13 PM)
I think that it's a great fit for that program. The timing for the program couldn't be any better, given what they've endured. What better than to bring a coach with a resume and pedigree is what coach Meyer has? My only concern is what he said about striving for balance. That will be a tough task considering Ohio State is one of the 4 or 5 programs in the country where the pressure to succeed is so great. It will be tough too with the NCAA sanctions.
Peter (RI)
do you want to see an LSU-Bama rematch?
Matt Stinchcomb
(12:14 PM)
With the available alternatives? Yeah. If the system functions the way it's supposed to function, then there's no one else out there. But if I'm sitting on the couch and looking for the most interesting matchup, having seen LSU-Bama play, I don't want to see the same movie twice. From a scoreboard standpoint, I think LSU-Oklahoma State would be a lot of fun. I'd like to see that OSU offense against that LSU secondary.
Steve Dezember (Atlanta)
Why is this year different from, do you feel you should have to win you conference to be in the NC game?
Matt Stinchcomb
(12:17 PM)
This year isn't any different. It's 1 vs. 2. And no, I don't think so about the conference title game. The way the system was set up before, before conference expansion, we had 6 automatic qualifiers and there were 3 with and 3 without conference title games. Until every conference has one, then I don't think it is a fair qualification. This year, I don't think it would be fair to LSU to downgrade them because they had to play a 13th game and, if they were to lose, lose the game. It's just the way it is this year.
Matt Stinchcomb
(12:17 PM)
Enjoy Saturday. Keep a close eye on bedlam. We'll see if anyone can do anything to jump the Tide.
KEvin (NYC)
What kind of work are you doing today?
Matt Stinchcomb
(12:21 PM)
We have two SEC conference winning QBs with us today in David Greene and DJ Shockley, plus myself and my brother Jon. It's a great community service event that we're doing here, AllState SEC Good Works Day, benefitting Atlanta's CHRIS Kids.
Matt Stinchcomb
(12:21 PM)
Enjoy Saturday. Keep a close eye on bedlam. We'll see if anyone can do anything to jump the Tide.