Chat: College Football Awards Finalists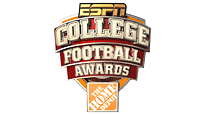 Welcome to SportsNation! On Thursday, we'll be chatting up some college football award finalists in advance of The Home Depot College Football Awards show, which airs Thursday night (ESPN, 9 p.m. ET).
We'll be setting up shop, mingling with the finalists. So, check in to see who stops by to chat. We'll be grabbing some of the best players from the 2011 college football season, like Stanford QB Andrew Luck, Oklahoma State's Justin Blackmon, USC's Robert Woods and Boise State's Kellen Moore.
Big Ten blogger Adam Rittenberg will also stop by to answer questions about the Rose Bowl, Sugar Bowl or anything else that's on your mind from the Big Ten.
Send your questions now and join the chat at 1:30 p.m. ET!
More College Football: Awards | Presenters
ESPN.com
(1:29 PM)
Afternoon folks, we're live from Disney ahead of The Home Depot College Football Awards show. We have the best players from the 2011 season they'll be stopping by at various times to answer your questions. We also have Big Ten blogger Adam Rittenberg in the house, and he's available to answer whatever questions you might have about the Big Ten and tonight's awards.
Tyler (ATL)
Why hasn't Montee Ball gotten hardly any Heisman love?
Adam Rittenberg
(1:32 PM)
He's building momentum now, but there are several reasons why he didn't get more love early. Russell Wilson had the spotlight through the first half of the season, and I think Ball fights the stigma of being a Wisconsin RB. Everyone assumes they should be productive.
Virginia (Charlotte)
This is for Mo Claiborne or Tyrann Mathieu, I believe in a certain "mo jo" or "meaux jeaux" that some teams have that give them the edge. It is something that it intangible. I see it in this LSU team. Am I right? Is there an unbelievable amount of chemistry? It cannot be made or practiced.
Adam Rittenberg
(1:33 PM)
Meaux Jeaux! I love it! And you're definitely right. A team couldn't get through the amount of adversity LSU has, or won as many big games, without tremendous chemistry. And you see it in the secondary.
Finny Ohio [via mobile]
Why is everyone complaining about the BCS. We don't need a playoff. Alabama vs LSu brings more fans and money rather than LSU vs OKlahoma State anyway. Now granted I believe that Boise State Got cheated out of playing Michign in the sugar bowl but still doesn't mean you have to rip on the BCS
Adam Rittenberg
(1:34 PM)
Is this Jim Delany? Hi Jim! Yes, if it's all about the money, you're right. But most of us would rather see LSU and Alabama reach the title game after a playoff than just meet in a rematch.
ESPN.com
(1:35 PM)
So everyone knows, some awards finalists will be stopping by in 10 minutes to answer some questions. Looks like we'll have Alabama's Mark Barron and Barrett Jones, LSU's Morris Claiborne, Oklahoma State's Justin Blackmon, USC's Robert Woods, Oklahoma's Ryan Broyles, Boise State's Kellen Moore and Houston's Case Keenum. So fire along your questions!
D-Dawg (Austin)
Is RG3 wearing any special socks today?
Adam Rittenberg
(1:37 PM)
Yes, Scooby Doo. Outstanding.
Alex (Raleigh, NC)
What do you think are Amerson's chances to take home the thorpe?
Adam Rittenberg
(1:38 PM)
Alex, it'll be tough going up against Claiborne and Mark Barron, two great players in their own right. But 11 interceptions? Unreal. Amerson talked to me yesterday about how he loves it that QBs still attack him. You'd think he'd be getting the Revis treatment with all those picks.
Lincoln (Bethany, MO)
Who do you think has the better shot at pulling off the upset: Mike Floyd over Justin Blackmon for the best WR or Montee Ball over Trent Richardson for best RB?
Adam Rittenberg
(1:39 PM)
Good question. Think Blackmon will win the Biletnikoff. Ball has a good shot, in my view. He has more impressive numbers and has faced better rush defenses than Richardson. While Richardson has a better shot at the Heisman, Ball might be the Doak Walker winner.
Adam Rittenberg
(1:40 PM)
In five minutes we'll have star wide receivers Justin Blackmon, Robert Woods and Ryan Broyles. Get your questions ready!
Lance (Ok)
Will Ryan Broyles win biletnikoff award?
Adam Rittenberg
(1:44 PM)
We'll find out tonight, Lance, but it'll be tough for Broyles to beat out Blackmon after going down with the injury. Unfortunate to see such a great player deal with a setback like that.
Brian (California)
Why isn't Brad Wing from LSU a candidate for punter of the year???
Adam Rittenberg
(1:47 PM)
There were some tough choices this year, Brian, as there always are. One guy from the league I cover, Nebraska's Brett Maher, certainly deserved consideration. But Allen, Clark and Rice are all good choices, too.
Berge (Madison)
Hey Adam, why is Russell Wilson not up for any awards? He might finish with the highest QB rating ever, is a major running threat, and has been undeniably clutch. What gives?
Adam Rittenberg
(1:48 PM)
Berge, it's puzzling, but Wilson paid the price for Wisconsin's two losses, even though he didn't play that poorly in either game. He rallied the Badgers against both MSU and OSU, and if Wisconsin bats down a pass or two, he might be here at DisneyWorld with us.
Adam Rittenberg
(1:49 PM)
Speaking of Wilson, I chatted with NC State's David Amerson about him. Amerson followed Russell all season, as did many of his former teammates. They're not surprised one bit by the success he had in Madison.
ESPN.com
(1:54 PM)
We're waiting for the Biletnikoff Award winners to pass through, send along your questions!
Johnnie (Phoenix)
Adam: This isn't exactly an awards question, but with Wisconsin losing its top 2 candidates on the offensive side (assuming Ball goes pro), can we expect the bottom to fall out for them next year, at least on offense? Thanks.
Adam Rittenberg
(1:57 PM)
Johnnie, I don't think so. Wisconsin has established enough continuity with its system and through recruiting that the unit should still be productive. As productive as 2010 or 2011? Unlikely. The QB situation is a major question mark, but Wisconsin has James White at RB and some exciting young players as well at that position. Offenisve line should be good again. Will be interesting to see if coordinator Paul Chryst is still there.
Mark (Memphis)
Adam -- Which athletes have impressed you in Orlando? We know they can all play, but which ones have been impressive in your conversations?
Adam Rittenberg
(1:58 PM)
Mark, I was really impressed with Alabama safety Mark Barron. He's HUGE! And Andrew Luck certainly has the ideal size for an NFL quarterback. Lot of impressive athletes here.
Bama Fan (Denver)
Barrett, how many yards head start would you need to beat Marc Barron in a 40-yard dash?
Barrett Jones
(2:03 PM)
Probably 15. Dre Kirkpatrick and Dee Milner are probably the fastest guys on defense. Marquis and Trent are fast on offense. I don't know who's fastest, they all look fast to me.
Preston (memphis)
How quick are Barrett Jones' feet? I heard he scored a goal against a Haiti national soccer team
Barrett Jones
(2:04 PM)
It wasn't the Haitian national soccer team. I did score a goal, but it was against a Haiti high school team. I was down there doing mission work for a week helping to build a school
Kyle (Waltham, MA)
What is it like to be in consideration for the Biletnikoff Award? What are your emotions at this point in time?
Justin Blackmon
(2:06 PM)
It's an honor, it's a blessing to be up for the award once and to be honored again is just a shock and a surprise.
ESPN.com
(2:06 PM)
Justin Blackmon is here to answer your questions. Fire away
Conor (London)
Broyles and Blackmon: Did you guys talk during the season? Did you track how each other was doing? And what part of the other guys' game impresses you the most?
Justin Blackmon
(2:08 PM)
I see a lot of things he does. I try to watch him as much as possible. We run into each other every now and then. His route-running is one thing I look at, it's one of the things I'm working on. Being a smaller guy, he just goes up and gets the ball.
Bobs Wolfe (Memphis, Tn)
Who are your favorite NFL receivers?
Justin Blackmon
(2:08 PM)
Terrell Owens, Andrew Johnson and Larry Fitzgerald.
ESPN.com
(2:09 PM)
Ryan Broyles is here for your questions.
Jon (Minneapolis)
Who's the toughest Defensive Back you've faced this year?
Ryan Broyles
(2:10 PM)
Prince Amukamara of Nebraska. He's physical, he had speed, knew the defense.
Adam Wisbrock (Palatine, IL)
Who is your favorite wide receiver in college football other than yourself?
Ryan Broyles
(2:10 PM)
These two guys right here. Justin and Robert
Phil (Norman)
Ryan Broyles -- Any regrets about returning to play at OU for one more year?
Ryan Broyles
(2:12 PM)
Not at all. I've grown over the last year as a person. I've had opportunities to go to Haiti over the summer with Mission of Hope working an orphanage. I'm from Norman so I wasn't ready to leave.
Ryan (Oklahoma City)
Ryan, what's the best Bob Stoops story you can share with us?
Ryan Broyles
(2:13 PM)
He always does this speech that if you mess up, you're going to end up at East Popcorn State. It never fails
Russel (Edmond) [via mobile]
Ryan-favorite game you played in?
Ryan Broyles
(2:13 PM)
My redshirt freshman year, playing against Cincinnati, I had a great game in my first college game.
Mike (Tampa)
Ryan -- When will you be able to get back on the field?
Ryan Broyles
(2:15 PM)
I won't be cleared to May, I've been on the bike and have been moving on up.
ESPN.com
(2:16 PM)
Ryan Broyles had to split. We're going to get USC WR Robert Woods here to answer your questions.
Trey (Long Beach)
This question is for Robert Woods: Have you spoken with Barkley at all about his plans for next year, or has he kept things to himself?
Robert Woods
(2:17 PM)
Of course I'm talking to him but he's keeping things to himself. We know if he stays the potential of where this team can go
Chris D (Chandler, AZ)
Question for Robert "2012 Heisman" Woods. Any chance of seeing you on defense next season?
Robert Woods
(2:18 PM)
Probably not. My freshamn year in practice a little bit but that's it for me. Our defense is playing well and playing big, holding their own.
Darren (NYC)
Robert - How do you like playing for coach Kiffin? Fight On!
Robert Woods
(2:19 PM)
I love Coach Kiffin. Our first year was them finding out about us and us finding out about them. We're getting used to each other and it's showing on the field.
Steven (CA)
Robert, who is faster: you or your buddy Lee?
Robert Woods
(2:20 PM)
I'm faster than Marquis. I would never say that Marquis is faster. He is fast. however...
E (Tucson)
Robert- Best Pac-12 defender?
Robert Woods
(2:20 PM)
Nickell Robey. I face him in practice each and every day. It's a battle back and forth, he's physical. Elsewhere, Oregon's corner, Terrence Mitchell, he put up a great fight in that game.
Chris (LA)
Robert - how's the shoulder??
Robert Woods
(2:21 PM)
Shoulder's feeling good, just needed some time. Have ankle surgery on Dec. 19 and will need six weeks to recover after that.
Jim (SF)
Robert, what was the most exciting game you played in this season? There were some good ones!
Robert Woods
(2:23 PM)
Oregon. Coming into the stadim crowd was already there and loud. When they got in field goal range, we knew he was going to miss it or we were going to block.
Andrew (NJ)
Robert, what is your favorite part about playing at SC?
Robert Woods
(2:24 PM)
Coming out the tunnel and seeing the fans. By the tunnel it's the same fans every time, you hear them screaming your name. Our thing has been SC is back.
ESPN.com
(2:25 PM)
Robert Woods had to split, we thank him for his time. If you have questions for Kellen Moore and Case Keenum, they're on their way over.
Dan (Chi-town)
Kellen - Of all the bowls you have attended, which one had the best food?
Kellen Moore
(2:27 PM)
By far, I'd have to choose the Hawaii Bowl. I was redshirting and nothing beats Hawaiian food and hanging out on the beach all week.
John (Knoxville)
Kellen, what has your favorite moment from college been?
Kellen Moore
(2:28 PM)
I married my wife this past July.
Danny "A" Walters (OH)
Kellen, which was the better team you faced: Virginia Tech 2010 or Georgia 2011?
Kellen Moore
(2:28 PM)
Virginia Tech made a BCS game, so we'll hand it to them, but both were very talented.
Brian (Boise)
Kellen- How often do you talk to Titus and Austin?
Kellen Moore
(2:29 PM)
I try not to bother them too much, they're very busy with their NFL schedule. I have talked to them on occassion this season and I'm sure I'll talk to them more in the spring.
Gentry (Starkville)
Kellen, Alabama or LSU?
Kellen Moore
(2:30 PM)
It's tough to beat a team twice. I'll lean towards Alabama.
Greg (North Carolina)
Did either of you ever face a dominant corner or safety that you tried to avoid? Or did you try and make a point to beat them?
Kellen Moore
(2:31 PM)
I think for the most part, it's all about progressions and reads. Certainly during the week we'll try to put in specific plays and concepts to counter an extremely talented players. you can't be thinking that during the game, it causes hesitancy. Boykin was a good example from Georgia because he moved around so much.
E (Tucson)
Kellen- WHat do you have to say about being left out of the BCS?
Kellen Moore
(2:32 PM)
Obviously first emotion is disappointment but that quickly disappears and I'm excited about the opportunity to play in Las Vegas. We've had opportunities to play in BCS bowls in the past but we're excited about Las Vegas
Sal Lizard (North Pole)
Kellen, do you still talk to your kicker?
Kellen Moore
(2:33 PM)
Absolutley. They're both friends and done a lot for this program. They've made a lot of big kicks in the past.
E (Tucson)
Best Defense you have faced in your college career?
Kellen Moore
(2:34 PM)
TCU of '09. They had Washington, Hughes, Tank Carder was a sophomore at the time. They were extremely fast.
kp (Utah)
Thoughts on the team's future in the Big East? What about the QB for next year?
Kellen Moore
(2:36 PM)
Big East will be very interesting, not many people have experience being part of a conference with so little connection. There's an opportunity for exposure. Boise State will be in great hands, there's a talented group of QBs who are excited about the opportunity. It will be a matter of finding out which one will get that chance.
ESPN.com
(2:37 PM)
Kellen had to leave. Morris Claiborne is here with us so fire along any LSU questions.
Tom Jay Riddle (Spearfish, SD)
With Mathieu and Claiborne both up for defensive awards, is it safe to say LSU has the best secondary in college football??
Morris Claiborne
(2:39 PM)
That's what we're working for. We still have work to do. But that's what we're trying to do. We're trying to be the best secondary in the country.
Matt (Monroe)
Mo, who sold you on switching to the defensive side of the ball when you came to LSU?
Mo Claiborne
(2:40 PM)
It was Patrick Peterson. He was my host for my visit. He was always telling me to come on this side of the ball. When I tried it, I ended up liking it.
Morgan (Nashville)
Morris, how is your relationship with Tyrann Mathieu? Is there a lot of competition?
Mo Claiborne
(2:41 PM)
It's like a brotherhood. We always go out and compete with each other each and every day. If he has questions, he comes to me to ask me about it. When Tyrann first came here, we knew he was going to be a great athlete. He hasn't proved us wrong.
Chris D (Chandler, AZ)
Morris, congrats on a great season. Both ou and Mathieu get a lot of the pub, and you deserve it..but how good is Eric Reid? He seems like a future NFL star at Free Safety.
Mo Claiborne
(2:42 PM)
He's great. We knew he had the potential to be a great player. He works hard and we expect big things from him.
Joey (Charleston, SC)
If you had a Heisman vote, who would you vote for this year and why?
Mo Claiborne
(2:43 PM)
I gotta go with my Tiger family. I gotta go with Tyrann. Some of the plays he's made this year, some of them have put us in games, some of them have helped us in games. He's a big reason we're undefeated right now.
Scott (Portland)
Mo, how did you and Tyrann go from mid-ranked recruits to becoming the two best CB's in the nation?
Mo Claiborne
(2:44 PM)
It's hard work. You gotta have a goal and know what you want to do. You have to know what it takes to reach that goal. If you put the work in, the sky's the limit.
T Richardson (Tuscaloosa)
Think you guys can beat Alabama again?
Mo Claiborne
(2:45 PM)
I believe this game will come down to execution. It's two great teams going head to head against each other, whoever executes the best, that's who will come out on top.
ESPN.com
(2:46 PM)
Morris had to leave. We have Mark Barron here to answer questions.
Matt (Oklahoma)
Mark Barron, who would you pick if LSU was playing OSU?
Mark Barron
(2:47 PM)
I would have went with LSU.
Barry (Birmingham)
Barron - Best place to play a game (outside of Tuscaloosa, of course)?
Mark Barron
(2:48 PM)
I like playing in the Rose Bowl. I like playing at LSU, I like Tennessee too. I like hostile environments. Penn State was OK too.
Chris D (Chandler, AZ)
Mark, which NFL safety would you compare yourself most to ?
Mark Barron
(2:49 PM)
I like to try to do a little bit of everything. Polamalu, Ed Reid, I try to mix it up and do a little bit of everything. I feel like I can do it all.
Joey (Charleston, SC)
Who was the most challenging player and/or team to defend against this season?
Mark Barron
(2:50 PM)
The most challening team was actually Georgia Southern. They had the most yards against us all season.
Chad (Orlando)
Mark...how are you after the injury during the Iron Bowl? Will you be playing in the Senior Bowl in Mobile after bringing home NC #14 for Bama? RTR!!!
Mark Barron
(2:51 PM)
It's getting better. It's healing and it takes time, luckily, we have some time to rest and hopefully I'll be ready for this game.
Mark (Ohio)
How do you think Alabama would fare in the cold weather of Columbus, OH or Ann Arbor, MI or Lincoln, NE? Have you ever played in the snow?
Mark Barron
(2:52 PM)
I'm sure we could go up and play in weather. I feel like we can go in and do what we need to do regardless of the circumstances.
Chris G (Baton Rouge, LA)
what do you look forward to the most about going down to New Orleans to play in the National Championship? (outside of the game itself)
Mark Barron
(2:52 PM)
that's all i'm looking forward to is the game. I'm thankful that we get this rematch and since it's for the national championship, it's even better.
ESPN.com
(2:54 PM)
Mark had to leave so we thank him for his time. That's it for all the finalists here at Disney. Tune in tonight at 9 p.m. ET on ESPN to see who wins The Home Depot College Football Awards.