Chat: New Year. No Limits.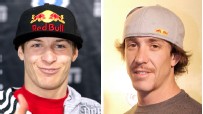 Lavallee, left, and Maddison star in 2011 New Year. No Limits.
Welcome to SportsNation! On Monday, we'll have the two stars of this year's Red Bull "New Year. No Limits." New Year's Eve event (ESPN, 11 p.m. ET), Levi Lavallee and Robbie Maddison stopping by to chat.
The duo will attempt a simultaneous world record breaking jump over water in San Diego. Maddison will attempt to break the motorcyle record of 391 feet, while Lavallee will try to break his own current world record of 361 feet on a snowmobile.
Lavallee (chats at 2:15 p.m. ET) set the snowmobiile record while training for the 2010 New Year. No Limits. but crashed on a training jump that forced the event's cancellation. Maddison (chats at 2:45 p.m. ET) starred in the 2008 New Year's Eve event, by jumping his bike onto the top of the 96-foot-high Arc de Triomphe at Paris Las Vegas and then freefell off of it.
Send your questions now and join the chat Monday at 2:15 p.m. ET!
More Special Guests: Previous chats | SportsNation
Buzzmaster
(2:05 PM)
Levi Lavallee will be here in 5-10 minutes to take your questions!
Buzzmaster
(2:11 PM)
Let's get started!
Freddie (Portland, OR)
have you been to the site in San Diego yet?
Levi Lavallee
(2:11 PM)
I have. I have been there. They didn't have anything set up yet, but there's a lot of water between ramp and landing.
Sam (Houston)
Do you gradually work up to a record jump? How do you work on the distance?
Levi Lavallee
(2:12 PM)
Absolutely. You start off small and just slowly stretch the ramp apart, until you get to a distance that you feel confident in and get to the goal distance that you want.
brock matheason (north liberty, iowa)
Hey Levi i was just wondering if we will ever see another attempt on the double back flip or do you have some other tricks up your sleeve? haha!
Levi Lavallee
(2:12 PM)
We'll see!
Peter (RI)
How do you decide what location to do a jump like this?
Levi Lavallee
(2:13 PM)
The location, we're just looking for a spectacular place to set up that we can fit the run in and ramp in safely. And, bonus, San Diego is really warm.
Doug (San Francisco)
So, how ramped up on Red Bull drinks are you right now??
Levi Lavallee
(2:13 PM)
I just hammered down a 12-ounce Red Bull before this interview.
Jan (Orlando)
Are you fully recovered from your injury from last year?
Levi Lavallee
(2:14 PM)
I am. The big crash was actually a blessing, because it allowed me time for the rest of my injuries to heal up. It was a good thing.
brock matheason (north liberty, iowa)
Whats the best way to start to learn how to practice bigger jumps?
Levi Lavallee
(2:15 PM)
You just start off with a shorter distance, when you become comfortable with that, you stretch the gaps out. If you have a bigger landing, you can jump further. You can incrementally make it bigger safely.
Jeff (CT)
Of all things to jump, why a snowmobile?
Levi Lavallee
(2:15 PM)
Because I've been riding them my whole life. That's what I'm good at.
David (NJ)
Where does an idea to do a jump like this come from?
Levi Lavallee
(2:16 PM)
Originally, it stemmed from just wanting to do a distance jump. And finding a spectacular location like in San Diego. That's where it starts. As you get a couple of guys together, like Red Bull and myself, it just starts growing and growing.
Karl (Denver)
So, will you guys be jumping side by side or passing each other in the air?
Levi Lavallee
(2:17 PM)
We will both be in the air at the same time, depending on how the timing is, that's all we can hope for, to be in the air at the same time.
Jeremy Tice (Webster, NY)
How different is it going to be jumping next to Robbie? It looks like you guys are going to be pretty close throughout the jump.
Levi Lavallee
(2:18 PM)
It's pretty crazy. We've been testing and what not. It's a different thing. You're scared to death of just the jump alone. Out of the corner of your eye, you see the guy next to you going 100MPH. You have to stay focused on what's going on with you.
Brian (Eagle River, WI)
Hey Levi, Do you get to relax and trail ride much since you are so busy
Levi Lavallee
(2:18 PM)
Usually, I get to over Christmas. One time a year, I get to trail ride. And sometimes, I'll get to mountain ride in the spring.
Kaitee (Bristol)
Levi -- what was the first sled you ever rode? And can you give us some details about the machine you'll be jumping on New Year's Eve? Thanks, you're awesome!
Levi Lavallee
(2:19 PM)
The first sled I ever had was a 1990 Polaris Indy 400. I rode that thing like crazy. The sled that I'm jumping now is an 800 fuel injected Polaris. It runs awesome, to say the least.
Klank (S. Western Maine)
Levi, will you be visiting the New England area this season?
Levi Lavallee
(2:20 PM)
I have a race in New York. It's in Farmington, NY in February. I think in the beginning of February.
Jordan (Brainerd)
What are you more nervous about, jumping on Leno or jumping 300+ feet?
Levi Lavallee
(2:21 PM)
I was pretty dang nervous on Leno. I've never been so nervous for such a small jump. The New Year's jump, I'm pretty nervous. It's such a big jump. And I've had the same setup go wrong.
SARA (KINDE, MI)
Good Luck!! What is it like being pro and having kids look up to you?
Levi Lavallee
(2:22 PM)
It is an amazing feeling having anyone look up to me. I'm from a real small town. It's an awesome feeling any time someone asks for an autograph or high fives me. I never could dream of having such cool fans.
Fritz (Reno, NV)
Your hometown has Turtle races??? That true?
Levi Lavallee
(2:22 PM)
In fact, it is. Our claim to fame is we are the turtle race capital of the world. Every Wednesday they shut down Main Street and race.
James (Minneapolis)
Hey Levi, huge fan! Do you do any other extreme stuff in the other seasons? One good extreme sport always deserves another!
Levi Lavallee
(2:23 PM)
I ride dirt bike and wake board. I do a lot of both of those. I enjoy flight. Any kind of jumping. Any kind of activity like that, I really get my kicks.
brock matheason (north liberty, iowa)
Where is your favorite place to just go out and ride? or dont you ever get that chance?
Levi Lavallee
(2:24 PM)
Probably one of the best places I've ever been riding is Alaska. We went to Turnagain Pass and it was amazing. Being from the Midwest, it was like another world, all of the jumps.
Neal (LA)
How cool of a way is this to start the new year?
Levi Lavallee
(2:25 PM)
If it's a successful jump, it's an amazing way to start the year! It's pretty cool. Just to be chosen to do this event is an honor. I couldn't be more excited to do this jump on New Year's Eve.
Nathan (Wisconsin)
Levi what advice would you hve for setting up a freestyle sled
Levi Lavallee
(2:25 PM)
I would say stiff suspension. Big handle bars. And maybe the right mindset. Go big or go home!
Spencer (Minnesota)
What exactly are you jumping over?
Levi Lavallee
(2:26 PM)
Jumping over 300 feet of water in San Diego Bay.
Bernie (Minnesota)
Hey Levi, what will you be doing at X Games this year? Lets go hit up wakeboarding on Girl this summer, jk!
Levi Lavallee
(2:26 PM)
I will be doing both freestyle competitions. I have some big plans.
Gavin (Denver)
how long have you been running snowmobiles?
Levi Lavallee
(2:27 PM)
I've been riding snowmobiles since I was 7.
Levi Lavallee
(2:27 PM)
Since then, nonstop.
Jeremy Tice (Webster, NY)
Can't wait to watch you rip at the Eastern Nationals in Farmington, NY Levi! What is your favorite race on the ISOC Snocross Series?
Levi Lavallee
(2:28 PM)
I would say I have multiple ones. Lake Geneva is probably the best track, because it has hills in it. But as far as events, Farmington is among my favorites, because the crowd is amazing.
Mike (Antigo, WI)
what do you think about step up with a snowmobile?
Levi Lavallee
(2:29 PM)
I think it would be possible, but having a bar might be an issue, but if you ever landed on that with a sled, I'm pretty sure it wouldn't be straight any more. You'd need another setup.
Jeff (Minnesota)
What mods have been done to make your IQR different than the snocross sleds?
Levi Lavallee
(2:30 PM)
It would be different motor, and a nosecone, windshield and different suspension. Most of it is just for wind and the drag, so you can jump through the air rather than having the wind effect you so much. That 100+ MPH, it's like jumping in a tornado.
Levi Lavallee
(2:31 PM)
Thank you for all of the support. Check me out on my Facebook and Twitter. Thank you to all of the great people that are behind me, between my sponsors. Mystik, Red Bulll, Unequal Technologies, Polaris, Loctight, Parts Unlimited, Woodies Studs.
Buzzmaster
(2:32 PM)
Thanks Levi!
Buzzmaster
(2:32 PM)
Robbie Maddison is up next in 5 minutes!
Buzzmaster
(2:35 PM)
Robbie is here!
Doug (Denver)
How confident are you in the jump?
Robbie Maddison
(2:39 PM)
I feel great. I'm ready to go. There's always a chance that something can go wrong, but I'm as confident as can be. I'm at 8 out of 10.
Henry (Buffalo)
Robbie, do you have a group of people watching you in Australia?
Robbie Maddison
(2:39 PM)
Yes, I do, ESPN is broadcasting live out there. All of my buddies back home. And around the nation will hopefully be watching.
Gary (NYC)
When you're traveling around, are you constantly thinking about how it would be to jump over certain things or areas or buildings that you pass by?
Robbie Maddison
(2:40 PM)
Yep. Always. Always looking and dreaming.
Sam (Dallas)
What's the key to getting a good jump? the right speed?
Robbie Maddison
(2:41 PM)
Yeah, getting up to my max speed is a hard thing. Also, having a good flight is key. Staying as wind resistant as possible. Also, it's not over until I land so a good landing is also just as important. I'm confident I can make the jump, but getting the record, will be the perfect jump.
Pieter Malan45 (South Africa)
Robbie, what speed you hitting the ramp? Are we going to see some heelclickes new years?
Robbie Maddison
(2:41 PM)
My goal is 109MPH. But whether I get that fast or not depends.
Henry (Buffalo)
Any safety measures put in place for this jump?
Robbie Maddison
(2:42 PM)
I'm wearing a helmet. And Red Bull has built a state of the art airbag that's designed to dissipate the energy from a bike going at 109. As far as safety precautions go, you can never safeguard an event like this.
Kaitee (Bristol)
Levi/Robbie -- if you two switched sports, who would be successful faster? Be honest :)
Robbie Maddison
(2:43 PM)
Probably Levi. Because snowmobiles don't run well at the beach and that's where I'll be hanging out.
Dan (LA)
do you get nervous before a jump?
Robbie Maddison
(2:44 PM)
Yes I do. Really nervous. But to fight the nerves I always try to turn the mind off and not think negative thoughts. I keep envisioning exactly what I have to do to achieve the jumps. I'm going over it mentally and using imaging keeping myself familiar. It's nervewracking, I do everything I can to fight the nerves.
Jen (Denver, CO)
How has fatherhood changed the way you ride/ go into a stunt like this?
Robbie Maddison
(2:45 PM)
I'm definitely a lot more tired. I'm really trying to do everything I can to be the best I can and do it the safest way. Having a child has made me made some decisions in my life to focus more on a jump like this. I've cancelled other events around this instead of trying to squeeze it in. With that kind of committment changes the quality of the ones I do.
Paul (Boston)
So, do you work on jumping 100 feet, then 200 feet, then 300 feet and then progress until you get to the record?
Robbie Maddison
(2:46 PM)
No, everything under 300 feet is for wimps. To be honest, I do work in progressions, but my first is always 250-300 feet. I go in 30 feet increments. Where I started with the ramp this time, the first jump was 250, then 280, then moved it back 30 feet, then 20 feet. 340 to make it, 400 is the goal on the big night.
Kenny (Indy)
Do you like doing the daredevil stuff more or the racing stuff more?
Robbie Maddison
(2:46 PM)
I prefer doing this stuff.
Dwight (Brentwood, CA)
First off Robbie, your the man. What do you think is more difficult to you, completing a full Freestyle run, or doing a long distance jump like this?
Robbie Maddison
(2:47 PM)
Doing a long distance jump for sure.
Jeff (Minnesota)
A lot of people look up to you, who do you look up to?
Robbie Maddison
(2:49 PM)
I admire a lot of athletes behaviors and morales. I take their messages on board and put them to work to make myself better. I take to heart guys like Einstein, the Buddha, Eleanor Roosevelt. A lot of people that I admire. There are a lot of athletes out there that inspire me for their sheer skill. But what I'm trying to accomplish, no one has ever done before. I'm kind of writing the textbook as we go. It's exciting for me, I can take this wherever I want it.
Dwight (Brentwood, CA)
First off, Your the man Robbie. But when did you realize you could make a career out of FMX?
Robbie Maddison
(2:50 PM)
I realized it in 2005. I broke the world long distance record. At that point I paid back a loan that I had taken to quit my job. At that point, I realized I was making money. The next year, I made some good money. I realized then that this will work out for me. I saw a huge area for me to dive into. There are a lot of hills for me to climb. The FMX hills that I've climbed are everything I wanted to do and now I'm excited to take the ball in a new direction.
Dan (Florida)
What's the worst injury you've ever had?
Robbie Maddison
(2:51 PM)
The worst injury I ever had was when I snapped my leg in Ireland. It was so painful that my hair fell out.
Robbie Maddison
(2:52 PM)
They didn't give me any pain medication.
Dave (CT)
What will you be feeling right before the jump with all of America watching?
Robbie Maddison
(2:53 PM)
I'll be trying to look pretty. But at the same time, I'll be feeling the wind in my face and stay focused on all of the little things that I need to watch. If I have a cross wind or head wind, that switches everything up. I'll watch everything going on in that moment. In that point in time, it will be cool that everyone is watching, but I'll have to be focused and powerful in my attention. After I land, however, I plan to send a message of cheer.
Robbie Maddison
(2:59 PM)
Thanks for everyone for having a chat with me. It's been great to connect with you all. Thanks to Red Bull for putting on this big event. Thanks to Swatch, Skull Candy, Yamaha, Dunlop, DC, Stump.