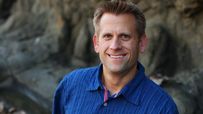 Welcome to SportsNation! On Monday, Sport Science host John Brenkus stops by to chat about his Emmy Award-winning TV show.
Sport Science uncovers sports' biggest myths and mysteries by utilizing cutting-edge technology to measure momentum, friction and the laws of gravity. In addition to his role as host of Sport Science, Brenkus, a Univeristy of Virginia graduate, is also the director and creative director of all BASE Productions programs.
Send your questions now and join Brenkus Monday at 2 p.m. ET!
More Sports Science: Chats | Index | Videos | Blog | @Sport_Science
Buzzmaster
(2:00 PM)
John is here to take your questions!
Kyle (VA)
Those NYE's jumps, were they pretty much all about speed. If they guys got to their speed, they could get the length they needed?
John Brenkus
(2:03 PM)
Distance jumps like that are all about pure physics and having the courage to stand up to Sir Isaac Newton. Environmental factors, mechanical factors and general human error also come into play. It was an amazing feat that we're proud to have played a small part in.
Fred (Alabama)
How impressive was Denard Robinson compared to some of the other athletes you've analyzed?
John Brenkus
(2:03 PM)
It's always hard to say one athlete is better than another, but he is pretty freaking amazing.
Kevin (Denver)
Do you think you'll try to have another SS QB Combine again this year before the draft?
John Brenkus
(2:04 PM)
Indeed!
Jeff (RI)
I find it incredibly interesting when Sport Science breaks down an athlete like Denard Robinson and looks at things like the angle at which he makes a cut. It's quite interesting to see that a football player's success comes down to such minute details like that.....is there something that you've analyzed or looked at in the lab like that, some small detail, there that you really thought was interesting??
John Brenkus
(2:05 PM)
Slashing angles and the ability to maintain velocity when changing direction is the key to being elusive.
Dawson (Texas)
Last year you debuted the QB vision test for your QB Combine....doy ou guys have anything new that you might be working on for this year's draft stuff?
John Brenkus
(2:05 PM)
We're always coming up with new stuff.
John Brenkus
(2:05 PM)
Stay tuned!
Darren (NYC)
Do you think it would be possible to do a SS segment on looking at how an athlete would fair in a different sport?? Something like how would Ussain Bolt fair in the NFL??
John Brenkus
(2:06 PM)
We have that debate a lot around the office. But the truth is, there are very few players who could genuinely play at an elite level at multiple levels. Every sport has such specific requirements that you really need the repititions in order to thrive at the highest level. Guys like Bo Jackson, Deion Sanders, etc. are extraordinarily rare. Not to say other guys couldn't do it, but there aren't many people who could.
John Brenkus
(2:07 PM)
If Michael Jordan couldn't do it, I would say the list of guys who could is probably pretty short.
Kevin (Atlanta)
How hard of a stunt was it for those two jumpers on New Years eve to complete their runs?
John Brenkus
(2:07 PM)
Considering no human being on the planet had ever done either jump prior to that moment, I would say the difficulty level can't get much higher.
Dave (NJ)
How do you decide whether a segment warrants having an athlete in the lab or just doing some analysis of current data?
John Brenkus
(2:09 PM)
Depends on timing, availability and the audience's appetite!
Darryl (Chicago)
It seems like people always say the bigger and stronger team usually wins...however, like you looked at in the LSU-Alabama segment, the Bama defensive line is shorter and smaller than the LSU OL and that could actually be an advantage. Do you think that lower center of gravity could help Bama?
John Brenkus
(2:10 PM)
Absolutely. Bigger and stronger is not necessarily better. In the trenches, low man always wins. However, in order for that to be true, the man who is low has to be stronger than the man who is high. So there is a delicate balance between size and strength.
Derrick (Washington)
so, after your analysis, which do you think will be better in the game tonight, the LSU secondary or the Bama DL???
John Brenkus
(2:11 PM)
This game is so evenly matched, I don't think anybody could give an accurate prediction as to what is going to happen for certain. These are the two best teams in the country.
John Brenkus
(2:11 PM)
They are so well balanced that if they were to play each other 100 times, I bet they'd split the series 50-50.
Darren (NYC)
After watching your Andrew Luck segment, I started to wonder, just how important is depth perception to a QB...I never really thought about it much until you said something about Luck being able to detect a change in a WRs route of just one degree....how important do you think that is?
John Brenkus
(2:13 PM)
Extraordinarily important. When you talk about having great downfield vision and anticipation, you're really talking about a QB's depth perception. There are very few positions in all of sports that is dependent upon good depth perception than an NFL QB. You're constantly trying to hit a moving target.
Nick (Pittsburgh)
Which pitch does the most long term damage to a pitcher's arm?
John Brenkus
(2:15 PM)
Throwing the ball absolutely as hard as you can in any manner is the riskiest pitch. You're stretching the limit of what the arm can do. To say that a curveball is more dangerous than a fastball doesn't take into account how hard you're trying to throw it. Just like a sprinter only runs his absolute top speed at a meet, a pitcher should only throw his absolute hardest in a game, because there is a finite number of times the arm is going to be able to perform at its highest level.
Sam (Boston)
With the segment on the Bama DL being smaller than the LSU OL showing that it could actually help Bama in this game, is that kind of why you do these SS episodes?? You're able to break through common, and possibly incorrect notions, like the bigger, stronger team always wins....
John Brenkus
(2:15 PM)
Absolutely. People often form opinions based on myths. Bigger and stronger is not always necessarily better. Look at Maurice Jones-Drew!
Ben (Charlotte)
pick one! Megatron or Suh, who is the "freakier" athlete?
John Brenkus
(2:17 PM)
I'm asked questions like this a lot. And I always have to say comparing different positions is impossible. Calvin Johnson is amazing as is Suh. But they play on opposite sides of the ball. Two totally different positions and it's really impossible to say. All I can tell you is they're both absolutely mindblowing.
Dave (NJ)
I've seen you do some soccer segmenst....any more planned. anything you'd like to do with them?
John Brenkus
(2:18 PM)
We love soccer and since these segments have quite a bit of international appeal, we plan on doing many more for years to come.
John Brenkus
(2:18 PM)
Thanks for all of your support. Stay tuned for more great Sport Science segments coming your way!